NEWS
Japan's Olympic squad focus on in-game tactics, third day of training camp
25 July 2016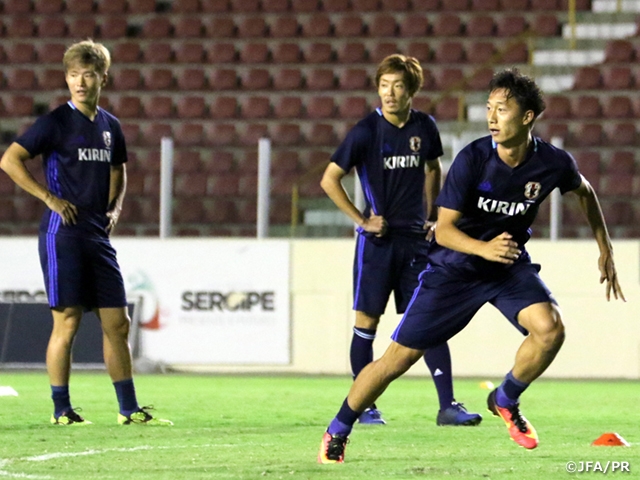 Japan's Olympic squad began working on their defensive and offensive tactics in Aracaju of northern Brazil on their third day of the training camp on Sunday 24 July.
In the morning, they tuned up with body stretching, core training and physical conditioning on the grass at the beach near their hotel. Until the evening practice, they spent the afternoon relaxing.
In the evening, because they were hit by the rain shower, the winds from the ocean made the players feel cooler.
The players began warming up with running and stretching and then moved on to a one-touch passing drills in which they made aware of kicking with swiftness and accuracy. After that, they were divided into the offensive and defensive players and went through different training sessions. The offensive players repeatedly practiced on their shooting, in which they altered their speed and built up, while the defensive players worked on clearing crosses from the sides, quick and short passes coming inside the box, and chip balls over their heads.
In the latter half of the practice, they worked on a 10-on-8 and 9-on-9 involving the goalkeeper to check on their 4-5-1 formation. They placed KOHROGI Shinzoh (Urawa Reds) as the sole forward and as offensive and defensives midfielders MINAMINO Takumi (Salzburg/Austria), NAKAJIMA Shoya (F.C. Tokyo) YAJIMA Shinya (Fagiano Okayama), and ASANO Takuma (Arsenal FC/England). They tested different defensive players, checking their chemistry amongst them.
Meanwhile, midfielder OHSHIMA Ryota (Kawasaki Frontale) was absent from today's practice due to fever. He rested at the hotel.
"We had a descent tactical training, but it is going to be more important for us to know each other's strengths," Kohrogi said. Midfielder HARAKAWA Riki (Kawasaki Frontale) added: "Kohrogi has the clear image of where to receive ball. It makes it easy for the passer to feed the ball and proceed to the subsequent plays."
Coach TEGURAMORI Makoto commented: "I had an impression that the collaboration with Kohrogi went well today. Without a doubt, our game is going to be quicker."
Before the practice, a memorial torch for the Olympics passed through Aracaju and was brought to the practice field. Midfielder ENDO Wataru (Urawa Reds) held it and took a photo along with the entire team.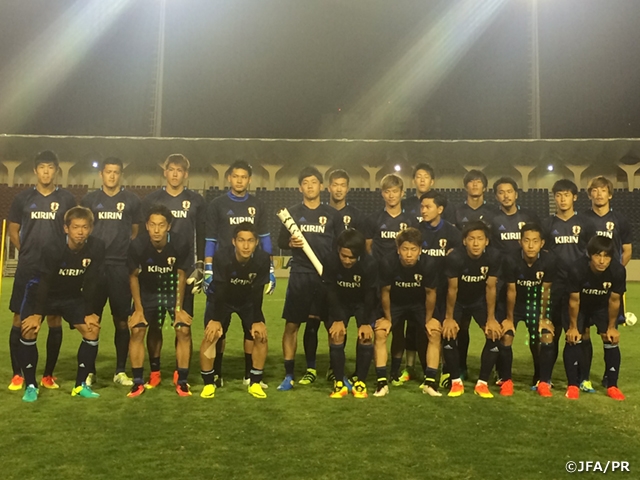 The team will have another two-a-day practice on the Monday 25.
Coach and Players' Comments
TEGURAMORI Makoto, Coach
We want to test so many different things, and today we tried a 4-5-1 formation. We thought that it would be important to raise awareness of playing defence with the whole team. I wanted also the team to be on the same page regarding how we move on to attacking after getting the ball and who is going to initiate it. Kohrogi collaborates well with Endo. He will not only improve the quality of our football by his post plays, but also with direct passes, which the team has emphasized throughout this training camp.
While our players haven't fully recuperated from the long trip, they have been conscious of the importance of attacking faster after retrieving the ball. On our first day of tactical training, the three over-aged moved more-or-less instinctively. I advised them on the significance of communication as they will be playing alongside different teammates. Overall, I got the impression that they would make a signficant impact to this team and, without a doubt, our football is going to be quicker. We have a variety of players who can play in the second row, so we are going to try out different combinations and formations.
FW #13 KOHROGI Shinzoh (Urawa Reds)
I need to be fully aware of the demands of the team—controlling and possessing the ball in the front-line. Endo and I play in the same club team, and among the Olympics colleagues he knows me the best. However, we have different players with the same position as him and I need to understand them and their passing routes. In the tournament, I predict that we will spend long periods of time in defence. Furthermore, if I lose possession of the ball, midfielders will have to run back and forth, making them tired. Therefore, it is important for me not to get easily dispossessed up front.
DF #6 SHIOTANI Tsukasa (Sanfrecce Hiroshima)
It's not been very long since I only joined this team from the Chiba training camp, but I talked to all the players on and off the pitch, building on our relationships. Today's practice focused on basics such as clearing the ball. If we do not keep practicing the fundamentals, it could turn out to be costly. In major tournaments, a single goal could be the difference in the game. Since Asano is a superb offensive player, my main focus in the game will be defending well in the back line. Further, providing excellent balls to the post player will increase the chances of scoring and thus I will attempt to do so in the game.
MF #7 HARAKAWA Riki (Kawasaki Frontale)
I thought it would take three or four days to get over the time difference, but I've gotten used to it faster. I am still feeling like a national-team training camp rather than Olympics. In order for us to beat the world-class teams, we need to perform beyond what we have learned in the camp. Brazil is going to be an excellent test match and we need to prepare ourselves well for that game. Kohrogi is a superb post player and does not get easily dispossessed. He can buy us time to create different plays. His inclusion in our team will definitely bring more variety of offensive build-ups. I'm looking forward to the upcoming games.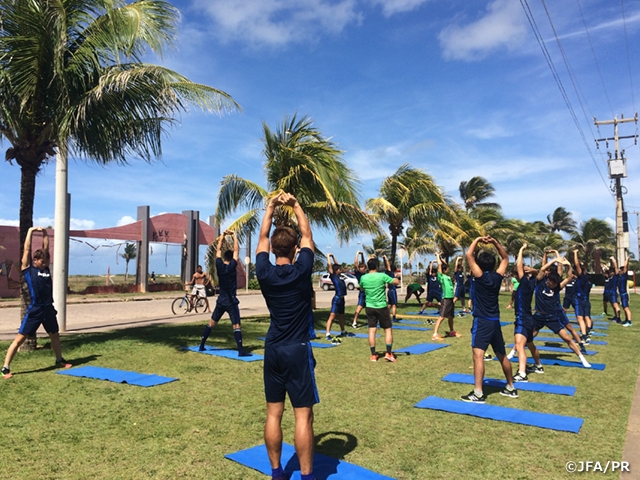 Schedule
Tue. 19 July
PM
Training
Wed. 20 July
PM
Training
Fri. 22 July
PM
Training
Sat. 23 July
AM/PM
Training
Sun. 24 July
AM/PM
Training
Mon. 25 July
AM/PM
Training
Tue. 26 July
AM/PM
Training
Wed. 27 July
PM
Training Match
vs C.S Sergipe
Thu. 28 July
AM
Training
Fri. 29 July
PM
Official Training
Sat. 30 July
16:30
International Friendly Match
vs U-23 Brazil National Team (@Estádio Serra Dourada)
[Japan Time: Sun. 31 July 4:30]

Olympic Football Tournament Rio 2016
Sun. 31 July
TBC
Training
Mon. 1 August
TBC
Training
Tue. 2 August
TBC
Training
Wed. 3 August
TBC
Official Training
Thu. 4 August
21:00
Group B 1st Match
vs Nigeria (@Amazonia Arena)
[Japan Time: Fri. 5 August 10:00]

Fri. 5 August
TBC
Training
Sat. 6 August
TBC
Training
Sun. 7 August
21:00
Group B 2nd Match
vs Colombia (@Amazonia Arena)
[Japan Time: Mon. 8 August 10:00]

Tue. 9 August
PM
Official Training
Wed. 10 August
19:00
Group B 3rd Match
vs Sweden (@Fonte Nova Arena)
[Japan Time: Thu. 11 August 7:00]

*The following schedule determines to win and advance to the next round
Sat. 13 August
16:00
22:00
Quarter-Final (If Japan top the Group)
vs Group A 2nd (@Fonte Nova Arena)
Quarter-Final (If Japan 2nd the Group)
vs Group A 1st (@Corinthians Arena)
Sun. 14 August
TBC
Training
Mon. 15 August
TBC
Training
Tue. 16 August
TBC
Training
Wed. 17 August
13:00
16:00
Semi-Final (@Maracana/Rio de Janeiro)
Semi-Final (@Corinthians Arena/Sao Paulo)
Thu. 18 August
TBC
Training
Fri. 19 August
TBC
Training
Sat. 20 August
13:00
17:30
3/4-Place Playoff (@Mineirao/Belo Horizonte)
Final (@Maracana/Rio de Janeiro)
*Local Time
*The schedule is subject to change due to the team condition, the weather, etc.