NEWS
Day 6 in Olympic prep camp: Japan draw with local club
28 July 2016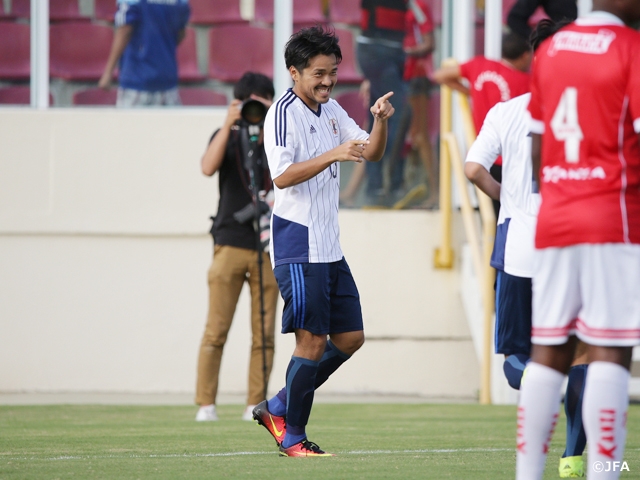 In the prep camp in Aracaju, Brazil ahead of the Rio de Janeiro Olympics, Japan drew with a local club C.S. Sergipe in a training match on Wednesday 27 July as they conceded a goal in the closing minutes of the first half despite Urawa Reds forward KOHROGI Shinzoh's opening goal.
Japan started the match with a 4-2-3-1. Although Japan were allowed to make substitutions and send in subbed-out players in two 45-minute halves, they kept the entire starting lineup on the pitch until the first half finished.
Just after kick-off, Kohrogi rushed to net home the opening goal when NAKAJIMA Shoya (F.C. Tokyo) received the ball from ENDO and threaded a pass to space behind defenders.
Nakajima kept showing aggressive moves. In the 14th minute, Kohrogi reacted to his left cross, but a defender just cleared the ball away. FUJIHARU also attempted attacking on the left flank but struggled to link with central players.
With Japan's errors increasing midway through the first half, Sergipe started to win the ball and find space upfront. The Sergipe's goal came in the closing minutes of the first half, when Japan allowed Hiago to break through their side and sent the ball to Rafael at centre, which ended up in the equaliser.
At the start of the second half, Japan reshuffled the lineup with a 4-1-4-1 formation except for KAMEKAWA, IWANAMI, IDEGUCHI and Nakajima who all remained on the pitch. But Iwanami was replaced by a training partner defender KOJIMA Masaya (Vegalta Sendai) in the 62nd minute because Iwanami expressed abnormal physical condition. Two minutes later, another training partner WATANABE Kouta (Tokyo Verdy Youth) was subbed in for Kamekawa.
Japan created chances with efforts by Nakajima in the 64th minute and midfielder YAJIMA Shinya (Fagiano Okayama) two minutes later, but other than that they failed to even come close. NAKAMURA Kosuke (Kashiwa Reysol), who came off the bench in the second half, made a superb save from Marlon's close-range shot in the 59th minute. The match ended in a 1-1 draw.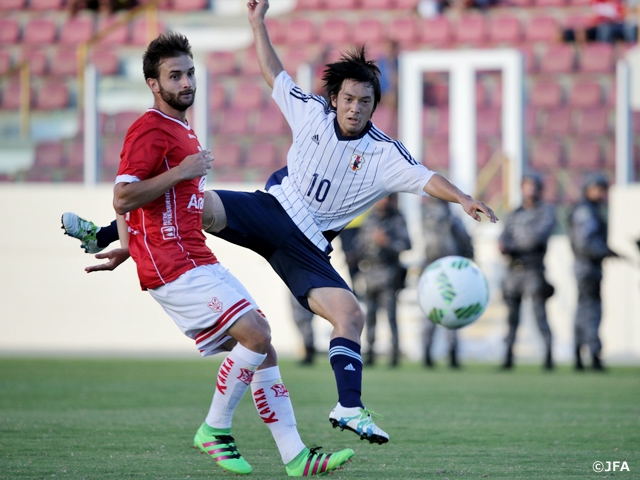 Despite a training match taking place in the weekday afternoon, there were a number of local fans attending to help create excitement at the venue. Commemorative gifts were exchanged between Sergipe State officials and Japan's Olympic squad before the kick-off. After the match, when the electrical scoreboard displayed a message "Good luck on the Rio Olympics! Cheers," fans gave a warm hand from the stands.
Japan Coach TEGURAMORI Makoto said, "It was good training. We tried to find out where we are at this point while conditioning ourselves. Now I feel that was about what I thought it would be." SHIOTANI Tsukasa (Sanfrecce Hiroshima) said, "we overage players don't have many players who we've played together with in the past, so the match was a good opportunity for us. Each one of those opportunities and practice sessions and each one of the days will be very important."
Midfielder OHSHIMA Ryota (Kawasaki Frontale) was watching the match since he had been sidelined and resting at hotel due to fever and stomach-ache troubling remaining until the previous day. He went for running on the field after the match.
The team will fly to Goiânia to play against Brazil on 30 July after working on training in Aracaju on 28 July.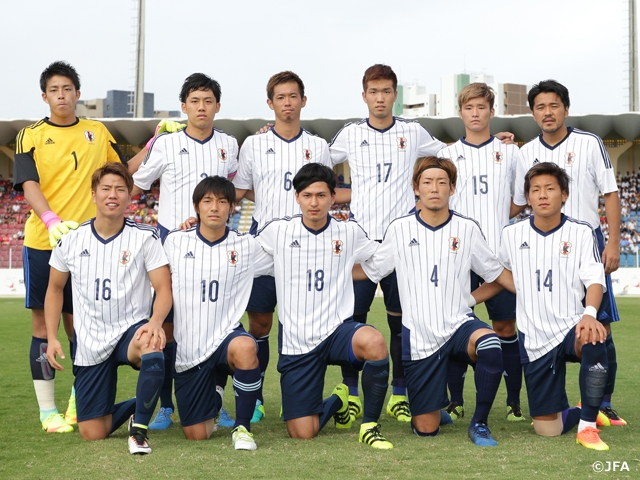 Coach and Players' Comments
TEGURAMORI Makoto, Coach
Today's starting lineup was organised to win through well together with all the players involved, and I limited overage players to play only for 45 minutes as there will be a lot of matches ahead. In the second half, I tried a group of players including U-19 players to bring out each one's strength in that specific lineup. And everyone showed his strength. But what they were trying to do was too simple. If Kohrogi's skill and flick work well, we can display acute attacking. But as we use most of our energy upfront, we end up allowing the opponents to attack us after giving away the ball and before setting up our defence.
It was good we were able to make some mistakes today. We've been reviewing well how to finish a match, how to use time, how to pass the ball without going forward in order to spread the opponents out and then how we gave away the ball forcing us to get in pinches. It was good we experienced them before the tournament.
DF #6 SHIOTANI Tsukasa (Sanfrecce Hiroshima)
I was focusing on what we worked on in training and how to communicate with defenders and goalkeepers rather than the win-loss result itself. It was great, and our defensive line controlling wasn't so bad. We worked together as talking with each other. When we gave up a goal, we thought there was a foul and stopped playing. It reminded me that it's important to keep playing until the whistle is brown. I played only 45 minutes, but we've got to play 90 minutes at a high pace against world's top teams. We will be fit to cope with such opponents.
FW #13 KOHROGI Shinzoh (Urawa Reds)
It's important to score a goal on only a handful of chances we can get in the finals. In that sense, I'm glad to score in that kind of situation. We combined well with each other with one or two touches in the midfield but struggled to break through in the vital area. That's what we need to work on. And one shot is not enough. Because we didn't have so many crosses from sides, I've got to keep the ball upfront. With the test today, I felt things are looking to be pretty well.
MF #10 NAKAJIMA Shoya (F.C. Tokyo)
I was comfortable playing with Kohrogi. We still have one more match to go, so we will try to combine well. There is a week and a few days more to go, and we've got to improve as a team then. It's good to go for the tournament with a sense of urgency. With being aware of how low our level still is, we want to work on training so as to have confidence while playing.
Schedule
Tue. 19 July
PM
Training
Wed. 20 July
PM
Training
Fri. 22 July
PM
Training
Sat. 23 July
AM/PM
Training
Sun. 24 July
AM/PM
Training
Mon. 25 July
AM/PM
Training
Tue. 26 July
AM/PM
Training
Wed. 27 July
1-1
Training Match
vs C.S Sergipe
Thu. 28 July
AM
Training
Fri. 29 July
PM
Official Training
Sat. 30 July
16:30
International Friendly Match
vs U-23 Brazil National Team (@Estádio Serra Dourada)
[Japan Time: Sun. 31 July 4:30]

Olympic Football Tournament Rio 2016
Sun. 31 July
TBC
Training
Mon. 1 August
TBC
Training
Tue. 2 August
TBC
Training
Wed. 3 August
TBC
Official Training
Thu. 4 August
21:00
Group B 1st Match
vs Nigeria (@Amazonia Arena)
[Japan Time: Fri. 5 August 10:00]

Fri. 5 August
TBC
Training
Sat. 6 August
TBC
Training
Sun. 7 August
21:00
Group B 2nd Match
vs Colombia (@Amazonia Arena)
[Japan Time: Mon. 8 August 10:00]

Tue. 9 August
PM
Official Training
Wed. 10 August
19:00
Group B 3rd Match
vs Sweden (@Fonte Nova Arena)
[Japan Time: Thu. 11 August 7:00]

*The following schedule determines to win and advance to the next round
Sat. 13 August
16:00
22:00
Quarter-Final (If Japan top the Group)
vs Group A 2nd (@Fonte Nova Arena)
Quarter-Final (If Japan 2nd the Group)
vs Group A 1st (@Corinthians Arena)
Sun. 14 August
TBC
Training
Mon. 15 August
TBC
Training
Tue. 16 August
TBC
Training
Wed. 17 August
13:00
16:00
Semi-Final (@Maracana/Rio de Janeiro)
Semi-Final (@Corinthians Arena/Sao Paulo)
Thu. 18 August
TBC
Training
Fri. 19 August
TBC
Training
Sat. 20 August
13:00
17:30
3/4-Place Playoff (@Mineirao/Belo Horizonte)
Final (@Maracana/Rio de Janeiro)
*Local Time
*The schedule is subject to change due to the team condition, the weather, etc.