NEWS
Japan's Olympic squad hold two practice sessions on second day in Brazil
24 July 2016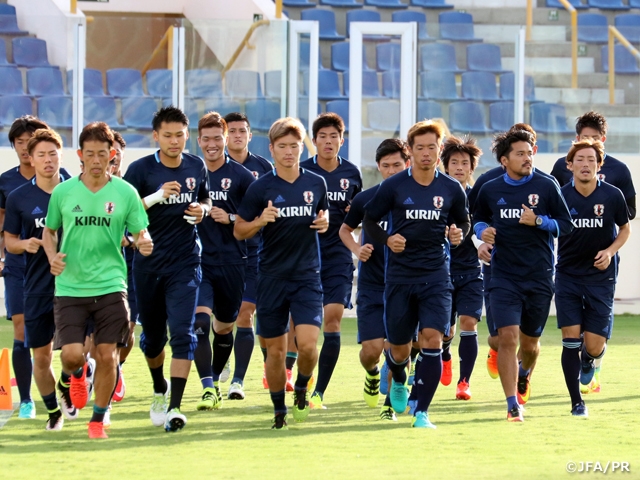 The Japan's national team, who arrived in Brazil, held two practice sessions on 23 July.
It was a typical Brazilian weather with a temperature of 31 degrees Celsius and 53% humidity. In the morning, the team focused on adjusting themselves just like the prior day. The coach TEGURAMORI encouraged the players, "let's concentrate on getting in good condition both physically and mentally and remember why you are here." While acclimatising to the time difference and the heat, the players responded by showing their enthusiasm in running, stretching, and training.
Subsequently, the players did some skills workshop, in which they practiced nine different techniques in pairs, including kick-ups, passing, and dribbling to finish the morning session.
IDEGUCHI Yosuke, who had left Japan late due to a fever, joined the team in the afternoon.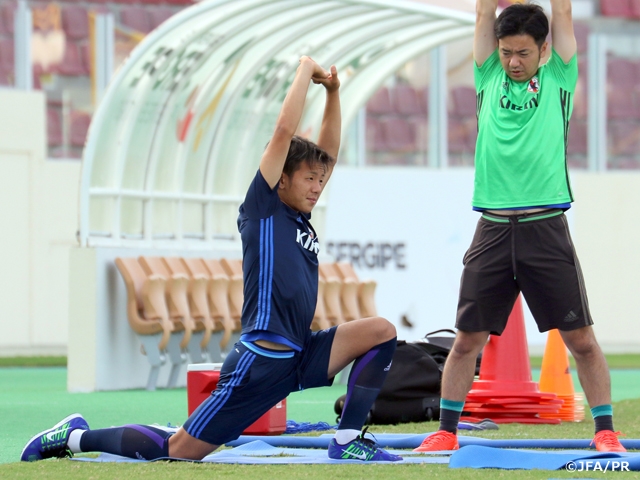 All the players except IDEGUCHI, who practiced separately, started the afternoon session with the Yo-Yo test. The team moved onto passing and controlling in groups of six, as well as practicing possession in six-on-six plus six neutral players, and went through a series of combinations in different formations, which was the first tactics session after the over-aged players had joined the training.
At the end, the players had an unaccustomed nine-on-nine game with goalkeepers on a half-length pitch. There was an excellent atmosphere among the team with the over-aged players, the U-23 generation, and the training partners.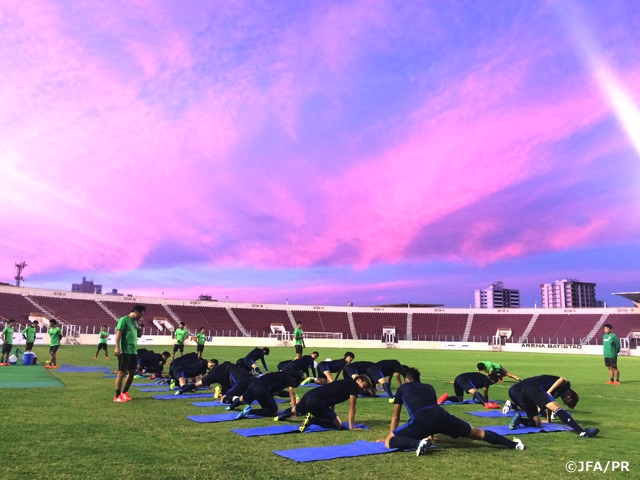 With only one week to go before the practice game against Brazil, a key test for Japan at the Olympics, the team seems to be getting in good condition.
Players' Comments
MINAMINO Takumi (Salzburg/Austria)
I'm proud of having been selected for the Japan's national team, and I'll try my hardest to get a medal as a representative of Japan. After arriving in Brazil, I feel the Olympics are finally starting. Despite the heat during the daytime, the temperature surprisingly drops in the late afternoon. So I'd like to prepare well for the game. As I have been playing matches back in my club, I think I'm in good condition. I hope we can improve our combinations as a team in Brazil.
Although I haven't practiced with the three over-aged players yet, I'd like to learn many things from them to prepare for the game. As an attacker, I'll focus on scoring and assisting goals. I'll perform with all my power against excellent teams.
MF #9 YAJIMA Shinya (Fagiano Okayama)
It's finally starting. First of all, I'd like to acclimatise myself to the local atmosphere, the weather, and the time difference. I'd never travelled this long before and I felt quite tired. I have recovered to a certain extent yesterday and, further, today. I don't think number nine is representative of my current style of playing. However, I used to wear it when I was an elementary school student and scored a lot of goals. So it's a kind of lucky number for me. There aren't many game-makers with that number and I hope I can stand out by providing neat last passes and assisting goals. I'm also eager to strike goals as a number nine.
MF #14 IDEGUCHI Yosuke (Gamba Osaka)
I had to delay travelling here due to a fever. I'm relieved that I didn't get lost. It's still surreal for me to be in Brazil, but I'm sure it will become real through the practice sessions. I lost weight. I need to eat a lot of food (prepared by our chef Nishi) in order for me to get back in game-form. I hope I can showcase my strengths, staying strong near the ball and playing hard, at the Olympics.
I need to stay competitive, as there are four defensive midfielders in the team. I believe that I can be a starter, if I display my strengths. I look forward to seeing how well I can play against Brazil on 30 July, just like many others do. I'd like to show that we can perform well even against Brazil.
Schedule
Tue. 19 July
PM
Training
Wed. 20 July
PM
Training
Fri. 22 July
PM
Training
Sat. 23 July
AM/PM
Training
Sun. 24 July
AM/PM
Training
Mon. 25 July
AM/PM
Training
Tue. 26 July
AM/PM
Training
Wed. 27 July
PM
Training Match
vs C.S Sergipe
Thu. 28 July
AM
Training
Fri. 29 July
PM
Official Training
Sat. 30 July
16:30
International Friendly Match
vs U-23 Brazil National Team (@Estádio Serra Dourada)
[Japan Time: Sun. 31 July 4:30]

Olympic Football Tournament Rio 2016
Sun. 31 July
TBC
Training
Mon. 1 August
TBC
Training
Tue. 2 August
TBC
Training
Wed. 3 August
TBC
Official Training
Thu. 4 August
21:00
Group B 1st Match
vs Nigeria (@Amazonia Arena)
[Japan Time: Fri. 5 August 10:00]

Fri. 5 August
TBC
Training
Sat. 6 August
TBC
Training
Sun. 7 August
21:00
Group B 2nd Match
vs Colombia (@Amazonia Arena)
[Japan Time: Mon. 8 August 10:00]

Tue. 9 August
PM
Official Training
Wed. 10 August
19:00
Group B 3rd Match
vs Sweden (@Fonte Nova Arena)
[Japan Time: Thu. 11 August 7:00]

*The following schedule determines to win and advance to the next round
Sat. 13 August
16:00
22:00
Quarter-Final (If Japan top the Group)
vs Group A 2nd (@Fonte Nova Arena)
Quarter-Final (If Japan 2nd the Group)
vs Group A 1st (@Corinthians Arena)
Sun. 14 August
TBC
Training
Mon. 15 August
TBC
Training
Tue. 16 August
TBC
Training
Wed. 17 August
13:00
16:00
Semi-Final (@Maracana/Rio de Janeiro)
Semi-Final (@Corinthians Arena/Sao Paulo)
Thu. 18 August
TBC
Training
Fri. 19 August
TBC
Training
Sat. 20 August
13:00
17:30
3/4-Place Playoff (@Mineirao/Belo Horizonte)
Final (@Maracana/Rio de Janeiro)
*Local Time
*The schedule is subject to change due to the team condition, the weather, etc.