NEWS
Olympic prep camp Day 4: Two-a-day session centred on speed
26 July 2016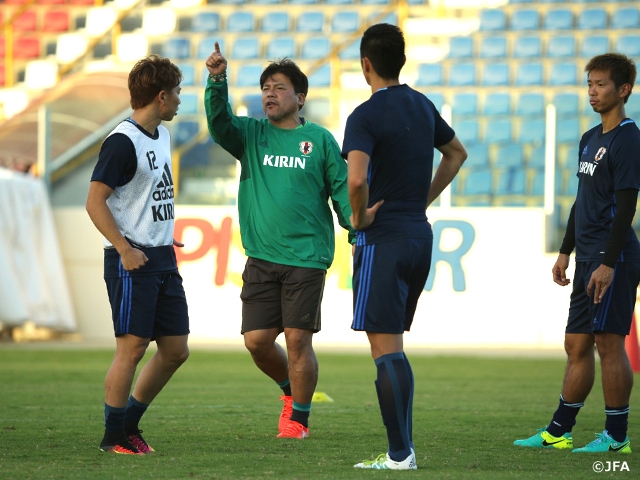 Ahead of the Rio de Janeiro Olympics, Japan's Olympic squad had their second two-a-day training on Monday 25 July during their prep camp in Aracaju, north east coast of Brazil.
In the morning session under the scorching sun like summer, the squad worked on 2-on-2 and 3-on-3 training on a half-sized pitch after trunk training and a ball-passing drills in a small area. Despite a strong squall midway through the session, the players repeated moves for shots by changing the timing of passing and the pace of running to find a gap between defenders.
Forward ASANO Takuma (Arsenal FC/ England), midfielder YAJIMA Shinya (Fagiano Okayama), midfielder IDEGUCHI Yosuke (Gamba Osaka) and other players scored goals, while defenders including UEDA Naomichi (Kashima Antlers) got praised by their coaches with a word like "nice!" when they were successful in intercepting a pass or blocking a shot.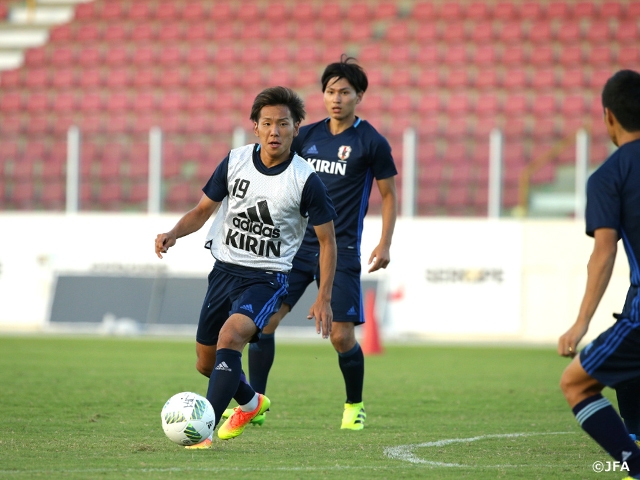 After that, all the players took a penalty shot before finishing the morning session.
In the afternoon with cool breeze blowing from the ocean, the Japan team went through speed, agility and quickness training, followed by a defence review in a 9-on-9 game with goalkeepers in a small area.
Their main focus was to check up if there is no marking error for cross balls from sides and square passes as well as to review both backs' positioning and approaching speed. Coach Teguramori instructed the defensive line to call out to each other and link up well.
The training was focused on speed—their challenge in order to win through the Olympics. Both morning and afternoon sessions were physically demanding, but midfielder ENDO Wataru (Urawa Reds) said, "everyone is handling the hard training pretty well. We have been going through productive training."
The team will have another workout in the afternoon on Tuesday 26 July before playing against a local club C.S Sergipe on Wednesday 27.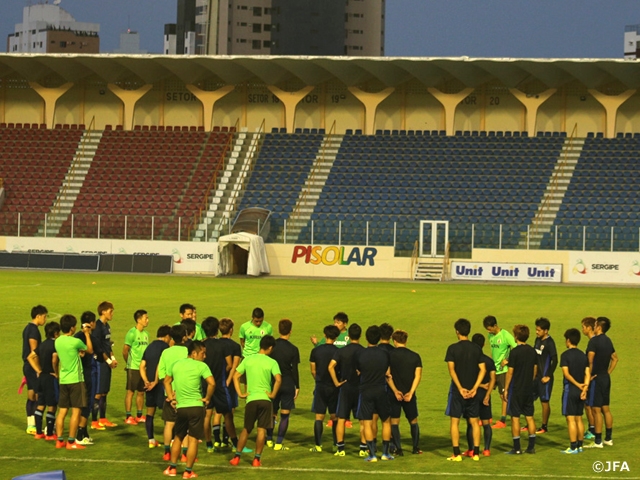 Comments
TEGURAMORI Makoto, Coach
The team have been progressing in a good pace, and everything is working out just as I imagined. Maybe the players can't wait to play a match, but I told them "don't be impatient." Depending on whether or not they can see every practice drills as a way to win, (the effectiveness of) this programme is going to vary significantly. I told them that I have absolute confidence in my programme, so I want my players to be confident. I want them to keep feeling "we can do it! We can do it!" as I, myself, am feeling so. But we've got to work out, reminding us that we aren't anything like a strong team, and we can make ourselves better only in actual Olympic matches. Thinking that we (might) need to battle out the enitre tournament, I'm not trying to push the players too much and to fill up the tank of their desire to play more matches entirely.
MF #3 ENDO Wataru (Urawa Reds)
Everyone is focused during training. And I've been talking to players who I've got to collaborate well with. We are in a good mood. Even with overage players at the defensive line, we are comfortable. That's because they tell us where to move, which facilitates our play, and we can take care of dangerous spots by listening to their voice. In a training match day after tomorrow, there may be some part that does not work well, but we can make adjustments by the following Brazil match. We don't need to worry too much about it, but it's important to take on challenges without hesitation and to show what each player has.
DF #4 FUJIHARU Hiroki (Gamba Osaka)
There is a difference in defence from Gamba's, so I learned it today. We all play differently with our teams, and it's hard to collaborate with them in such a short period of time here. But for me, it's important to work with midfielders on sides. I will try to link up by communicating with them. As a whole, everything is going well personally, and our coach also said we are doing well. Everyone thinks positively and has a sense of "we can make it." There will be a meeting for overage players with our coach. I will ask more details like positioning and try to have our coach's football sink in all of my senses.
AKIBA Tadahiro, Assistant Coach
The Olympics is not a stage where everyone can stand. With pride, I will try to bring out the best in me to make the team better. Everyone in the team can show their talent by having a high level of determination and focusing on the same direction. I'm always trying to support in an area coach Teguramori do not have the time to handle. When I played in the Olympics in 1996, the team weren't mature both mentally and physically as we were less experienced in international tournaments. But now we are working on conditioning with an eye for all the six matches. The schedule of the final qualifiers for the Olympics was almost identical as this tournament. That gave the players big confidence. I will try to work alongside our players so that they would not feel "I should have done that (prior to the tournament)." And hopefully we can show more power and gear up for the upcoming games.
HAYAKAWA Naoki, Conditioning Coach
The players fully recovered from fatigue in the Chiba camp on 19 and 20 July, except for Yajima having played matches with his club just before joining the team and Asano having had a lot of stress in the transfer process. I, along with coach Teguramori, will judge the level of fatigue based on the frequency of matches, including ACL and Toulon international tournament, the players had so far this year. But, it's still midway through the season, which began less than a half year ago. Basically, they are in good form.
Schedule
Tue. 19 July
PM
Training
Wed. 20 July
PM
Training
Fri. 22 July
PM
Training
Sat. 23 July
AM/PM
Training
Sun. 24 July
AM/PM
Training
Mon. 25 July
AM/PM
Training
Tue. 26 July
AM/PM
Training
Wed. 27 July
PM
Training Match
vs C.S Sergipe
Thu. 28 July
AM
Training
Fri. 29 July
PM
Official Training
Sat. 30 July
16:30
International Friendly Match
vs U-23 Brazil National Team (@Estádio Serra Dourada)
[Japan Time: Sun. 31 July 4:30]

Olympic Football Tournament Rio 2016
Sun. 31 July
TBC
Training
Mon. 1 August
TBC
Training
Tue. 2 August
TBC
Training
Wed. 3 August
TBC
Official Training
Thu. 4 August
21:00
Group B 1st Match
vs Nigeria (@Amazonia Arena)
[Japan Time: Fri. 5 August 10:00]

Fri. 5 August
TBC
Training
Sat. 6 August
TBC
Training
Sun. 7 August
21:00
Group B 2nd Match
vs Colombia (@Amazonia Arena)
[Japan Time: Mon. 8 August 10:00]

Tue. 9 August
PM
Official Training
Wed. 10 August
19:00
Group B 3rd Match
vs Sweden (@Fonte Nova Arena)
[Japan Time: Thu. 11 August 7:00]

*The following schedule determines to win and advance to the next round
Sat. 13 August
16:00
22:00
Quarter-Final (If Japan top the Group)
vs Group A 2nd (@Fonte Nova Arena)
Quarter-Final (If Japan 2nd the Group)
vs Group A 1st (@Corinthians Arena)
Sun. 14 August
TBC
Training
Mon. 15 August
TBC
Training
Tue. 16 August
TBC
Training
Wed. 17 August
13:00
16:00
Semi-Final (@Maracana/Rio de Janeiro)
Semi-Final (@Corinthians Arena/Sao Paulo)
Thu. 18 August
TBC
Training
Fri. 19 August
TBC
Training
Sat. 20 August
13:00
17:30
3/4-Place Playoff (@Mineirao/Belo Horizonte)
Final (@Maracana/Rio de Janeiro)
*Local Time
*The schedule is subject to change due to the team condition, the weather, etc.