NEWS
Japan rally past Zambia in friendly on final day in Florida camp
07 June 2014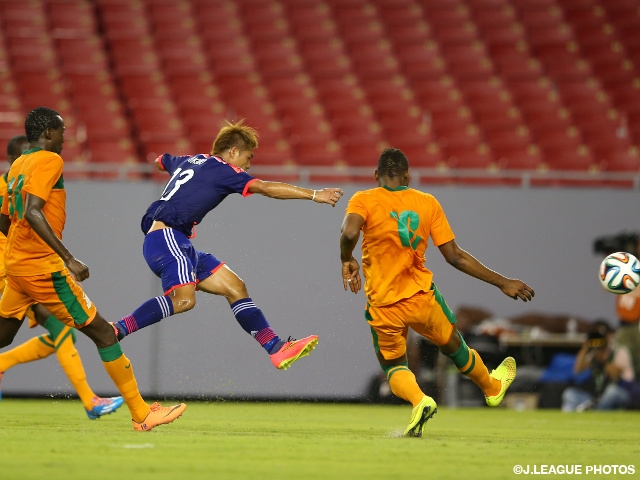 Forward Okubo Yoshida netted a game-winner to help the Japan national World Cup team edge Zambia 4-3 an international friendly match at Raymond James Stadium in Tampa, Florida on the 6th June.
The Asian side were down 0-2 as they allowed goals on 8th minute and 29 minute, but struck back one on a penalty kick by forward Honda Keisuke just before halftime. And in the second, Japan went ahead with consecutive goals by Kagawa Shinji and Honda on 74th and 76 minutes, respectively. Zambia scored an equalizer on 89th, but Okubo clinched the win with his goal, which was his first goal in a Japan jersey in a matched played abroad, in the additional minutes.
For the one last match to wrap up the training camp here, Japan used Yoshida Maya and Konno Yasuyuki, who was used as a left side-back in the Costa Rica game four days earlier, as the starting center-backs, Nagatomo Yuto in the left side-back spot and a duo of Endo Yasuhito and Yamaguchi Hotaru in the defensive midfielder positions. On the offensive squad, they changed the right winger and the sole forward position from the previous match to Okazaki Shinji and Kakitani Yoichiro, respectively, and had Nishikawa Shusaku as the goalkeeper.
Zambia were eliminated in the second World Cup qualifier, but were the winners in the Africa Nations Cup in 2012. They played organised defence, putting a lot of pressure, and it gave Japan a hard time. Japan weren't able have their offensive rhythm as they wouldn't connect passes and put the ball at the offensive midfielder's foot.
In the meantime, Japan allowed Zamia to attack from their right side and Christopher Katongo, who ran up from the opposite side, put a cross into the Japan goal with a header on 9th minute. Then on 29th, Nathan Sinkala, who became wide open near the box after a right-side corner kick, added another.
Japan finally earned a scoring opportunity when a Kagawa cross hit an opponent's arm to be given a penalty kick on 39th minute. Honda netted the bonus kick in the following minute to cut the deficit.
Japan substituted Kakitani with Okubo to try to make some rally as they entered the second half. But Zambia still kept some momentum, creating some chances like Emmanuel Mayuka got in the box from the left side and Katongo attempted to net another goal with a header after a corner kick.
Japan replaced Konno with Morishige Masato and Okazaki with Osako Yuya in the 59th and 60th minutes, respectively. They also sent Sakai Hiroki in for Uchida Atsuto, and eventually tried to get the momentum back.
In the 74th minute, Japan tied it at 2 all as Kagawa cut inside and scored after receiving a pass from Endo in the left side. One minute later, Honda nailed a pass from Morishige, who made a turn-around move, into the net to give Japan a 3-2 lead.
Yet Zambia came back to tie it again with a middle shot by Lubbock Musonda on 89th minute.
Moments after, Japan sent Aoyama Toshihiro in for Endo. And Okubo sprinted behind the Zambia defence, reacting to a long floating feed by Aoyama. Okubo trapped it with his right feet to dodge the defenders, and then kicked it now with his left into the goal for the game-winning score.
Okazaki cut above one of his eyes as he collided with the opponent's goalkeeper on 18 minute, but received some temporary treatment and stayed on the pitch until he was substituted on 60th minute.
The Japan team wrapped up all their tune-up matches before the World Cup. They were set to leave here on a chartered flight and headed for Brazil.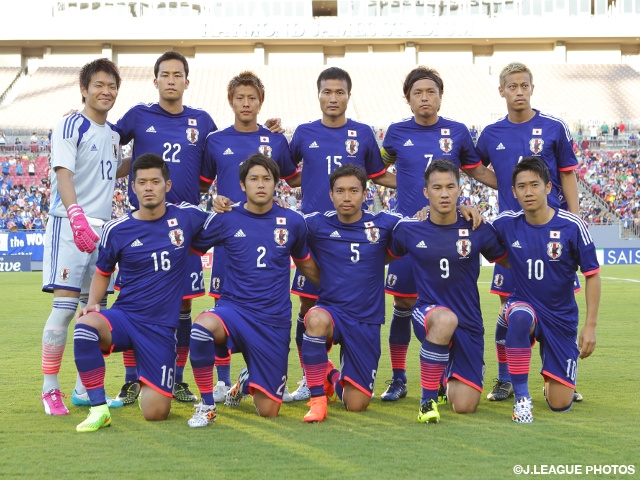 Comments
Alberto Zaccheroni, head coach
We emphasized more on the content than the result in today's match, but the two goals we allowed were something we have got to correct. There are some logics for this team and as far as we play based on them, we can have positive results even against powerhouse teams. But we couldn't put them up today at all. The intensity that we showed four days ago could not be seen either. But I do know this team very well, and am not worried. Our players have clear image on what kind of plays they have to show. We have times we can do that and we have times we cannot do that. When we can more often, it will lead us to have our own game. I think that our players put a lot of effort in it. We have one more week (until our first game in the World Cup), and as we have done, we are just going to try to elaborate on our football that gave us the outcomes so far.
Okazaki Shinji, forward (FSV Mainz 05/Germany)
'I got to know that teams like that would come all-out from the beginning, and we allowed them to connect and could not have our own game. Even when we had the ball, we just had mistakes on our own too often. We struggled to start our game. They were rotating their passes easily, which was something we weren't really anticipating, and it gave us a good lesson. Assuming that Cote d'Ivoire will come against us, connecting passes from the first half, we have to think about our timing to try to get the ball. We don't want to give up a goal in the actual tournament and it will be signifiant.'
Nagatomo Yuto, defender (Inter Milan/Italy)
Early in the match, we weren't as focused as we'd like to and both our bodies and brains weren't moving well. I believe that once we get in the World Cup, we get more tightened up, but we were supposed to be like that at this point already. If we were going to lose to Zambia, there would be no way that we could have beaten Cote d'Ivoire. We must brace up our mind.
Nishikawa Shusaku, goalkeeper (Sanfrecce Hiroshima)
As a goalkeeper, the three goals we gave up were just frustrating. It was great for us as the team to score some goals in the second half and went on to win it, but again the three goals were huge disappointments for me. Up until about 30 minutes in the first half, we could not have good defence up front, allowed them to change the side to get us off-balance and we had a lot of dangerous situations. We entered the match, not focusing as well as in the Costa Rica match. There were so many different things that I felt through today's contest, but I would just like to take advantage of this frustrations for the next occasion.
Patrice Beaumelle, Zambia head coach
It looks like Japan's ready for the World Cup. Japan were good at their ball possessions and played as the team, so we tried to play compactly, keeping pressing for the 90 minutes. Our players played well, but the two goals we conceded in a one-minute span were about the problem about our concentration, and it was frustrating that we missed to end the match in a draw. You cannot earn a win unless you have plays with qualities consistently. It turned out to be a great lesson for our players to know where we are at the moment through today's match.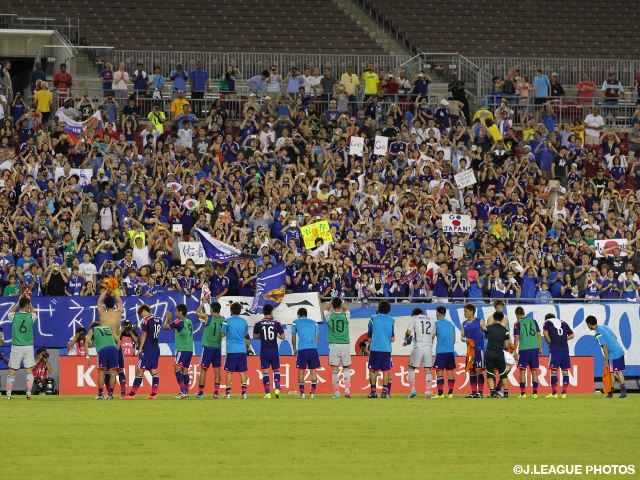 Schedule
Wed, 21 May
↓
Sun, 25 May
-
Training Camp
Sun, 25 May
18:00
"Dream for Our power 2014" send off party
(Tokyo/Yoyogi National Stadium Yoyogi Gymnasiums 1)
Tue, 27 May
1-0
Kirin Challeng Cup2014
vs Cyprus National Team
(SAITAMA Stadium2〇〇2)
Thu, 29 May
↓
Fri, 6 June
-
Training Camp
(Unaited States)
Mon, 2 June
3-1
International Friendly Match
vs Costa Rica NationalTeam
(United States/Tampa)
Fri, 6 June
4-3
International Friendly Match
vs Zambia NationalTeam
(United States/Tampa)
LIVE
Hong Kong : 6/7 07:30~
i-CABLE Sports
Super Soccer Channel 61
Thailand : 6/7 06:30~
True Sport 1
True Sport HD 2
Sat, 14 June
22:00
2014 FIFA World Cup Brazil
vs CÔTE D'IVOIRE National Team
(Arena Pernambuco)
Thu, 19 June
19:00
2014 FIFA World Cup Brazil
vs Greece National Team
(Estadio das Dunas)
Tue, 24 June
16:00
2014 FIFA World Cup Brazil
vs Colombia National Team
(Arena Pantanal)
※Local Time