NEWS
Japan National Team arrive at base in Brazil
08 June 2014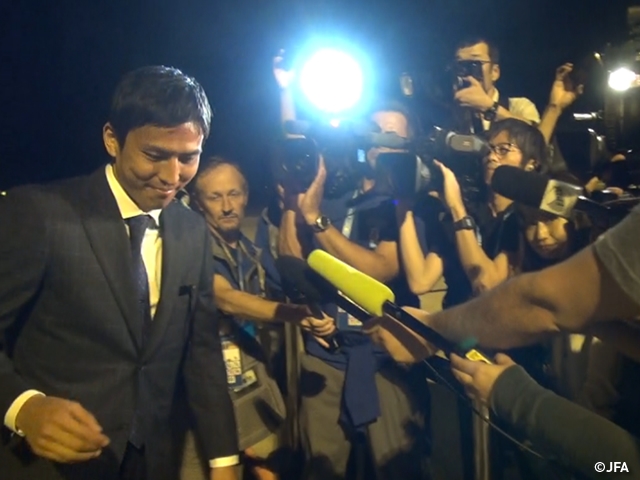 On 7 June, The Japan National Team finally arrived in Brazil, where they will face the challenge of the 2014 FIFA World Cup.
Japan finished their training camp in Florida, America, winning a friendly against Zambia 4-3 on 6 June, and left Clearwater the following morning. They flew to Brazil from Tampa International Airport on a chartered plane.
After the players were welcomed by an arch of water at the Viracopos International Airport in São Paulo state, they traveled by road to their base in Itu, which is located in the northeast of São Paulo.
At the centre in Itu, in which they will stay, Mr Fukushima, the consul general, as well as representatives of the Japanese communities in São Paulo gave the players a warm welcome. The players, 50 staff, and 350 pieces of luggage, weighing four tons, settled in to the brand-new place.
The players will start their training sessions in the centre on 8 June in preparation for their first match of the championship on 14 June.
Comments
Alberto Zaccheroni, Head coach
Finally we're in Brazil. We've been practicing for four years for this moment since the team was assembled. I feel very pleased that we are here now. We will get ourselves in shape in this week.
My team is well prepared and they have improved so much. So, it will be about putting on final touches.
We want to stay positive with smiles, and be confident having the faith in our ability, just like other teams, who got through qualification.
HASEBE Makoto(Eintracht Frankfurt /Germany)
We are in Brazil, finally. We'd like to achieve a good result, getting ourselves into great shape based on our four-year preparations.
As our team is in good physical condition, it now comes down to our mentality. I want to focus my mind on the opening match, so that as a team we can play well. We still roughly have a week before the first match, so I want to build up a good atmosphere for the team in preparation for the coming challenge.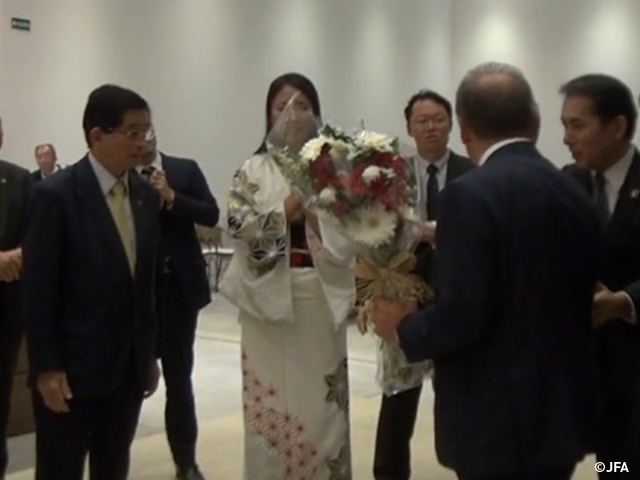 JFA-TV
Alberto Zaccheroni, Head coach    MF HASEBE Makoto
Schedule
Wed, 21 May
↓
Sun, 25 May
-
Training Camp
Sun, 25 May
18:00
"Dream for Our power 2014" send off party
(Tokyo/Yoyogi National Stadium Yoyogi Gymnasiums 1)
Tue, 27 May
1-0
Kirin Challeng Cup2014
vs Cyprus National Team
(SAITAMA Stadium2〇〇2)
Thu, 29 May
↓
Fri, 6 June
-
Training Camp
(Unaited States)
Mon, 2 June
3-1
International Friendly Match
vs Costa Rica NationalTeam
(United States/Tampa)
Fri, 6 June
4-3
International Friendly Match
vs Zambia NationalTeam
(United States/Tampa)
LIVE
Hong Kong : 6/7 07:30~
i-CABLE Sports
Super Soccer Channel 61
Thailand : 6/7 06:30~
True Sport 1
True Sport HD 2
Sat, 14 June
22:00
2014 FIFA World Cup Brazil
vs CÔTE D'IVOIRE National Team
(Arena Pernambuco)
Thu, 19 June
19:00
2014 FIFA World Cup Brazil
vs Greece National Team
(Estadio das Dunas)
Tue, 24 June
16:00
2014 FIFA World Cup Brazil
vs Colombia National Team
(Arena Pantanal)
※Local Time