NEWS
Activity report of U-19 Japan National Team on UAE tour (2 and 3 June)
04 June 2014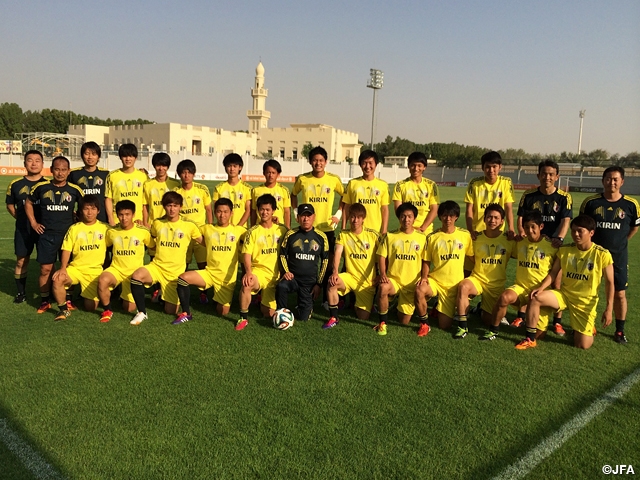 The U-19 Japan National Team left for the UAE in the small hours of 2 June in order to play a friendly match against the UAE U19s.
After arriving in Dubai in the UAE early in the morning on 3 June, the players held a practice session at 5:00 pm. They did some stretching, core training and running in order to recover from the long flight, finishing off the practice with some relaxed passing. Due to the nearly 40-degree heat, the players had to take good care of themselves, regularly taking on fluid as they perspired during the short session.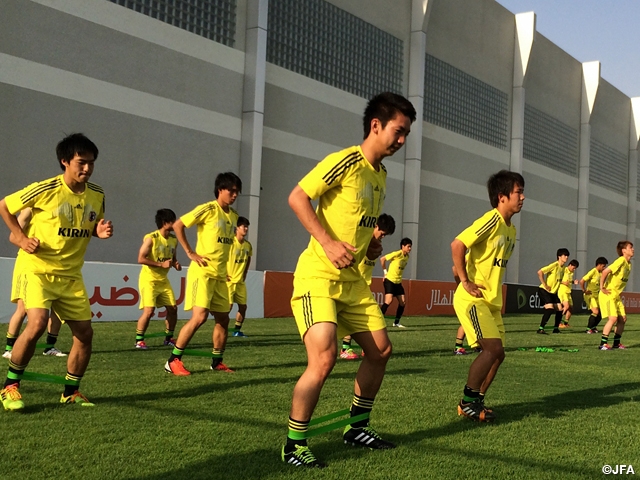 On this tour the players stay at a brand-new training centre, which was opened this April and is owned by the UAE Football Association. The Japanese team will also have training sessions and friendly matches there. Some facilities, including a training gym, an artificial turf pitch, a gymnasium and a beach soccer pitch, are still under construction. However, it will be an excellent football centre with a lot of facilities.
The players will start their first full-scale practice sessions from 4 June and play friendlies against the U-19 UAE National Team on 6 and 8 June. They will get ready for the AFC U-19 Championship as a united team through high quality training in this excellent environment.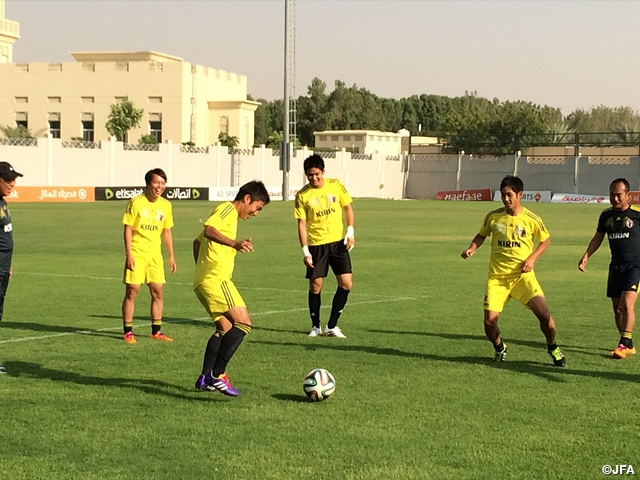 Comments
UCHIDA Yuto(Gamba Osaka)
The UAE tour has started. The environment, including the temperature, is different from Japan, but we will focus on having high quality training sessions and being motivated so that the team and each individual player will improve. We will have another match in Japan after two games in the UAE. So we'd like to win well here, playing aggressively - the U-19 National Team playing style - and raise the level of the team.
AOKI Ryota(Nagoya Grampus)
It's been a while since I played with the U-19 National Team before. So in this UAE tour I want to find out how much I can contribute to the team, and also I'd like to update my skills in the coming 11 days. We will play as a united team with improved combination tactics in order to win the games here. I will do my best to be better as an individual player as well as a member of the team.
MIZUTANI Takuma(Shimizu S-Pulse Youth)
I'd like to focus on the results and what we do in the matches against the UAE on this tour. I'll take part in the practice session pumped up, as if it is a real match. As this is only the second time I have been selected for the U-19 National Team, I want to communicate more with other players. I'll carry my weight so that the team will become better during the tour.
Schedule
| | | |
| --- | --- | --- |
| Fri. 6 June | 18:15 | International Friendly Match vs UAE U-19(UAE FA Stadium) |
| Sun. 8 June | 18:15 | International Friendly Match vs UAE U-19 (UAE FA Stadium) |
| Wed. 11 June | 10:00 | Training Match vs Yokohama FC(Nissan Field Kozukue) |
| Thu. 12 June | 11:00 | Training Match vs Shonan Bellmare(Banyu Fureai Park Soccer Field) |
Future Schedule
| | |
| --- | --- |
| 8/10~17 | 2014 SBS Cup International Youth Tournament |
| 9/3~15 | AFF U19 PREPARATORY TOURNAMENT 2014(Vietnam) |
| 9/29~10/6 | Training Camp(Domestic) |
| 10/7~24 | AFC U-19 Championship Myanmar 2014 |