NEWS
U-19 Provisional Japan National Team started training in Soma City, Fukushima
19 May 2014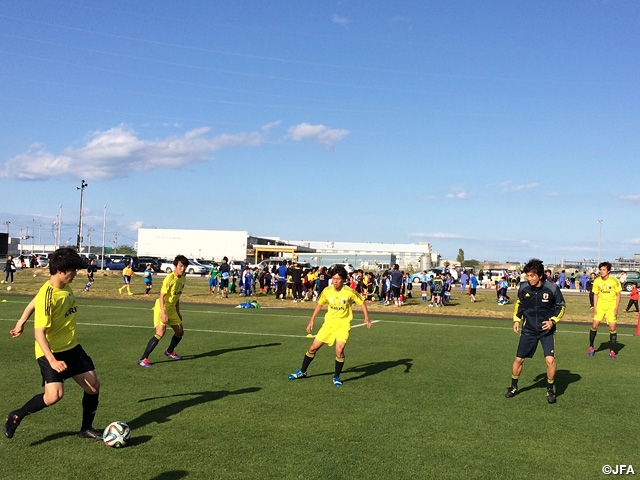 U-19 Provisional Japan National Team started training in Soma City, Fukushima on Sun. 18 May. The site of this training camp is Soma Koyo Soccer Ground of Fukushima Football Centre reopened with a renovation in October last year. This is one of the football center built by Japan Football Association (JFA) in the devastated coast region in Iwate, Miyagi and Fukushima. The centre equipped with three natural grass pitches and two artificial pitches, given support by FIFA, UEFA, Kirin Group, etc. Seven players who didn't have the game on 18 May for the club team they belong to, came to the first day of the training and worked out by taking part in the training using the ball including 3 on 2, 4 on 2.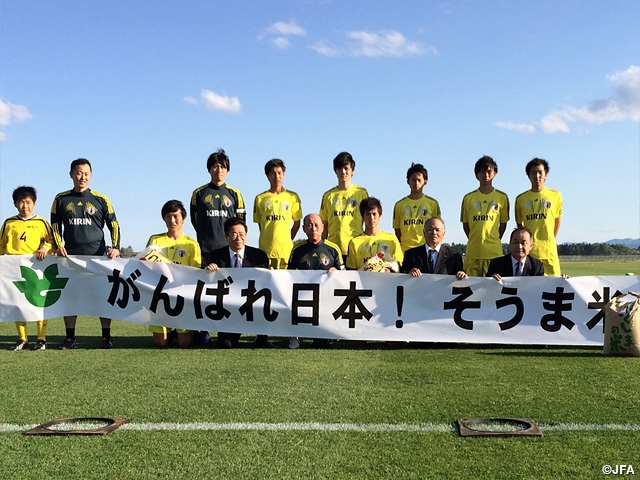 Following the training, soccer lesson was held for local elementary school students.
Before the soccer lesson started, there was a welcome ceremony in which TACHIYA Hidekiyo, city mayor of Soma city, gave them a welcome speech and kindly donated two bags of rice (120 kg) for encouraging them.
TEGURAMORI Hiroshi, coach in charge of reconstruction support, led the soccer lesson. The U-19 players and staff participated in the lesson as an assistant coach. In warming up session, the students had a ball one by one and exchange the pass using hands and running with ball placed on one hand; these programs were good for fostering a ball control feeling. Then, playing a chain tag and that resulted in better communication among the players and student.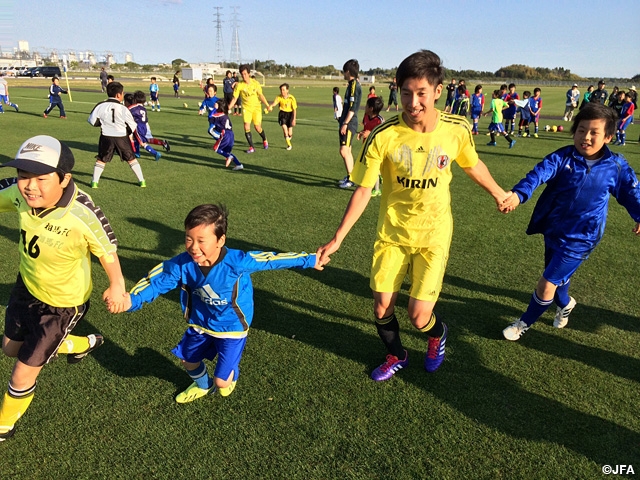 At the mini game, the elementary students were divided in groups for each grade and U-19 players participated in the group. The students were relaxed and enjoyed playing football without constraint to U-19 players; their lively voices were heard from the pitch. Skillful play of U-19 players impressed not only the students who played the game with but also their parental guardians.
Finally took the commemorative picture by each grade. 150 of participating students supposedly had an enjoyable day.
U-19 team will start a full training on 19 May and hold two test matches on 20 and 21 May. The team are working together to upgrade team performance preparing for AFC U-19 Championship Myanmar 2014. Training camp report for U-19 will be available on this HP.
Comments
OCHI Yamato (Sanno Institute of Management Universities)
As training period is short, I am trying to build better communication among team members both on the pitch and off the pitch, for making a solid team and comfortable for some new players. I received energy from the students playing cheerfully who had an experience of severe quake. For next time, I am committed to playing football for giving energy to others.
MIYAUCHI Tsuyoshi (Shonan Bellmare)
I enjoyed pretty much playing soccer with students at soccer lesson. I was glad the students gave me energy. I am eager to corporate in assisting in reconstruction and those who had a hard experience.
MISAO Kent (Verdy Tokyo 1969 Youth)
Three night and four day training has started today. Only seven players on the first day but we had a training in a good atmosphere. I had a very good time playing with local elementary students after the training. Although the training is short, I'd like to extend my thanks for playing a football and go back with many things I will learn at this training.