NEWS
U-19 Provisional Japan National Team Training Camp: Training match against Sony Sendai
22 May 2014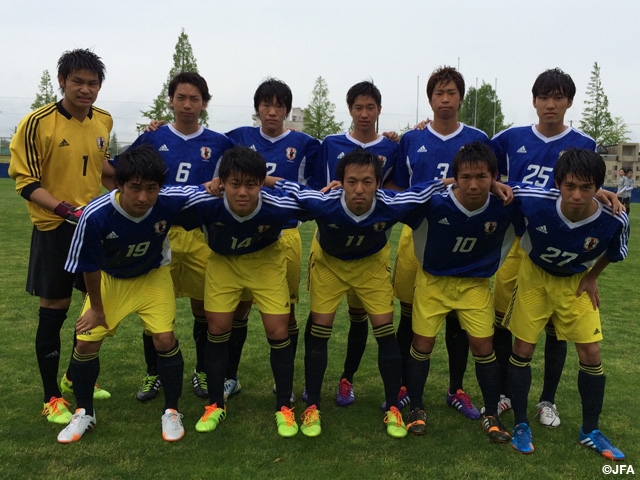 Training Match
Wed, 21 May 2014 11:00 Kick Off 90minutes(45minutes halves)
Miyagi Prefectural Soccer Field(Miyagi/Rifu Town)
Under-19 Provisional Japan National Team 0-1(1st 0-0、2nd 0-1) SONY Sendai
Scores
81min Goal Against(SONY Sendai)
Starters
GK:NAKAMURA Kosuke
DF:HIROSE Rikuto、UCHIYAMA Yuki、MIURA Genta、YAMAGUCHI Shinji
MF:SEKINE Takahiro、MATSUMOTO Masaya、KAWABE Hayao、OKUGAWA Masaya
FW:KANEKO Shota、OCHI Yamato
2nd
GK:TAGUCHI Junto
DF:ISHIDA Ryoma、MOTEGI Rikiya、MISAO Kento、Ando Teru
MF:OGAWA Naoki、OYAMA Keisuke、OMOTEHARA Genta、TAMURA Ryosuke
FW:MOROOKA Yusuke、MIYAICHI Tsuyoshi
Substitutes
MIYAHARA Kazuya
Match Report
The opponent of today's training match was Sony Sendai, which are one of the best teams in the JFL. The U-19 provisional squad had made adjustments after yesterday's training match, and tried attacking aggressively to create many scoring opportunities early in the first half. The most impressive moment came late in the first when Ochi, Sekine and Okugawa attacked the open space behind Sony Sendai's defenders and took the ball to the goal only to have the shot attempt defended by Sony Sendai's defence once again. The first half ended with no scores for both sides.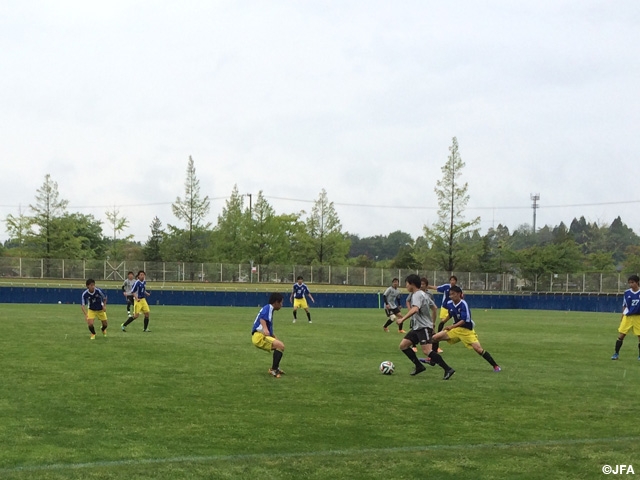 As well as the last match yesterday, the team made substitutions during the half time and put out the totally different eleven on the pitch for the start of the second. Unlike yesterday, however, the offense became stagnant and rarely produced chances with few players rushing into space behind the opposition's defenders. That naturally led to playing defence for longer stretches. Then at the 81th minute, an unnecessary foul gave Sony Sendai a penalty kick, which resulted in the 1-0 for Sony. The match saw its end without any comeback from the U-19 provisional squad.
While the last day of the camp turned out to be a disappointment, some individual plays in the match showed signs of improvements and the camp certainly ended as a building block for the future.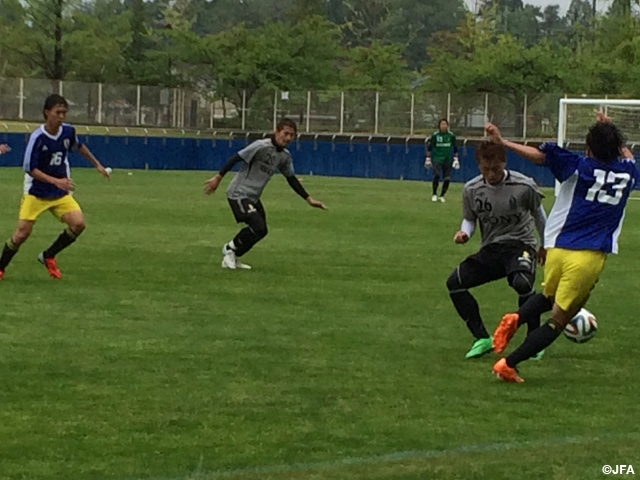 Comments
SUZUKI Masakazu, Head Coach
We don't have much time together as a team, so it takes time to build a good team. With that said, we had improvements during this camp. We had better plays in today's training match than yesterday's match. Especially our team defence was better today. What we need to improve is the timing when our strikers start moving to attack the space. We will make adjustments there.
YAMAGUCHI Shinji(Vissel KobeU-18)
I was a starter for a match on this U-19 national team for the first time. I've never done it before, so at first I struggled to get our tempo together with my teammates, but I got better little by little in the match. In this match I learned a lot especially what to do with our midfielders when we play defence together and how I move along with our centre-backs. I also saw some areas of my play that I need to improve. I didn't do well things like when to go up and join an attack and how to make right passes depending on different situations. We will take advantage of this experience and work on the assignments, and I personally will work hard, too, to get invited to the national team again at the next opportunity.
KANEKO Shota(Shimizu S-Pulse)
In today's match, we had better ball possessions than yesterday, and we could create many opportunities to score. But as a result we scored zero goals after playing 45 minutes. I didn't make right plays around the goal and we as a team couldn't do it either. In the final qualifier, I'm sure it will be more difficult to create many opportunities as we did today. I am a striker, so if I don't score, I can't say I played well. Of course scoring is not the only thing I have to do, but I think that's very important part of my role. I will go back to my club and keep working hard in practices.
TAGUCHI Jyunto(Yokohama F・Marinos Youth)
It's disappointing that we lost today, but our opponent was a very unique team and it was a good experience to play against them. Teams have many different play styles, so we need to be on the same page on how we deal with each team and each style. I also think it's important for every one of us to concentrate at high level. I will take every single day very seriously to get better. We had this camp in such a wonderful environment. I thank everybody who worked to make this camp possible. I appreciate them for these four days of experience.