NEWS
U-16 Japan National Team report: the Caspian Cup 2014 in Azerbaijan (3 June)
04 June 2014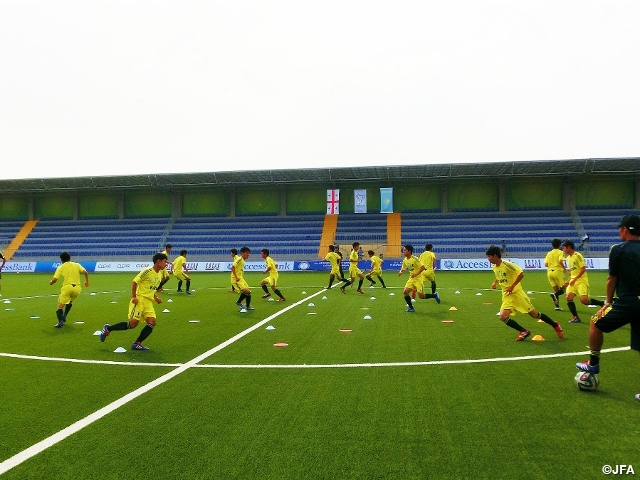 U-16 Japan National Team players had a training session in the morning and spent afternoon time having rest to get recover from tiredness. The match they had the previous day with Uzbekistan was difficult since Uzbekistan equalised after going 0-2 behind and Japan was not able to get a third goal, the game went to Penalties where the crucial Ubekistan penalty was missed with the penalty kick hitting the post and Japan could finally win. However, since it was the first win in 6 games since their training camp in Italy this April, the team was filled with a sense of relief.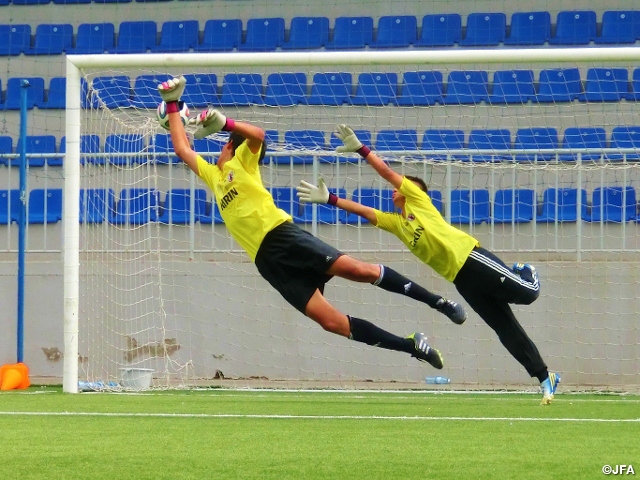 It has been a week since they left Japan. Some players are getting tired from matches and need physical care such as for some bruises which they got from knocks in the previous matches. 98Japan, the name of the team of players who were born after 1998, is improving their awareness especially in regards to their condition not only on the pitch but also off the pitch including hotel, changing room and restaurants, by asking themselves "what to do for my condition now?".
Tomorrow, the team has a fifth-place match with Bulgaria. This match will be the final one in this camp and they will play with the upcoming qualifying matches for FIFA U-17 World Cup in their minds. The team is expected to reflect upon what they have learned and show this at the next events such as overseas summer camp in July, domestic camp in August, and finally, AFC U-16 Championship in September.
Comments
MORIYAMA Yoshiro, Assistant Coach
Today we had a training session to correct the mistakes that we made in the previous three matches. The match tomorrow will be the preparation match for the 4th game of the AFC U-16 Championship which is a qualifier for the 2015 FIFA U-17 World Cup in Chile. I am excited because we are playing with Bulgaria, one of the strongest teams in Europe. Watch out for the exciting game of 98JAPAN.
DOAN Ritsu(Gamba Osaka Youth)
It was good to have some recovery time from the match yesterday after the training session this morning; it was a good adjustment time for the match with Bulgaria tomorrow. I won't be able to play tomorrow due to suspension, but I am ready to support the team to win the game.
MORIOKA Riku(Jubilo Iwata U-18)
Today I kept thinking about how we can create a good triangle pass-work in the 3-a-side plus server training session. It was good for me to keep a good concentration on defense at today's practice since we lost two goals from their set plays yesterday with Uzbekistan. I will prepare myself very well for the match tomorrow.
KAJIYAMA Kanta(Nagoya Grampus U-18)
After the match with Uzbekistan yesterday, we had a training session only in the morning. During the training, I particularly paid attention to observing opponents and to making good decisions for next plays. We also had a reviewing session about defense for set plays because both goals Uzbekistan scored against us yesterday were from their set plays. The match tomorrow with Bulgaria is important since it will show our possibility of being selected as a qualified team for the U-17 World Cup next year. We will play our best to try to win the game.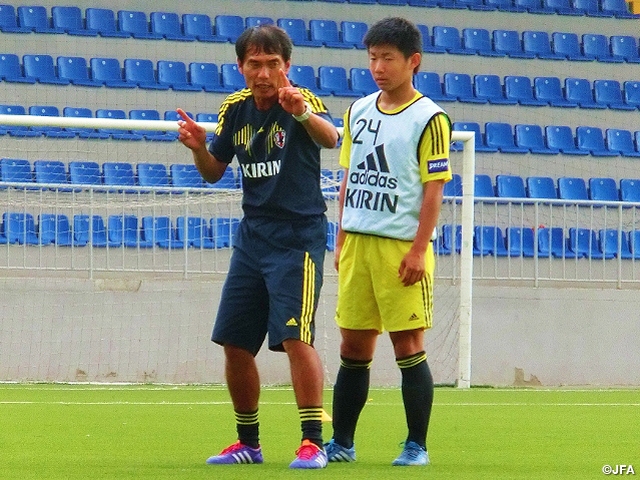 Schedule
Caspian Cup2014
Thu, 29 May
1 - 1
vs U-16 Tajikistan National Football Team(Sumgayit)
Sun, 1 June
2 - 2
vs U-16 Georgia National Football Team(Dalga)
Mon, 2 June
2 - 2
PK 5 - 3
Place Decider vs u-16 Uzbekistan National Team
Tue, 3 June
Training
Wed, 4 June
17:00
Place Decider
Thu, 5 June
ITraining
※Local Time
Caspian Cup 2014 Participating Countries
GroupA:Azerbaijan(U-17)、Afghanistan、Bulgaria
GroupB:Azerbaijan(U-16)、Kyrgyzstan、Iran
GroupC:Japan、Tajikistan、Georgia
GroupD:Turkey、Uzbekistan、Kazakhstan
Future Schedule
| | |
| --- | --- |
| 7/7~16 | Thailand Trip |
| 8/4~7 | Training Camp (Domestic/being adjusted) |
| 8/26~9/3 | Camp (being adjusted) |
| 9/4~20 | AFC U-16 Championship Thailand 2014 |