NEWS
U-19 Provisional Japan National Team Training Camp in Soma, Fukushima: Day 3 (20 May)
21 May 2014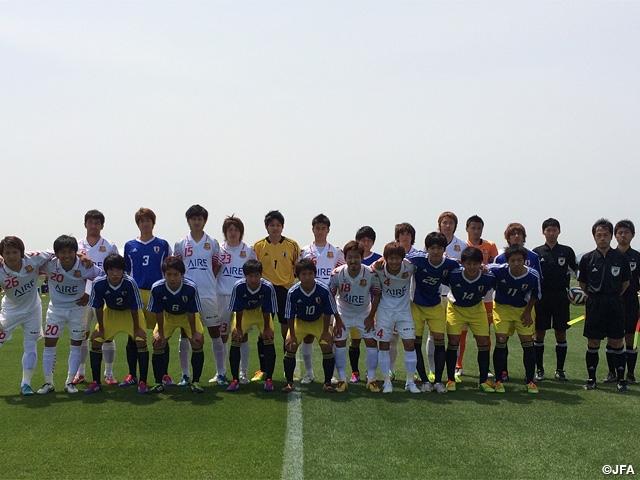 Training Match
Tuesday 20 May 2014 10:30Kick Off 90minutes(45minutes half)
Soma Koyo Soccer Field(Fukushima/Soma)
Under-19 Provisional Japan National Team 2-1(1stHalf 0-1、2ndHalf 2-0) Fukushima United Football Club
Scores
24min Goal Against(Fukushima United Football Club)
69min TAMURA Ryosuke(Under-19 Provisional Japan National Team)
72min MOROOKA Yusuke(Under-19 Provisional Japan National Team)
Starters
GK:NAKAMURA Kosuke
DF:HIROSE Rikuto、UCHIYAMA Yuki、MIURA Genta、MIYAHARA Kazuya
MF:SEKINE Takahiro、MATSUMOTO Masaya、KAWABE Hayao、OKUGAWA Masaya
FW:KANEKO Shota、OCHI Yamato
Substitutes
GK:TAGUCHI Junto
DF:ISHIDA Ryoma、MOTEGI Rikiya、MISAO Kento、YAMAGUCHI Shinji
MF:OGAWA Naoki、OYAMA Keisuke、Ando Teru、TAMURA Ryosuke
FW:OMOTEHARA Genta、MIYAICHI Tsuyoshi
68min MIYAICHI Tsuyoshi → MOROOKA Yusuke
Match Report
The opponent of the training match of the day was Fukushima United FC, which are based in Fukushima Prefecture and currently belong to the J3 League.
The U-19 provisional squad started off the match very aggressively, putting early pressure on the opposition's ball. Defensive midfielders Kawabe and Matsumoto moved the ball to the both sides, manned by Sekine and Okugawa, who either moved the ball up or just ran up the pitch to receive the ball behind the defenders before feeding Ochi and Kaneko waiting in front of the goal for critical passes. However, they kept failing to finish their attacks with a goal. Meanwhile at the 24th minute, they gave away the ball in their half from a bad pass, let the opposition broke through the middle and allowed the first goal of the match. It was a disappointing goal allowed especially with the fact that they were controlling the tempo most of the match. Even after that, the U-19 provisional squad kept creating opportunities but again they never led to a goal and eventually the first half ended with the score remaining 0-1. The U-19 provisional squad decided during the break to replace all the players for the second half.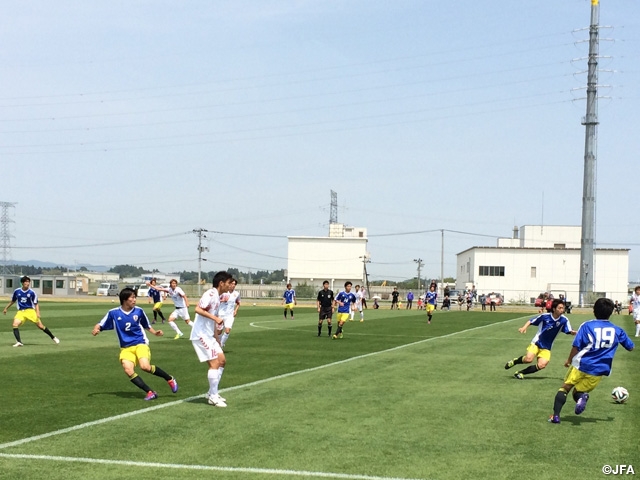 The second half also had the U-19 provisional squad control the match as their aggressive defence again often picked up the ball in the opposition's half and actually fired even more shots than the first half. Then finally at the 69th minute, Tamura received a feed from the right side, took it to the goal for one-on-one against the goalkeeper, and calmly struck the goal net to tie the match.
Also at the 72th minute, Morooka, who just got off the bench moments earlier, caught a cross ball from the right side and scored a goal for the 2-1 lead. After that, the U-19 Provisional Japan National Team kept up their stable defence until the match finished for the win against Fukushima United FC.
Getting Together with Local Junior High Players
While the players got rest in the early evening for another training match for tomorrow, the team staff made a visit to Soma Koyo Soccer Field to have recreational matches against local junior high school players. They played three twenty-minute matches by using deferent sizes of pitch for every set. Both team scored many goals and it turned out to be a pleasant evening for everybody.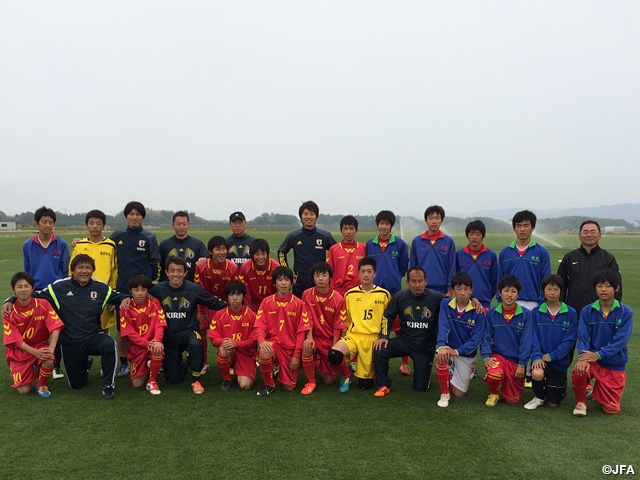 Birthday Party
At the dinner table, players and staffers who were born in the month of May had their birthday celebrated, as Omotehara, Morooka and Misao showed off their favourite party jokes and made it full of laughter.