NEWS
U-16 Japan National Team – Caspian Cup 2014 (Azerbaijan) draw with Tajikistan in 1st match
30 May 2014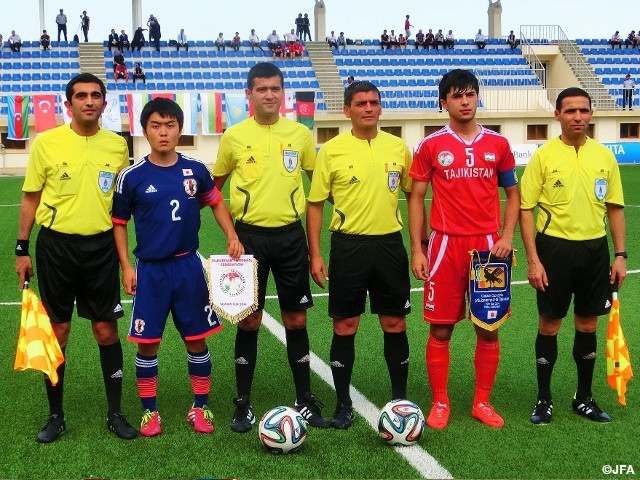 Caspian Cup 2014
Thu. 29 May 2014 Kickoff at 16:30 local time, 80 minutes (40 minute half)
Sumgayit (Baku / Azerbaijan)
U-16 Japan National Team (1st Half 1 - 0 , 2nd Half 0 - 1) U-16 Tajikistan National Team
Scores
15min SUGA Daiki(U-16 Japan National Team)
40+2min Goal Against(U-16 Tajikistan National Team)
Starters
GK:TSURUTA Kaito
DF:ABE Masashi、ONOZAWA Toshiki、DOAN Ritsu、MORIOKA Riku
MF:KAJIYAMA Kanta、FUJIMOTO Kanya、YASUI Takuya
FW:SUGA Daiki、WATANABE Yo、SUGIURA Fumiya
Substitutes
GK:SAKURABA Riki
MF:IKEDA Taisei、SATO Sota、YAMAHARA Reon
FW:HANYA Yosuke
48min WATANABE Yo → HANYA Yosuke
54min FUJIMOTO Kanya → YAMAHARA Reon
72min ABE Masashi → SATO Sota
72min SUGIURA Fumiya → IKEDA Taisei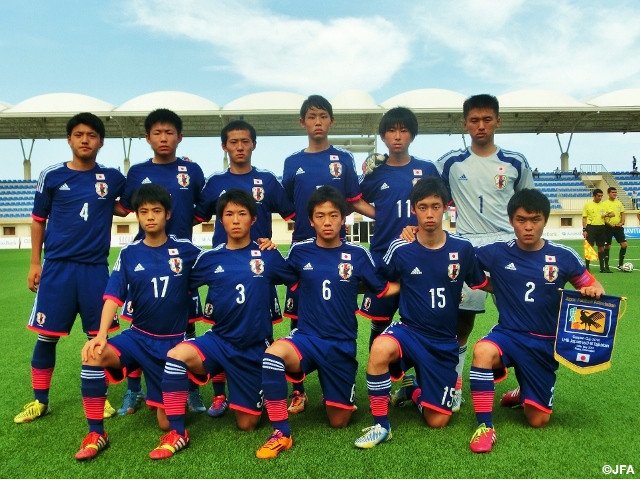 Match Report
Tajikistan, the same opponent as last year's match. U-16 Japan National Team were passing the ball with a good rhythm from right after the kickoff, Suga Daiki (Consadole Sapporo U-18) scored opener in early time as U-16 Japan National Team taking advantage of the gap of Tajikistan as they getting frustrated. But, U-16 Japan weren't successful in scoring additional goal from Tajikistan who looked slow-paced. In the extra time of second half, three points were slipped off from U-16 Japan's hand when Tajikistan's centering from left side went into net with nobody touching the ball.
In the end, U-16 Japan National Team couldn't protect the goal in first half and draw.
Comments
KIMURA Yasuhiko, Interim Head Coach
We had a ball possession and kept controlling the game against Tajikistan Players who were physically strong and played hard. The players did their best even though they were still tired from tough training in last two days. But they couldn't make many goal-scoring opportunities and ended up in 1-1 draw. The outstanding point remains the same, "Can't finish the game without any trouble when leading the game 1-0", but I will hold a good training for getting ready for second match.
SUGA Daiki (Consadole Sapporo U-18)
The most of ball possession was in Japan Team but we made few goal-scoring opportunity, that allowed Tajikistan to equalise the game and missed the win. As we must win the second match, we are going to make good preparations to compete against Georgia in 100% form.
IKEDA Taisei (Jubilo Iwata U-18)
Although my role as substitution was to turn the game around and get an additional goal, I wasn't able to make the impact as expected. We allowed goal within few minutes left, I will do my duty in the next match and do whatever I can to lead the team to win.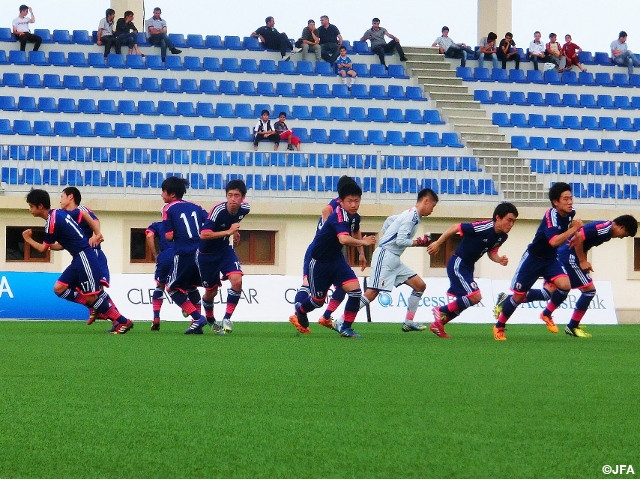 Schedule
Caspian Cup2014
Thu, 29 May
16:30
vs U-16 Tajikistan National Football Team(Sumgayit)
Sun, 1 June
18:00
vs U-16 Georgia National Football Team(Dalga)
Mon, 2 June
 
In a case of the top team in the group:Training
In a case of the 2nd team in the group:Place Decider
Tue, 3 June
17:00/20:00
In a case of the top team in the group:Semi-Final
In a case of the 2nd team in the group:Training
Wed, 4 June
 
In a case of the top team in the group:Training
In a case of the 2nd team in the group:Place Decider
Thu, 5 June
16:30/20:00
In a case of the top team in the group:3rd Place Decider/Final
In a case of the 2nd team in the group:Training
※Local Time
Caspian Cup 2014 Participating Countries
GroupA:Azerbaijan(U-17)、Afghanistan、Bulgaria
GroupB:Azerbaijan(U-16)、Kyrgyz Republic、Iran
GroupC:Japan、Tajikistan、Georgia
GroupD:Turkey、Uzbekistan、Kazakhstan
Future Schedule
| | |
| --- | --- |
| 7/7~16 | Thailand Trip |
| 8/4~7 | Training Camp (Domestic/being adjusted) |
| 8/26~9/3 | Camp (being adjusted) |
| 9/4~20 | AFC U-16 Championship Thailand 2014 |