NEWS
U-16 Japan National Team – Caspian Cup 2014 (Azerbaijan) activity report (26 to 27 May)
28 May 2014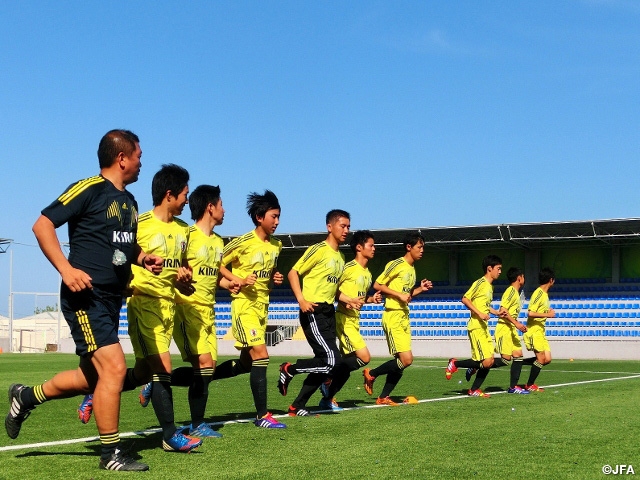 Leaving Tokyo on Mon. 26 May 2014, Arriving in Azerbaijan and Training on Tue. 27 May
Gearing up for the final qualifying round of AFC U-16 Championship coming up in about four months, team 98 Japan* visited Baku, Azerbaijan to participate in "Caspian Cup 2014", testing themselves how they can play football in their own style in serious match following overseas tour to Italy.
Yoshitake Hirofumi, head coach, was unable to join this overseas tour this time for not feeling well. Kimura Yasuhiko, assistant coach, becomes interim head coach and leads the team.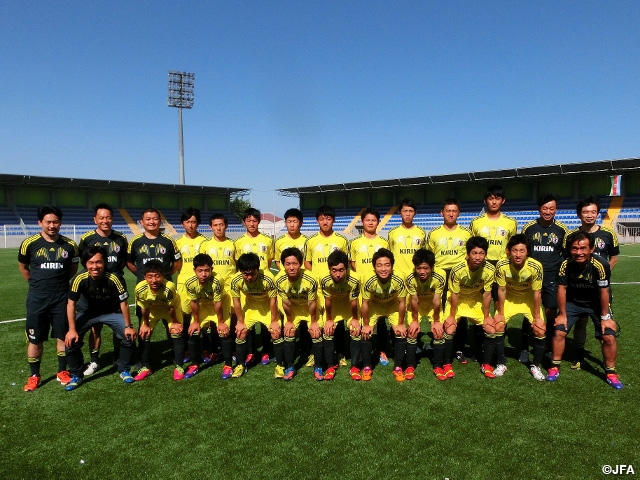 The team arrived at hotel in Baku city as scheduled and went out for training immediately after. In pleasant climate, strong sunshine but temperature at 27oC, humidity at 54%; trainer Namiki conducted warming up training for trying to take off their fatigue from long flight by actively moving body, stretching exercise, aerobic training and trunk training.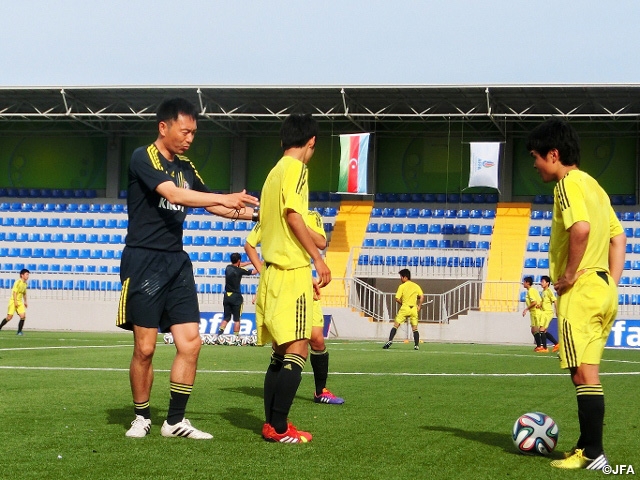 And then, they have done the training menu of basic techniques and holding on the ball, and finished the first day training. To achieve better outcome than last year, third place, you can't afford to lose first match against Tajikistan.
Bayil Stadium where today's training took place is lucky stadium for they won the quarterfinal game against Uruguay in the past with the goal by PK taken just before the whistle.
A series of key matches are about to start. We can never lose these games in order to get the first place in the group league and come back to this stadium on 3 June (semi-final).
We are planning to hold two sessions of training, in the morning and the afternoon, gearing up for first match against Tajikistan on 29 May.
*''98JAPAN'' is the nickname for the Japan national Under-16 team, who aim to compete in the 2015 FIFA Under-17 World Cup
Comments
KIMURA Yasuhiko, Interim Head Coach
I am very pleased to take part in a wonderful championship Caspian Cup this year following last year. I look forward to playing against competitive opponents in the same group, Tajikistan and Georgia. I am going to take this opportunity to improve quality of our players in preparation for the final qualifying round in September.
TSURUTA Kaito (Vissel Kobe U-18)
I finished the first training since I arrived in Azerbaijan. All the players in the team tried to sound a big voice to make the training active but the team is not yet in growing stage as the staff says "Try harder, harder!". I will bear that in mind and make a good preparation for the upcoming game.
ABE Masashi (Seiryo High School)
I join this overseas tour with my determination of "I'm going to be the one to lead the team" but I could have noticed earlier what needs to be done and act in some occasions in the training. Dropping the thinking of "Should be O.K. as long as I can do it", I will keep all the teammates on full alert and take a right action accordingly.
ONOZAWA Toshiki (Cerezo Osaka U-18)
I was bit tired of taking long time for moving. I realized I should be aggressively talking to others to have more communications among team members. Full training is going to start tomorrow. For a good performance in the game, I will keep in mind to have more communications and better interactions with other players.
Schedule
Caspian Cup2014
Thu, 29 May
16:30
vs U-16 Tajikistan National Football Team(Sumqayit)
Sun, 1 June
18:00
vs U-16 Georgia National Football Team(Dalga)
Mon, 2 June
 
In a case of the top team in the group:Training
In a case of the 2nd team in the group:Place Decider
Tue, 3 June
17:00/20:00
In a case of the top team in the group:Semi-Final
In a case of the 2nd team in the group:Training
Wed, 4 June
 
In a case of the top team in the group:Training
In a case of the 2nd team in the group:Place Decider
Thu, 5 June
16:30/20:00
In a case of the top team in the group:3rd Place Decider/Final
In a case of the 2nd team in the group:Training
※Local Time
Caspian Cup 2014 Participating Countries
GroupA:Azerbaijan(U-17)、Afghanistan、Bulgaria
GroupB:Azerbaijan(U-16)、Kyrgyzstan、Iran
GroupC:Japan、Tajikistan、Georgia
GroupD:Turkey、Uzbekistan、Kazakhstan
Future Schedule
| | |
| --- | --- |
| 7/7~16 | Thailand Trip |
| 8/4~7 | Training Camp (Domestic/being adjusted) |
| 8/26~9/3 | Camp (being adjusted) |
| 9/4~20 | AFC U-16 Championship Thailand 2014 |