NEWS
Nadeshiko Japan hold first training session in Sapporo
18 July 2021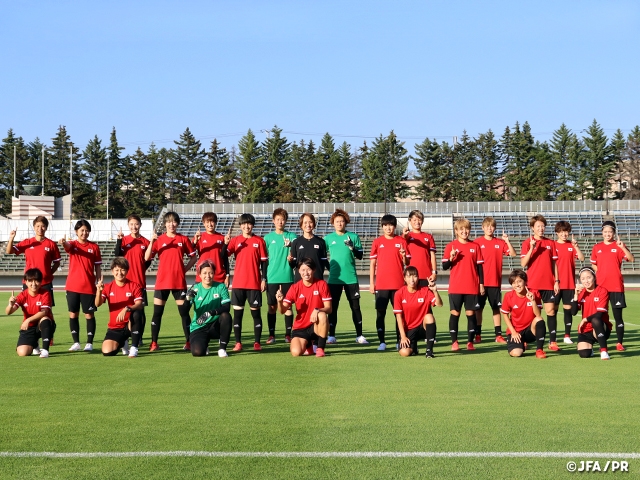 Ahead of their first group stage match against the Canada Women's National Team, the Nadeshiko Japan (Japan Women's National Team) held their first training session in Hokkaido on Saturday 17 July.
The team held a video meeting before lunch to go over their match against Australia, which took place on Wednesday 14. The players were given inputs from the technical staffs regarding what they did well and what needs to be improved. The coaching staffs stressed the importance for the players to organise and implement the given information to improve their performance in their next training session. To conclude the meeting, coach TAKAKURA Asako mentioned, "We will be looked at as Olympians. So please act responsibly. In order to showcase our best performance, we need to work as a team. Let's continue to support each other."
A training session was held in the evening, as the players showed up wearing the special kits for the Olympics. Ahead of the session, coach Takakura mentioned, "We had our travel-day and off-day, now it's time to turn our switch back on." As they resumed their trainings ahead of the Olympics, the team worked to output the information they gathered at the meeting, telling each other to increase their play speed and to make faster decisions on the pitch.
The Nadeshiko Japan will face the Canada Women's National Team on Wednesday 21 July (19:30) at Sapporo Dome, Hokkaido.
Coach and Players' Comments
TAKAKURA Asako, Coach of Nadeshiko Japan (Japan Women's National Team)
After holding our first training session in Sapporo, I am starting to realise that this is going to happen. We were given the opportunity to train on a wonderful pitch today, which allowed us to hold a productive session. We will continue to motivate each other ahead of our first match. The Nadeshiko Japan live and die by the passing game, so we will continue to work on improving the quality of our passes. We will also work to improve our defence, both as a team and as individuals.
MF #13 SHIOKOSHI Yuzuho (Mitsubishi Heavy Industries Urawa Reds Ladies)
I have not faced a strong opponent like Australia before, so it was great that we were able to face them before the Olympics. It allowed me to experience what it's like to face such team and brace myself for what's to come. We don't have enough time to make drastic changes, so we are now focused on making small improvements to our combinations and collective plays. In terms of defence, we have been able to implement the scouting reports to make the necessary adjustments. I was able to win the duels and make effective plays. I have always dreamed of playing in the Olympics, so I will try to showcase my best performance and achieve our goal as a team.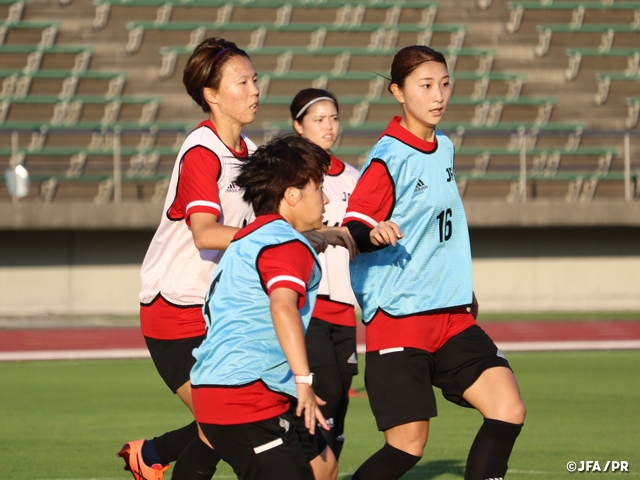 FW #9 SUGASAWA Yuika (Mitsubishi Heavy Industries Urawa Reds Ladies)
The team is in great condition following our match against Australia, so we will continue to put in the work to prepare ourselves ahead of our match against Canada. I was not able to take many shots against Australia, so that is an aspect I must improve in our next match. I have a good feeling about our opening match, so I hope to keep this good vibe going. We were able to make good use of our day off, so we are recharged and ready to go. We are expecting tough matches throughout the Olympics, but we will stick together as a team and first strive to advance through to the knockout stage.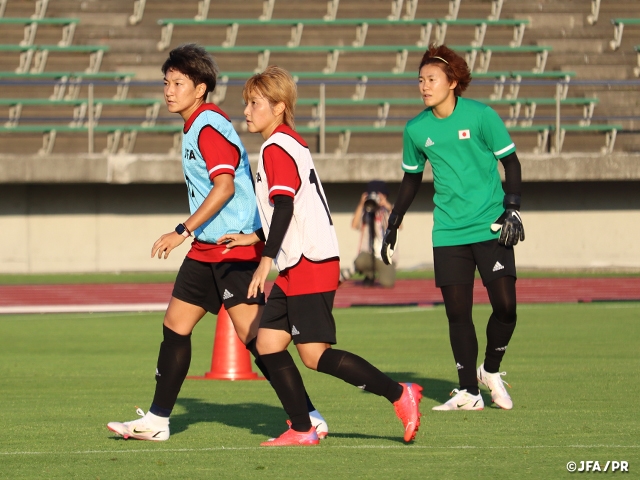 Games of the XXXII Olympiad (Tokyo 2020)
Football competition: Wed. 21 July - Sat. 7 August 2021