NEWS
Nadeshiko Japan hold official training session ahead of match against Australia in the MS&AD CUP 2021
14 July 2021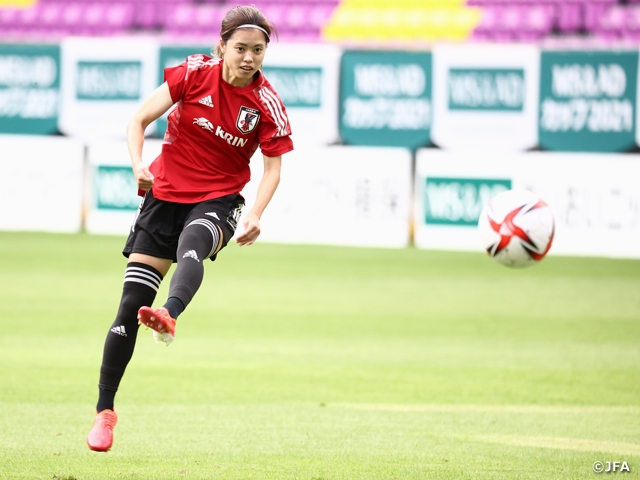 One day ahead of their match against the Australia Women's National Team in the MS&AD CUP 2021, the Nadeshiko Japan (Japan Women's National Team) held an official training session at the match venue, Sanga Stadium by KYOCERA (Kyoto), on Tuesday 13 July.
With the training session being held after a rain shower, the players were seen cautiously checking the pitch condition as they went through their drills. During the first 15 minutes of the session where the training was open to the media, the field players conducted drills to work on their passing, ball possession, and headers, while the goalkeepers went through drills to stop shots on the wet surface.
The Sanga Stadium by KYOCERA (Kyoto) was established in January 2020, and this will mark the first match played at the stadium by either men's or women's national team. The Nadeshiko Japan was originally scheduled to play in the MS&AD CUP last July, only to see the match getting cancelled due to the spread of COVID-19.
The Australia Women's National Team, who have arrived in Japan on Friday 9 July, will be competing in Group G at the Tokyo Olympics, a group consisting of Sweden, USA, and New Zealand. Their current squad involves many players who took part in the 2016 Summer Olympics at Rio de Janeiro, where the team reached the quarterfinals.
The Nadeshiko Japan's final preparation match ahead of the Tokyo Olympics is scheduled to kick-off at 19:20 on Wednesday 14 July at Sanga Stadium by KYOCERA (Kyoto).
Coaches and Players' Comments
TAKAKURA Asako, Coach of Nadeshiko Japan (Japan Women's National Team)
Tomorrow we will play our final match ahead of the Tokyo Olympics. We our grateful to be given this wonderful opportunity to face a strong team like the Australia National Team. They are a team that has both speed and power that equates to European teams and the USA. This is a rare opportunity to face one of the top ranked teams in the world, so we hope to use this match as a measuring stick to find out where we stand. We cannot control whether or not the crowd will be allowed at the Olympics, but we are aware of the fact that there are plenty of people supporting us regardless of the situation. Fans are allowed in our match against Australia, so we will try to carry all the support we can get at this match and use that as motivation towards the Olympics.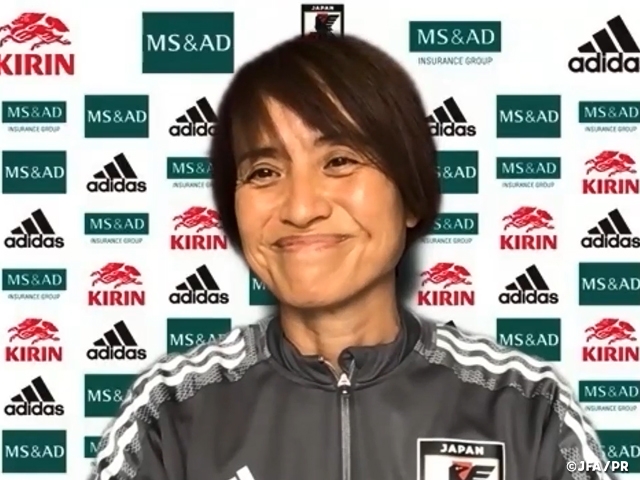 DF #4 KUMAGAI Saki (FC Bayern Munich/Germany)
We have been able to hold great discussions as a team to prepare ourselves for this match against Australia. The fact that we are able to face a team like Australia ahead of the Olympics means a lot to us, so we hope to make the most of this experience. Their ace, Samantha KERR, is very good at exploiting the space behind defenders, so we must make a collective effort to deny her from breaking loose. We also need to stay close to our opponent. I am really looking forward for this match.
MF #13 SHIOKOSHI Yuzuho (Mitsubishi Heavy Industries Urawa Reds Ladies)
During my break, I trained with the team, worked out on my own, and spent time with my family to refresh my mind. I feel like I am in great shape, so I will give my best effort to showcase a strong performance against Australia, if I am given the opportunity to play on the pitch. I will challenge myself to try out new things to help the team while also building on the combinations with my teammates. I don't know how I will be involved in this match, but I will do my best to help the team win regardless of the situation.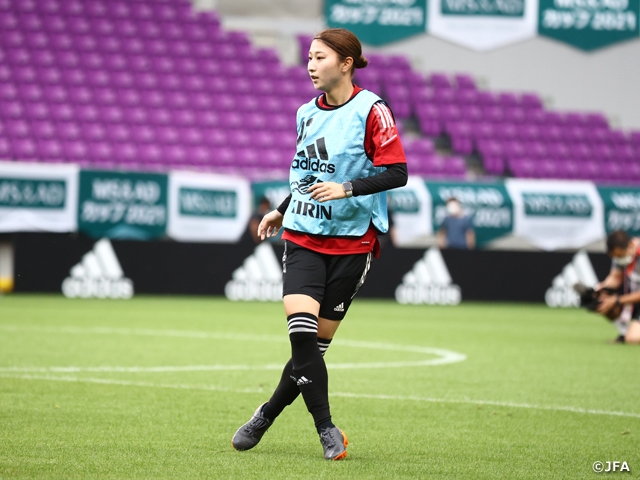 MF #14 HASEGAWA Yui (AC Milan/Italy)
Just like our training camp in Chiba, we have been able to conduct our trainings with a very positive vibe. We haven't been able to face teams with superior speed and power, so this match against Australia will be a great opportunity for us. We will continue to strive for a higher level and even if we make mistakes, we will learn from those mistakes and use the experience to improve ourselves ahead of the Olympics. I have played at Sanga Stadium by KYOCERA in the Empress's Cup, and I have the impression that it is a wonderful stadium to play football.
FW #10 IWABUCHI Mana (Arsenal/England)
With the Olympics just around the corner, the team is playing with a positive vibe. We have been discussing a lot about our defence, especially regarding the distance between each other. It is something that changes depending on our opponent's system, so we are trying to stay on the same page at all times. Although the matches in the Olympics are looking to be played with now crowds, we will be given the opportunity to play in front of our fans in this match against Australia, so I am excited about that. We haven't played against a strong team like Australia for a while, so I am feeling a bit nervous, but it is not going to change how I approach the match. I will try to help the team earn a win while fulfilling my duty.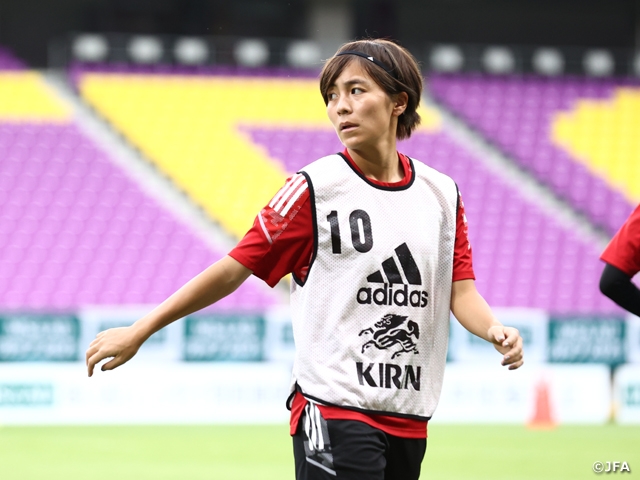 Tony GUSTAFSSON, Coach of Australia Women's National Team
First of all, I would like to thank the people of Japan, as we were warmly welcomed by the hotel staffs, field staffs at our training facility, people from JFA, and members of the press. We hope to showcase an exciting match tomorrow. This opportunity to play against Japan, who is the host nation of the Olympics, means a lot to us, and I have seen in first-hand how sophisticated the Japanese offence are, while I served as the assistant coach for the USA Women's National Team. Japan is a well organised team, who is capable of moving the ball with rapid pace and their combination plays are world class. It is very difficult to defend against them, so we are expecting a tough match tomorrow.
MS&AD CUP 2021
Nadeshiko Japan vs Australia Women's National Team
Date: Wed. 14 July [19:20]
Venue: Sanga Stadium by KYOCERA (Kyoto)