NEWS
Nadeshiko Japan build teamwork through consensus game
17 July 2021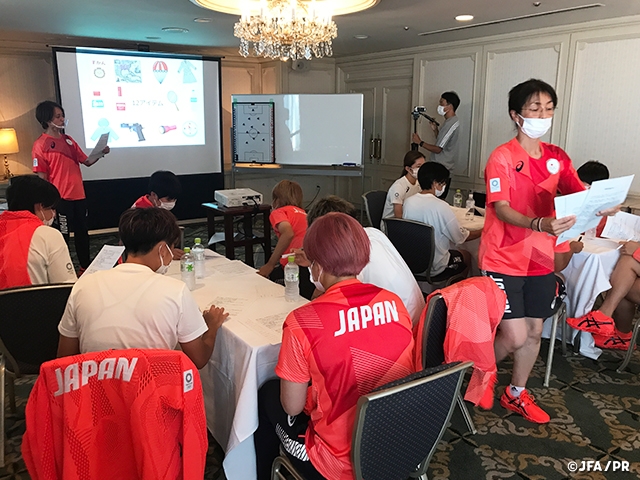 The Nadeshiko Japan (Japan Women's National Team) who arrived in Sapporo ahead of the group stage of the Tokyo Olympics, cancelled their training for Friday 16 July to focus on recovering their physical conditions.
The team had started their training camp since Saturday 10 July and played their final prep match against the Australia Women's National Team in the MS&AD CUP 2021 on Wednesday 14. After arriving in Sapporo, coach TAKAKURA Asako decided to take the day off to allow the players to get refreshed.
The players were called for a team meeting in the evening where coach Takakura prepared a consensus game dubbed as "Escape from the desert!" The game was conducted as a team building drill, as the players and staffs got together to form a consensus to overcome an assigned task.
In this game, players were setup to be stranded in a desert and they had to rank the items they would need in order to survive such situation. The ranking was determined through discussions, in which some groups held active discussions to make quick progress, while some struggled to reach an agreement. Regardless of how they formed a consensus, each team seemed to have enjoyed the entire process.
The session lasted about an hour and a half, which went by quickly, as the team was able to build their teamwork ahead of their first group stage match against Canada on Wednesday 21 July.
Players' Comments
DF #19 MIYAKE Shiori (INAC Kobe Leonessa)
We had been training all along, so this might have been our last off-day, and it gave us a great opportunity to refresh our minds ahead of the Olympics. This team building programme was different from what had done before and I enjoyed exchanging opinions with other players. Now I am really getting the sense that the Tokyo Olympics is upon us. All we have left is to get our conditions up, so this was a great opportunity to get rested.
MF #8 MIURA Narumi (Nippon TV Tokyo Verdy Beleza)
We were getting a bit fatigued from all the trainings and the match, so I was able use this off day to rest up. The team building programme was very fun, too. I enjoyed the process of holding discussions with teammates who shared different opinions. We hope to make use of this experience to improve our teamwork ahead of the Tokyo Olympics.
Games of the XXXII Olympiad (Tokyo 2020)
Football competition: Wed. 21 July - Sat. 7 August 2021