NEWS
Nadeshiko Japan hold training session under the scorching heat of Sapporo
19 July 2021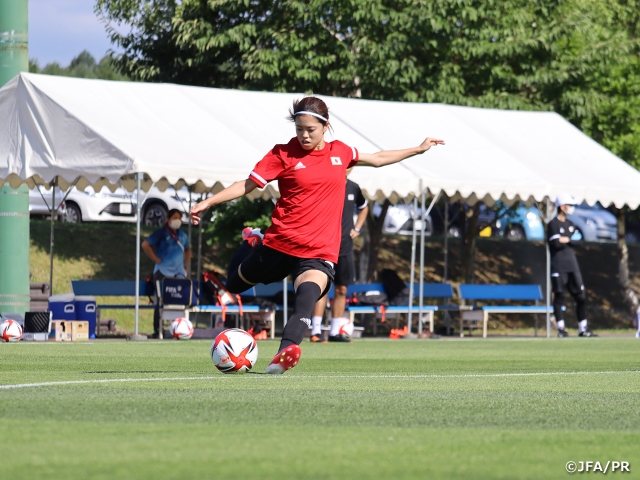 On Sunday 18 July, the Nadeshiko Japan (Japan Women's National Team) held a training session in Sapporo.
On this day, coach TAKAKURA Asako stayed at the hotel as a precautionary measure, after she was feeling under the weather. (*Tested negative for COVID-19) Assistant coach OBE Yumi was in charge as the acting coach for the training session.
With the temperature rising in Sapporo, the training session was held under scorching heat, as the players were seen taking frequent water breaks to stay hydrated. The team went through drills to polish their collective plays in offence, while also going over the team concepts to keep the players on the same page in defence.
The session was closed to the media after a while, as the team conducted scrimmage games to go over their tactics, where the players actively communicated with each other to make the necessary adjustments.
The Nadeshiko Japan will play their first group stage match of the Olympics on Wednesday 21 July at 19:30.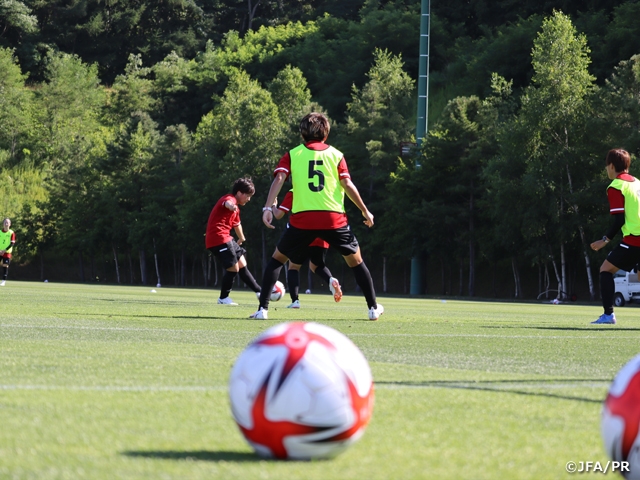 Players' Comments
DF #3 TAKARADA Saori (Washington Spirit/USA)
After arriving in Sapporo where we are scheduled to play our matches, I am starting to feel both excited and nervous. I took part in the 2019 Women's World Cup as a late call-up, but I remember having a hard time just keeping up with the team. Now that I am playing as a centre-back, I feel responsible to take an active role to lead the team. Playing in the Olympics is a once in a lifetime event, so I wish the fans were allowed into the stadium, but I am sure many of our fans will be watching us on TV, so I will try to give my best effort for our fans. When facing Canada, we must have a plan to stop (Christine) SINCLAIR, so that is something we are discussing as a team.
MF #14 HASEGAWA Yui (AC Milan/Italy)
We have been keeping a positive vibe even before arriving to Sapporo. However, the matches have not started yet. Once we start playing, each player will have different playing time, so we will need to monitor our conditions and daily activities. Canada is one of the teams that left a strong impression when I first joined the Nadeshiko Japan. When we faced them in an international friendly match in Japan, they were not so intimidating, but we often see foreign teams play very differently when they enter official matches, so we need to play with a sense of urgency when we face Canada at the Olympics. Canada is not the type of team that would drop back and play a defensive game, so we will try to showcase our usual football style to counter their aggression.
FW #15 MOMIKI Yuka (OL Reign/USA)
I am getting the impression that Canada has a similar football style with the USA. They certainly have the advantage in one-on-one situations, but we are always thinking of ways to compete with a collective approach, so we hope to take control of the match through our teamwork. It does not matter if we are playing in the group stage or knockout stage, we still need to win the match in front of us. Our approach will not change depending on the opponent's FIFA rank neither. We must enter each match as if it is the tournament final. Every team in this Olympics has their own character and strengths. We will see if our teamwork can overwhelm the opponent's individual power. We will continue to work on our collective approach and try to deepen our mutual understanding on the pitch.
Games of the XXXII Olympiad (Tokyo 2020)
Football competition: Wed. 21 July - Sat. 7 August 2021