NEWS
Nadeshiko Japan tame Vietnam 4-0 in AFC Women's Asia Cup
17 May 2014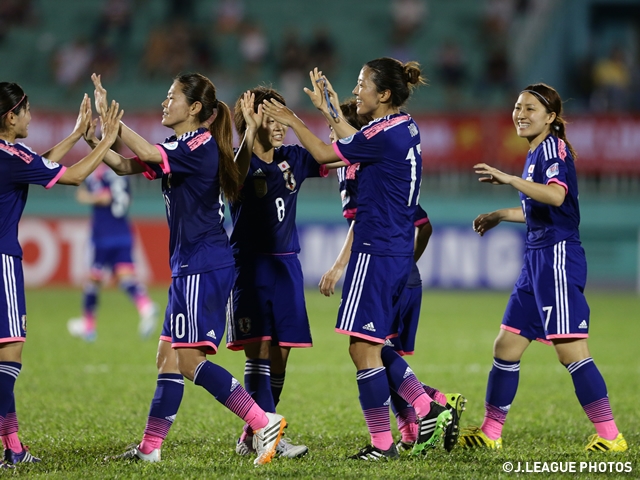 Nadeshiko Japan sank Vietnam 4-0 in their second match in the 2014 AFC Women's Asia Cup.
The Japanese side, who entered it having substituted six starting members from their first game, attacked on Vietnam, who tried to defend their goal by taking up a number of players, from early on, but would not net a goal although they would not give the opponents chances to have their offense. But on 44th minute, Japan finally got on the scoreboard as Kawasumi scored a goal after Kamionobe relayed a pass off a corner-kick.
Nadeshiko entered the latter half, having switched the positions between left winger Kawasumi and right winger Kiryu. On 65th minute, Kiryu, who showed bold attacks in Japan's first game against Australia, netted her first goal for the national team with a header off a loose ball. And then on 69th, Ogimi added another by kicking a cross from Kawasumi into the goal. Lastly, Kawasumi scored her second goal of the day on 87th minute, and Nadeshiko Japan went on to end the contest with a 4-0 score.
In Group A, Australia beat Jordan 3-1, and now tied with Japan with four points in the standings. Since Vietnam have three points and Jordan have zero, both Australia and Japan can clinch berths in the semifinals and FIFA Women's World Cup if they earn one point in their final games of the group stage.
Click here for detailed match report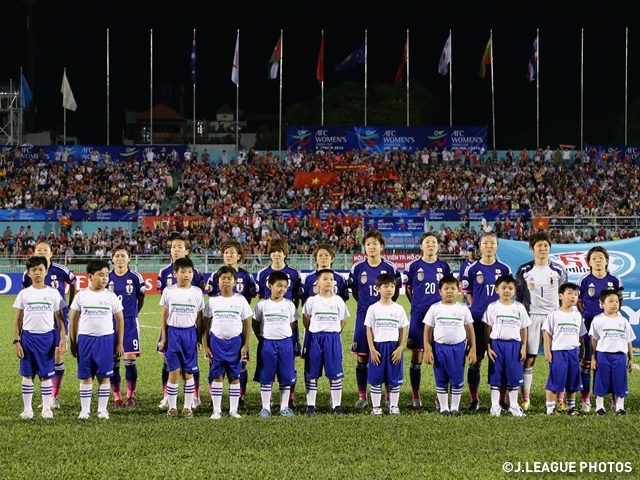 Comments
SASAKI Norio, Head Coach
Vietnam played exactly how we thought they would and we knew that it would not an easy game for us. I think that from the second half on, we were able to take advantage of the skills of our players and our tactics.
As for Jordan, whom we will face in our third match, they are getting better the more they'd play, and that's been done as the result of their development led by their head coach Okiyama. We would like to pour the best effort we can put in and win in the end. We are going to have to look on the conditions of our players and enter the game with the members that we will be able to win three points. Also, we want to give our players that have little experience a chance to feel the atmosphere and make it work for the final stage.
KIRYU Nanase(Sky Blue FC/America)
It was a game that we were required a patience. The turf was slippery so the ball wouldn't roll as much, and we had some occasions to struggle on our dribbling. Offensively, I was looking to give us some momentum by creating my teammates space, not just to do something on my own. We had some chances, but in a game like today's, sometimes it's important for us to play crudely.
KAMIONOBE Megumi(Albirex Niigata Ladies)
We struggled as we couldn't play on our pace in the first half, but in the latter half, we made our intention clearer to move the ball and give it to our forwards. We could've played better had we done it from the first half, so we want to do that next time. Personally, I was too conscious about feeding our forwards and made some mistakes in kicking, so I should have been more flexible. Defensively, it was good for us to hold the opponents no goals. Now I would like to elaborate on my pass-and-receive moves and improve more on my offensive plays, such as shooting.
MIYAMA Aya(Okayama Yunogo Belle)
It was a game that reminded us of the issues we'd forgotten by playing a contest that we possessed the ball longer and had to go up against an opponent who played defensively. While you can't be impatient, we will have to have some measures to play against an opponent like that because we could have that kind of a game against stronger opponents.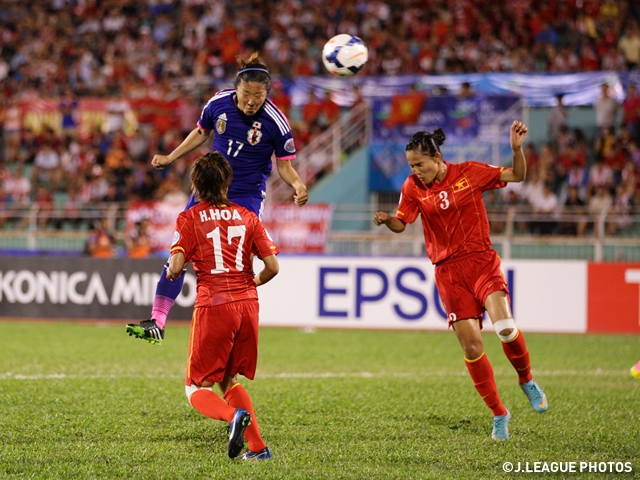 Schedule
Wed. 14 May
2 - 2
AFC Women's Asian Cup 2014 in Vietnam
vs. Australia Women's National Team
LIVE
TV Asahi Wed. 14 May 22:05 - 25:15
NHK-BS1 Wed. 14 May22:00 - 25:15
Fri. 16 May
4 - 0
AFC Women's Asian Cup 2014 in Vietnam
vs. Vietnam Women's National Team
(Thong Nhat Stadium)
LIVE
TV Asahi Fri. 16 May 22:05 - 25:15
NHK-BS1 Fri. 16 May 22:00 - 25:15
Sun. 18 May
19:15
AFC Women's Asian Cup 2014 in Vietnam
vs. Jordan Women's National Team
(Binh Duong Stadium)
LIVE
TV Asahi Sun. 18 May 21:00 - 23:12
NHK-BS1 Sun. 18 May21:00 - 23:15
Thu. 22 May
17:15/20:45
AFC Women's Asian Cup 2014 in Vietnam Semifinal
(Thong Nhat Stadium)
 
Sun. 25 May
16:45/20:15
AFC Women's Asian Cup 2014 in Vietnam
Third-place Match/Final
(Thong Nhat Stadium)
 
※All match time is local time.