NEWS
Nadeshiko Japan in preparation for first match in AFC Women's Asian Cup
12 May 2014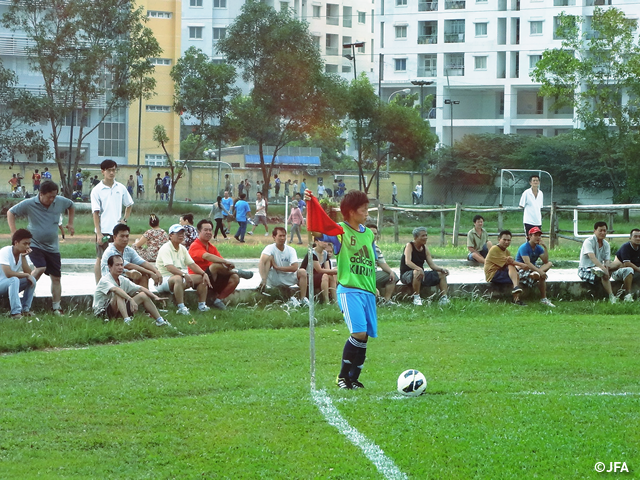 On their third day in Vietnam, the players had two practice sessions, one in the morning and the other in the afternoon, in preparation for the AFC Women's Asian Cup. It was exhaustingly hot - sweat pouring off you even when standing still. In the morning session they practiced shooting and corner kicks. In the afternoon, they practiced different playing styles that would counter the Australian team – Nadeshiko Japan's first opponents.
Some locals, who were playing sport near the training field, gathered around and closely watched players practicing.
Tomorrow their training will start in the early evening so the players can get ready for evening matches.
Comments From Players
MARUYAMA Karina(Speranza FC Osaka Takatsuki)
I was selected for the national team from the Plenus Challenge League, believing that I could join the top side if I tried hard. I know I need to show that I can contribute to the team, or I won't be here next time. I will certainly give everything to make sure I have no regrets.
We expected the heat and torrential rains in Vietnam, and are getting ready for those conditions. Personally I don't mind a downpour, as I think my dribbling technique is better suited to that kind of weather.
The Australian players are taller, physically stronger and faster. Our playing style - passing and individual breaks - can be vital to score. So I will try to score whenever I am on the pitch. We will pull together as a team to win the Cup and I want to contribute by scoring.
KAWASUMI Nahomi(Seattle Reign FC)
As we're not sure how Australia will defend, I will adjust by observing their playing style. For instance, if they block, I will try to find space behind them or create opportunities on goal through well timed passing. In the previous Cup, I thought Australia was strong and deserved the championship. Naturally, though, I felt the sting of defeat. As we haven't won the AFC Women's Asian Cup yet and also this serves as the qualification for the FIFA Women's World Cup, we will focus on winning every single match until we lift the trophy. We have many young players in our team and I expect they will bring a lot of energy. We will keep trying to achieve better results with them.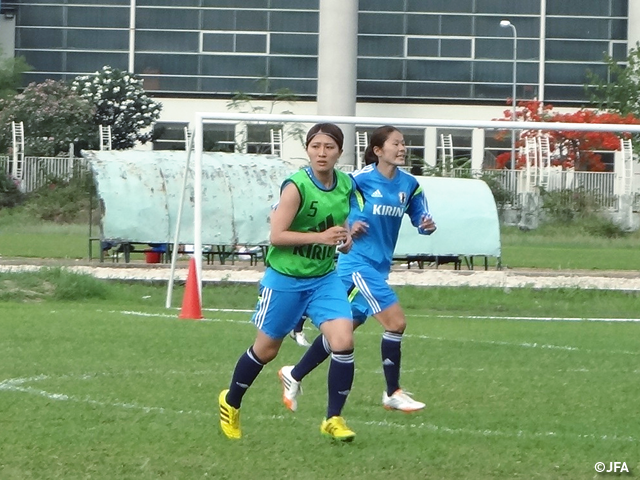 Schedule
| | | |
| --- | --- | --- |
| Wed. 14 MAy | 20:15 | AFC Women's Asian Cup 2014 in Vietnam vs. Australia Women's National Team |
| Fri. 16 May | 20:15 | AFC Women's Asian Cup 2014 in Vietnam vs. Vietnam Women's National Team(Thong Nhat Stadium) |
| Sun. 18 May | 19:15 | AFC Women's Asian Cup 2014 in Vietnam vs. Jordan Women's National Team(Binh Duong Stadium) |
| Thu. 22 May | 17:15/20:45 | AFC Women's Asian Cup 2014 in Vietnam Semifinal(Thong Nhat Stadium) |
| Sun. 25 May | 16:45/20:15 | AFC Women's Asian Cup 2014 in Vietnam Third-place Match/Final(Thong Nhat Stadium) |
※From 13 May The time shows local time.