NEWS
Nadeshiko Japan get ready in rain for Asian Cup Match 2
16 May 2014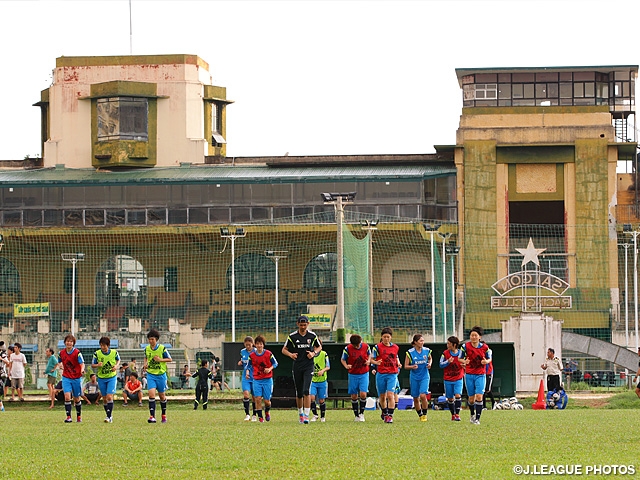 On the next day after the draw in the opening match in the AFC Women's Asian cup, Nadeshiko Japan had a practice for the match against Vietnam to be played with only one day of interval after the last one.
Players who were on the pitch for long stretch against Australia engaged only in stretching and treadmill run inside the hotel while others worked on shooting drills and mini-games outside. Right after the start, the rain started to drop and thunderstorm also interrupted the workout. It was the first tropical rainfall players experienced after arrival, but they finished their a-little-more-than-one-hour workout in good spirits. Miyama who was supposed to stay inside came out for walking and helping out the shooting drills as well as encouraging players on the field.
This day also had two matches of the Group B, where Korea Republic routed Myanmar 12-0 as China crushed Thailand 7-0.
The second match of the Group A awaits Japan tomorrow. After defeating Jordan 3-1, the host country Vietnam, Japan's next match opponent, will clinch a spot in the World Cup with another win. Japan's head coach Sasaki says "We have to be careful and focus to start off the match." The important second match will be kicked off at 8:15 pm (10:15 JST) on Wednesday 16.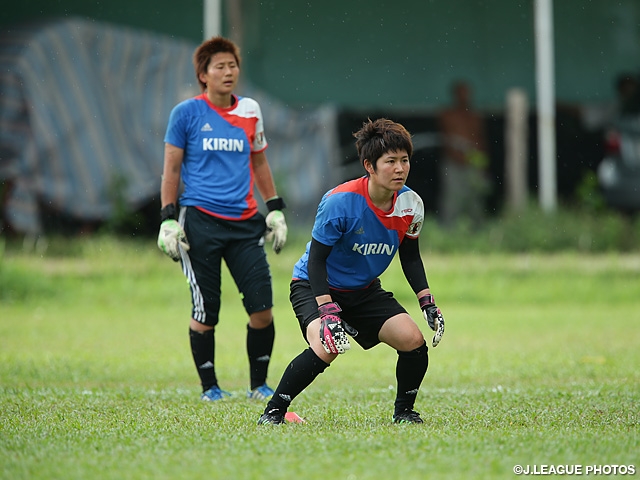 Comments From Players
FUKUMOTO Miho(Okayama Yunogo Belle)
It rains here very often, so we didn't lose our focus because of that and kept training. We lost two goals in the first match, but we never gave it up until the end. We have to play in a very tough condition, and every moment matters. So I kept talking from the bench to keep them focused, to get them ready off the ball, and to maintain the defence line. Now we have new players on this team, but we all are national team players. I think being a veteran or a young player doesn't matter. I think it starts from me doing what I am supposed to do and keep sending messages. We don't know who will play tomorrow and who will not, but we play united as one team. We get ready all together and win no matter what.
MIYAMA Aya(Okayama Yunogo Belle)
The match against Australia, we were expecting it would be very difficult, but we couldn't finish it with a win. It's a tough lesson to swallow, but we are still so imperfect. As a team that have this world champion patch on the chest, there are so many things we don't do well. We can't let them lead the game, either. We will talk it over one more time at night. We have to become one team to fight through such a tough championship like this. It's a fact that we have kept communicating from a generation to generation, so it's a well-known fact. We always have to keep that in mind and I will keep helping other players. The match two will be a difficult one. We have our pride, and we play for three points.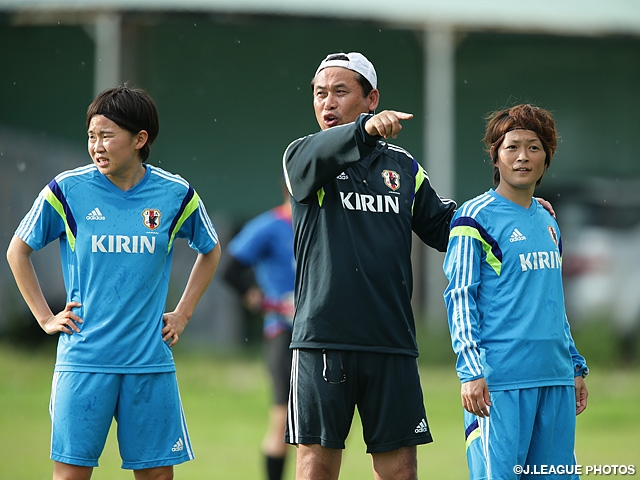 Schedule
Wed. 14 May
2 - 2
AFC Women's Asian Cup 2014 in Vietnam
vs. Australia Women's National Team
LIVE
TV Asahi Wed. 14 May 22:05 - 25:15
NHK-BS1 Wed. 14 May22:00 - 25:15
Fri. 16 May
20:15
AFC Women's Asian Cup 2014 in Vietnam
vs. Vietnam Women's National Team
(Thong Nhat Stadium)
LIVE
TV Asahi Fri. 16 May 22:05 - 25:15
NHK-BS1 Fri. 16 May 22:00 - 25:15
Sun. 18 May
19:15
AFC Women's Asian Cup 2014 in Vietnam
vs. Jordan Women's National Team
(Binh Duong Stadium)
LIVE
TV Asahi Sun. 18 May 21:00 - 23:12
NHK-BS1 Sun. 18 May21:00 - 23:15
Thu. 22 May
17:15/20:45
AFC Women's Asian Cup 2014 in Vietnam Semifinal
(Thong Nhat Stadium)
 
Sun. 25 May
16:45/20:15
AFC Women's Asian Cup 2014 in Vietnam
Third-place Match/Final
(Thong Nhat Stadium)
 
※All match time is local time.