NEWS
Nadeshiko Japan starts with a 2-2 drawn in the Women's Asian Cup opening match
15 May 2014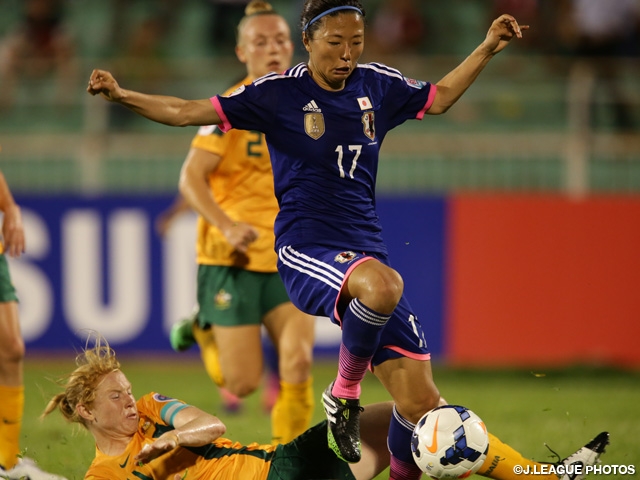 First match against Austraria with a 2-2 draw at AFC Women's Asian Cup Vietnam 2014 in Ho Chi Minh city. Japan aims to win this Asian Cup and to qualify for the FIFA Women's World Cup.
Japan's starting lineup was same as the one at the previous friendly match with New Zealand on 8 May in Japan. On 21 minutes, Australia scored a goal on a counter attack. In the second half, Australia scored a second which came down from Japan's right wing despite that substitute Ogimi entered the pitch for Kira to dominate ball possession on 34 minutes. However, Japan pulled one back with an own goal on 71 minutes and one made by Ogimi on 84 minutes. The first match finished with a draw despite other scoring opportunities created by substitute Kiryu and Ogimi.
Meanwhile, Vietnam, which Japan will play at the next match, recorded a 3-1 win over Jordan. The host Vietnam will challenge Japan at the next match. Japan will go for a win in the match against Vietnam with its best team, adjusting the players' condition within 2 days under the hot weather, and after reviewing the match with Australia.
Click here for detailed match report
Comment From Head Coach & Players
SASAKI Norio, Head Coach
Even though we know that the first game is always important and we prepared well considering pitch condition and the current condition of Australia, we could not start the game with how we wanted and gave them a chance to score from a short-counter attack and dribbling which in fact we had been cautious about. We need to review how we lost the ball during our passing play and to double-check the balance of defense and attack combination for the next match. The team did not give up and pulled back after going 0-2 down, I appreciate the team's effort.
Vietnam has good momentum to have qualified for the World Cup and indeed I feel a strong motivation from each Vietnamese player. We will have to concentrate very much on the next match.
MIYAMA Aya(Okayama Yunogo Belle)
Since we are here to win the match, this result is quite frustrating. I want to drive the fact that we pulled back from 0-2 to be a force of the team for the next matches. Considering how many times we were attacked, despite being very careful with their quick offence, we have to reflect on the game very well.
As long as we are wearing the football strip with the emblem of World Champion, I do not want to lose any match. We will go to the next match with stronger determination.
SAKAGUCHI Mizuho (Nippon Television Beleza)
At the beginning of the game, we could not keep the ball in front of the momentum of Australia but we were able to move the ball around well gradually from the middle of the first half. We lost the ball when going up and they netted a quick goal before we went back to defend. Indeed it was what we were careful to prevent, but they did well. At their second score, our defense closed down their attack from the wing. Even though I feel frustrated considering we did have the chance to get our third goal, I want to take positively the fact that we pulled back from being two goals down to a 2-2 draw.
OGIMI Yuki(Chelsea Ladies FC)
It was a nice pass to score, but I had to take other chances. It was good to get the two goals back, but it was the game we could have won. Even though I didn't play the full 90 minutes, I tried to keep playing in the front-line as much as possible to allow my other teammates to come up and join the attack. Considering I have only two more games for the Asian Cup, I will prepare myself very well to play in the starting line up.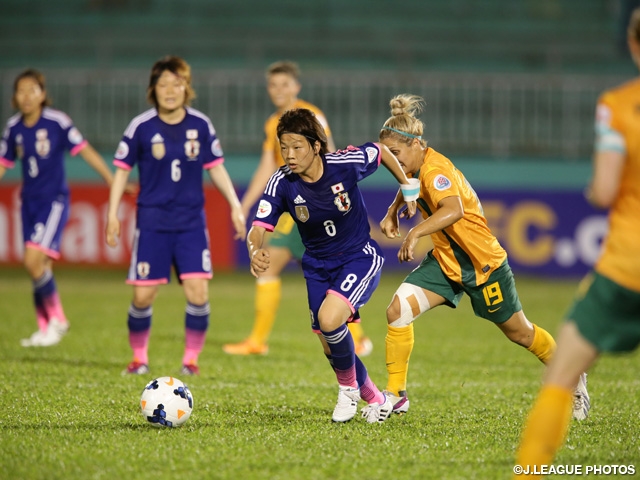 Schedule
Wed. 14 May
2 - 2
AFC Women's Asian Cup 2014 in Vietnam
vs. Australia Women's National Team
LIVE
TV Asahi Wed. 14 May 22:05 - 25:15
NHK-BS1 Wed. 14 May22:00 - 25:15
Fri. 16 May
20:15
AFC Women's Asian Cup 2014 in Vietnam
vs. Vietnam Women's National Team
(Thong Nhat Stadium)
LIVE
TV Asahi Fri. 16 May 22:05 - 25:15
NHK-BS1 Fri. 16 May 22:00 - 25:15
Sun. 18 May
19:15
AFC Women's Asian Cup 2014 in Vietnam
vs. Jordan Women's National Team
(Binh Duong Stadium)
LIVE
TV Asahi Sun. 18 May 21:00 - 23:12
NHK-BS1 Sun. 18 May21:00 - 23:15
Thu. 22 May
17:15/20:45
AFC Women's Asian Cup 2014 in Vietnam Semifinal
(Thong Nhat Stadium)
 
Sun. 25 May
16:45/20:15
AFC Women's Asian Cup 2014 in Vietnam
Third-place Match/Final
(Thong Nhat Stadium)
 
※All match time is local time.