NEWS
Nadeshiko Japan – opening match in AFC Women's Asian Cup today
14 May 2014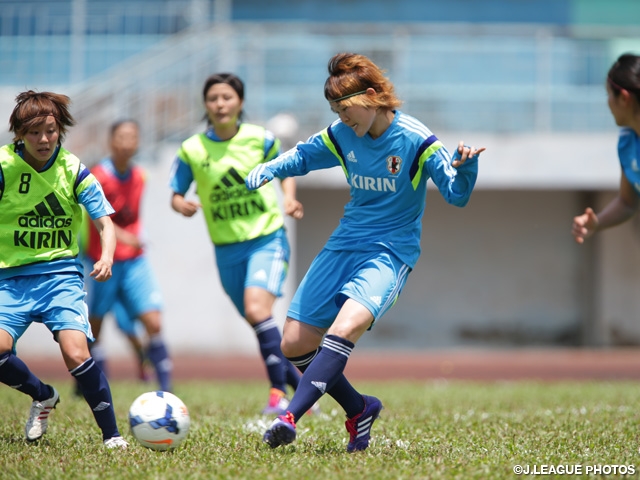 Nadeshiko Japan held final preparations this morning prior to the AFC Women's Asian Cup 2014, which starts on 14 May in Ho Chi Minh City, Vietnam. Due to the heat, they had to quickly adjust their kicking style and playing combinations.
In the afternoon the coach, Sasaki Norio, appeared at a press conference at a hotel in the city. The conference was well attended and there were more than 100 journalists from many countries, such as Vietnam and Thailand. Jordan's head coach, Okiyama Masahiko, made some notable comments, saying: 'it will be the first official match since wearing the hijab was approved at a FIFA board meeting. Women's football in West Asia or Islamic countries will improve rapidly. As a representative of one of these countries we will play hard and help toimprovethe level of football there.'
It has been five days since Nadeshiko Japan arrived in Vietnam. They have been adjusting not only their movements and timings in attack on the pitch, but also looking at their defence during video sessions. Iwashimizu Azusa suggested that the team should have 'a better defensive line than in the match against New Zealand.'
The first official international match for Japan was the 1981 AFC Women's Championship, now called the AFC Women's Asian Cup, just after the Japanese women's national team was formed. They appeared in this competition 13 times since then, but their best result remains second place. 'We want to win the championship. Winning the first match is vital' said Iwashimizu; a thought echoed among the other players.
The first match will be against Australia, the defending champions. The match will kickoff at 20:15 (22:15 Japan Time) on Wed 14 May.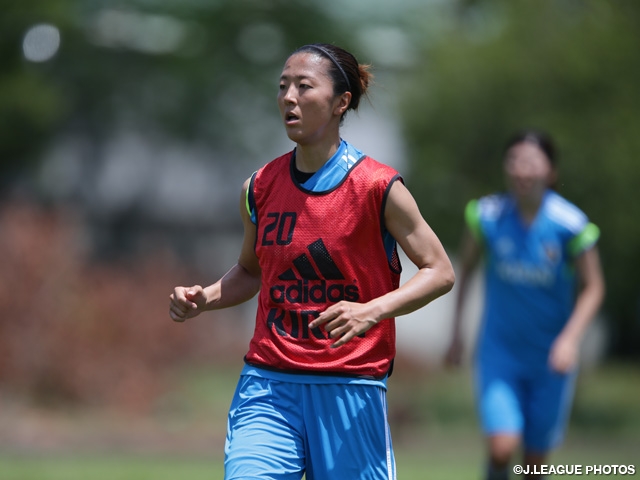 Comments From Head Coach & Players
OGIMI Yuki(Chelsea FC Ladies/England)
I heard it'd be really hot before I joined my team, but I think I can enjoy this environment as I'm still able to play. It's crucial to decide when to save or use my energy over the 90 min and when to take on fluid. Because the condition of pitches is different from normal, I need to think and adjust the quality and strength of passes. I think I have got myself in shape and although I just joined the team I'm ready to play the full 90 min.
I have scored a lot from behind defenders, but I want to try a new pattern – receiving a pass in front of defenders and shooting. I will challenge to myself even more in order to score.
I know it's not easy, but we will do our best, playing in our own style: the playing style which opponents really find tough.
SASAKI Norio, Head Coach
We will pull together to win this Asian championship for the first time. We have some young inexperienced players as well as experienced ones, but we all share the same aim. The first match is vital for both the opposition and us. We will focus fully as the match can turn on the smallest thing.
ALEN Stajcic, Head Coach
We aim to qualify for the FIFA Women's World Cup, to bring the trophy back and to win matches playing our way. Every team in this competition has improved a lot in the last few years. As for Japan, of course, I find it difficult to pick out one key player, as the team has strength in depth. The modern playing style shown during the World Cup in 2011 will be followed now by many other teams. I know it's going to be a hard match, but I'm happy that we can play against such a team.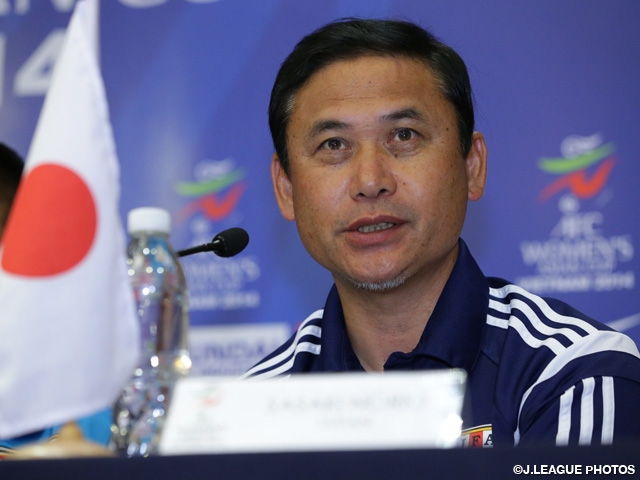 Schedule
Wed. 14 May
20:15
AFC Women's Asian Cup 2014 in Vietnam
vs. Australia Women's National Team
LIVE
TV Asahi Wed. 14 May 22:05 - 25:15
NHK-BS1 Wed. 14 May22:00 - 25:15
Fri. 16 May
20:15
AFC Women's Asian Cup 2014 in Vietnam
vs. Vietnam Women's National Team
(Thong Nhat Stadium)
LIVE
TV Asahi Fri. 16 May 22:05 - 25:15
NHK-BS1 Fri. 16 May 22:00 - 25:15
Sun. 18 May
19:15
AFC Women's Asian Cup 2014 in Vietnam
vs. Jordan Women's National Team
(Binh Duong Stadium)
LIVE
TV Asahi Sun. 18 May 21:00 - 23:12
NHK-BS1 Sun. 18 May21:00 - 23:15
Thu. 22 May
17:15/20:45
AFC Women's Asian Cup 2014 in Vietnam Semifinal
(Thong Nhat Stadium)
 
Sun. 25 May
16:45/20:15
AFC Women's Asian Cup 2014 in Vietnam
Third-place Match/Final
(Thong Nhat Stadium)
 
※All match time is local time.