NEWS
【Match Report】SAMURAI BLUE lose to Brazil after conceding a penalty kick in the second half
07 June 2022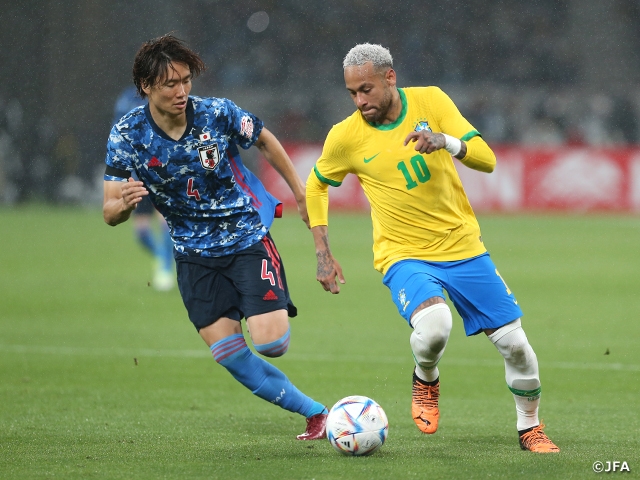 On Monday 6 June, the SAMURAI BLUE (Japan National Team) faced the Brazil National Team in the KIRIN CHALLENGE CUP 2022 held at Japan National Stadium (Tokyo). Despite finishing the first half 0-0, Japan lost to Brazil 0-1 after conceding a penalty kick in the second half, which was converted by Neymar JR (Paris Saint-Germain). With this loss, Japan's overall record against Brazil is now two draws and 11 losses.
Ahead of the FIFA World Cup Qatar 2022™, which will kick-off in November, this match against Brazil, the No. 1 ranked team in the FIFA rankings, presents an excellent opportunity for Japan to see where they currently stand, and to identify their strengths and weaknesses. In the past decade, Japan has lost all four matches against Brazil, each time by three or more goals.
In a match that was attended by 63,638 spectators in the pouring rain, Japan rotated their starting line-up from their match against Paraguay on Thursday and fielded a line-up that featured many of the players who participated in the AFC Asian Qualifiers (Road to Qatar). Among them, NAGATOMO Yuto (FC Tokyo), who has traditionally played as a left back, was named as a right back, with NAKAYAMA Yuta (PEC Zwolle) playing in the left, YOSHIDA Maya (UC Sampdoria) and ITAKURA Kou (FC Schalke 04) as centre backs, and GONDA Shuichi (Shimizu S-Pulse) as the starting goalkeeper.
ENDO Wataru (VfB Stuttgart) anchored the midfield, with HARAGUCHI Genki (1.FC Union Berlin) and TANAKA Ao (Fortuna Dusseldorf) named as the inside-halves. FURUHASHI Kyogo (Celtic FC) was placed in the striker position, with ITO Junya (KRC Genk) and MINAMINO Takumi (Liverpool FC) starting in the flanks.
Brazil, who came to Japan following a 5-1 victory over Korea Republic in a friendly match on Thursday, took the initiative from the early minutes, with Neymar leading the attack alongside Lucas PAQUETA (Olympique Lyonnais) and RAPHINHA (Leeds United).
By applying aggressive pressure from the frontline, Brazil created the first big opportunity in the second minute, when Neymar caught the Japanese defenders off-guard with a heel-pass delivered inside the penalty area, but the shot taken by Paqueta deflected off the post. In the 19th minute, Daniel ALVES (Barcelona) and Raphinha penetrated the right flank to create an opportunity, while Neymar fired shots in the 27th and 41st minute to threaten the Japanese goal, but Gonda was there to make the save on each occasion.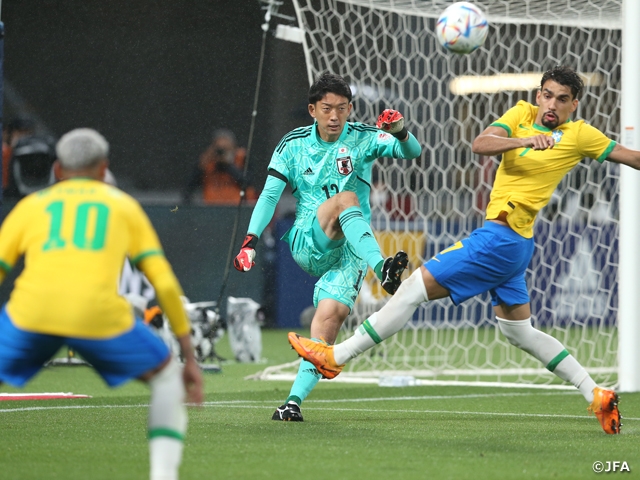 Despite being dominated by Brazil, Japan remained focused and responded hard with great composure. Endo and Haraguchi made their presence felt in defence, winning the ball in the midfield to initiate attacks, while Nagatomo made effective runs down the line to support Haraguchi and Ito create chances in the right flank.
Furuhashi connected with a cross sent by Ito in the 32nd minute, followed by an attempt made by Nagatomo in the 36th minute, but both shots were off target.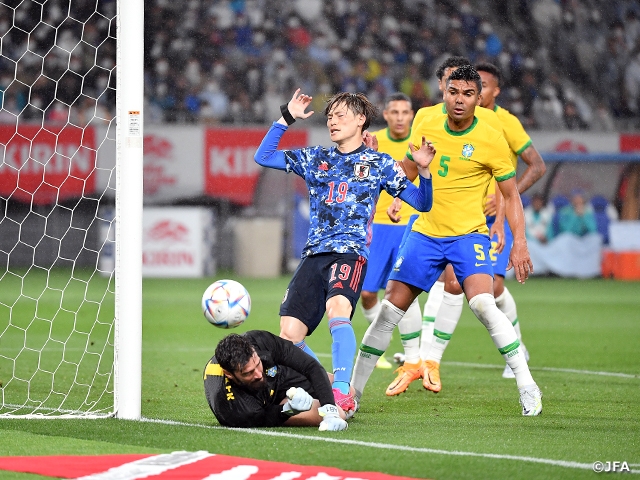 After finishing the first half 0-0, Coach MORIYASU Hajime introduced KAMADA Daichi (Eintracht Frankfurt) to start the second half. In the 51st minute, Furuhashi responded to a deflection of a long feed delivered from the defence line and struck a shot from distance, but his attempt was blocked by the opposing defender.
In the 58th minute, Nagatomo responded to a through ball sent by Ito to penetrate the right side and delivered a cross from the edge of the box. Tanaka nearly got a shot off the deflection of this cross, but couldn't control the ball, as the ball rolled out of bounds.
In efforts to change the dynamics of the match, Japan introduced MAEDA Daizen (Celtic FC) in the 67th minute, followed by MITOMA Kaoru (Royale Union Saint‑Gilloise) and DOAN Ritsu (PSV Eindhoven) in the 72nd minute.
However, it was Brazil who broke the deadlock, as their long-awaited moment arrived in the 75th minute, when RICHARLISON (Everton) drew a foul inside the penalty area. With Neymar stepping up and calmly converting the spot kick, Brazil took a 1-0 lead.
Seeking to equalise the match, Japan used their final substitutions to bring in SHIBASAKI Gaku (CD Leganes) and YAMANE Miki (Kawasaki Frontale) in the 81st minute to switch their system to a 4-2-3-1 formation. However, despite the final efforts showcased by the Japanese players, Brazil held onto their lead to walk away with a 1-0 victory.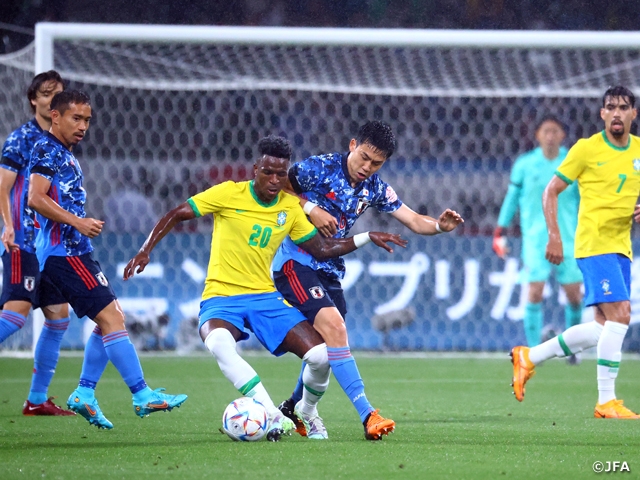 As a result, the SAMURAI BLUE have finished the two-match series in this KIRIN CHALLENGE CUP 2022 with a record of one win and one loss. The team will now head over to Kansai to play another two-match series in the KIRIN CUP SOCCER, where they will face Ghana on Friday 10 (at Kobe) and either Chile or Tunisia on Tuesday 14 (at Osaka).
Coaches and Players' Comments
MORIYASU Hajime, Head Coach of SAMURAI BLUE (Japan National Team)
We have prepared ourselves to win this match, so it is disappointing that we could not win. We knew it was going to be a tough battle and the players fought patiently, showing their desire to attack and score goals, but were unable to deliver the results. We know that it is not enough just to play a close match, but the players did the best they could at the moment, which I believe will lead to future victories. I appreciate the players for challenging themselves to the best of their ability and for showing great aggression and perseverance in this match. I told the players that we needed to anticipate the next play and get a head start, and I think they showed their ability to make quick decisions to evade the pressure applied by the opponents. They proved that they are capable of competing against the best in the World, and they looked very dependable and confident on the pitch.
Our opponents applied intense pressure from the start of the first half, but our perseverance was paid off in the second half, where we started to create chances deep in the opposing territory. If we can continue to challenge ourselves and make progress, we will be able to create more shooting opportunities. Matches like these will help us become a better team, but we need to improve our offence in order to win points off strong opponents like Brazil. In addition, we need to improve how we carry the ball forward after winning it, avoid pressure, break down the opposing defence while possessing the ball, attack while moving the opponents, and initiate our moves quicker than our opponents' pressure. Although we conceded a goal, the players defended well after losing possession of the ball and showed great tenacity in front of the goal, which are some of the things we must do when facing a stronger opponent. We will continue to build on the positives while trying to improve on our offence.
DF #5 NAGATOMO Yuto (FC Tokyo)
I had a lot of fun. I entered the match determined to contain VINICIUS (Real Madrid) from doing his job, and with everyone's support, I feel that I was able to contain him to some extent, so I am satisfied in that respect. In our previous matches against Brazil, we were simply outmatched, and I always felt miserable and annoyed at myself for not being able to do anything about it. I think there was more of a gap between the two sides than the score suggests, but compared to the previous matches, I personally felt much more comfortable in today's match. However, we gave up a lot of chances from our own mistakes today, so it will be tough to compete at this level if we don't improve the quality of our plays, and we also need to be able to win the individual battles if we want to succeed at the World Cup. It felt like those were some of the aspects Brazil did better than us.
DF #22 YOSHIDA Maya (UC Sampdoria/Italy)
There were both positives and negatives from this match, and I believe that the gap between the two sides was more than what the score suggests. Brazil showed quality when they had the ball near the box, but I don't think either Neymar or Richarlison were in their top form today. There were some areas where we were effective, such as how we applied pressure and how we carried the ball under pressure, but the level of competition will be much higher in the World Cup. We must not get too satisfied with this 0-1 result, but rather use it as motivation to improve our accuracy and intensity level. In a game where we needed to finish 0-0, we conceded a goal right after we made a substitution. If this was at the World Cup, we would need to get the score back to 1-1 and claw back a point. Mitoma created a couple one-on-one situations at the end, but I would have liked to see more of that. We need to be able to utilise the width of the field more effectively and have more options to break down the opposing defence. I think we definitely have to improve on our set pieces.
MF/FW #6 ENDO Wataru (VfB Stuttgart/Germany)
I think our overall performance was not so bad but considering the fact that our opponent was not in their top form but still scored a goal against us at the end, I feel that the gap between Japan and Brazil is still very wide. In the first half, we showed a lot of desire to press forward after winning the ball, but I personally felt that we should mix in some slow attacks at times, so that was something we talked about during halftime. However, we started to play a bit too passively in the second half. Once I had the ball, it felt like we were too far apart from each other, especially with our opponent playing four in the back, I wish I could have delivered the ball to our central midfielders more often. I also could have mixed in some long balls to our attackers, so all in all, I feel like I could have done a better job on my decision making. We were forced to play in our defensive end for a long time, so we couldn't create as many shooting opportunities as we would have liked. As a team, we need to come up with ways to score goals against strong opponents like Brazil.
MF/FW #15 MITOMA Kaoru (Royale Union Saint‑Gilloise/Belgium)
I was able to take on the opponents in the ways I had been successful at, but they reminded me that my speed was not quite up to par. I need to make better decisions between taking on the opponents and passing the ball. With time running out, I was more focused on taking on my opponents, but I need to get faster and stronger in order to make the difference when it matters the most. Regardless of who was on the pitch, Brazil showed great consistency, while each player provided different options to break down the opposing defence. Every player on their roster is capable of attacking, defending, dribbling, passing, and creating chances. They have a tremendously high average, and that is the kind of level we must strive for as a team. Anything can happen in a single match, but we need to improve ourselves in order to raise the probability of us winning the match.
TITE, Head Coach of Brazil National Team
It was a very high-level battle. The quality showcased by the two sides were at a World Cup level, and I was particularly amazed by the mental aspect of this match. We were relentless in our pursuit to score a goal, which I believe earned us this victory.
Cesar SAMPAIO, Assistant Coach of Brazil National Team
Japan and Korea Republic (who they played before facing Japan) have a very similar game model, but Korea Republic is more dynamic and physical. Japan played a very technical game with a solid defence line, and I felt that coach Moriyasu did a fine job tuning the mechanics of the team. Knowing that we could face Korea Republic in the round of 16 in the World Cup, this tour has provided us with a wonderful learning experience.


Date: Mon. 6 June 2022, 19:20
Fixture: SAMURAI BLUE vs Brazil National Team
Venue: Japan National Stadium (Tokyo)

Match Information