NEWS
SAMURAI BLUE's Coach Moriyasu shares desire to "Push the envelope" to win against Brazil
06 June 2022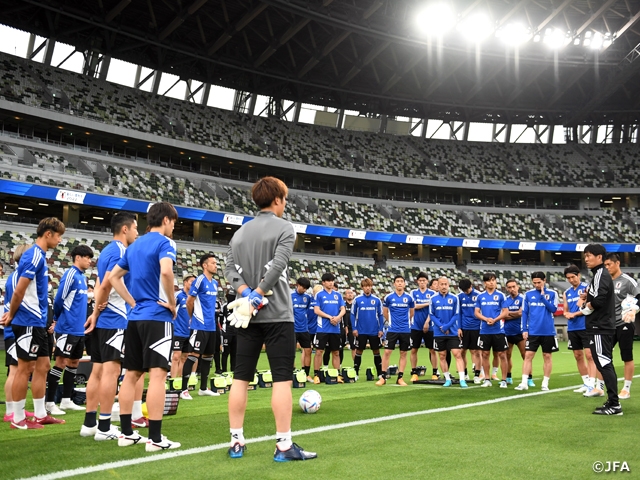 On Sunday 5 June, Head Coach MORIYASU Hajime of the SAMURAI BLUE (Japan National Team) appeared in the official press conference held at the Japan National Stadium, the match venue for the second fixture of the KIRIN CHALLENGE CUP 2022 between the SAMURAI BLUE and the Brazil National Team, and shared his aspiration to "show everything we've got and fight for victory."
In the second match of a four-match series designed to raise the level of the Japanese team ahead of the FIFA World Cup Qatar 2022™ in November, Japan will play Brazil, who have won the FIFA World Cup™ five times and are currently ranked No. 1 in the FIFA rankings. Needless to say, this will provide the team with a unique opportunity to assess where they are at the moment.
With the World Cup in mind, coach Moriyasu expressed high hopes that this match would help the players and the team take a great leap forward, saying: "I want the players to try and push their limits in all aspects of the game."
Brazil boasts a talented line-up including Neymar JR (Paris Saint-Germain), Vinicius JUNIOR (Real Madrid), CASEMIRO (Real Madrid), and Thiago SILVA (Chelsea), and has qualified for the World Cup through the South American qualifiers with an overwhelming performance, scoring 40 goals while conceding just five in 17 matches.
Ahead of their match against Brazil, coach Moriyasu mentioned, "We need to stay aggressive in both offence and defence. I want the players to summon the courage to play aggressively from the beginning of the match."
It is expected that Japan will be forced to be in the defensive end for much of the match, as the coach pointed out, "We need to find ways to evade the high pressure to initiate counterattacks while also trying to possess the ball." The coach also mentioned, "I want to see how fast we can make our decisions while also working in tandem as a team."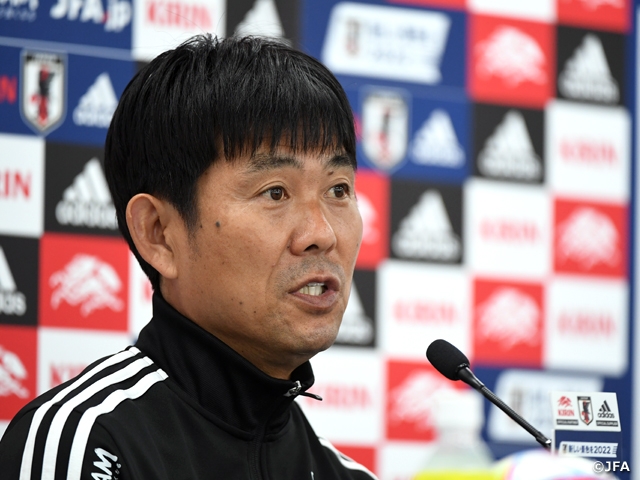 Brazil is the only country to have competed in every FIFA World Cup™ since the inaugural tournament in 1930, and they have qualified for this year's tournament in a breeze, posting a record of 14 wins and three draws in the South American qualifiers, with their postponed match against Argentina left to be played.
Seeking for their first world title since the 2002 FIFA World Cup Korea/Japan™, Brazil, like Japan, will have a limited number of training matches leading up to the FIFA World Cup Qatar 2022™, and this match against Japan will be a valuable opportunity for Brazil to prepare themselves through a real match.
Before coming to Japan, Brazil won 5-1 against Korea Republic in a match played in Seoul. RICHARLISON (Everton) scored the opener in this match, and despite conceding the equaliser midway through the first half, Neymar converted back-to-back spot kicks, before Philippe COUTINHO (Aston Villa) and Gabriel JESUS (Manchester City) added to the tally late in the match.
Brazil's Head Coach TITE, who has led the Selecao since the summer of 2016, shared his respect towards Japan at the official press conference, "If Japan had beaten Belgium in the 2018 tournament, they would have played Brazil. It's a match worthy of seeing at the World Cup."
Assistant coach Cesar SAMPAIO, a former Brazilian international who played in the J.League, shared his take in the press conference, "Japan is a well-balanced team with a strong defence. They also have very creative players in the attacking third." The former midfielder of Yokohama Flugels also expressed his confidence towards his side, "In addition to the established players, we have added players from the Olympic generation who won gold at the Tokyo Olympics, notably a group of forwards with outstanding speed and creativity."
On this day, both teams held an official training session at the match venue, where the first 15 minutes were open to the media.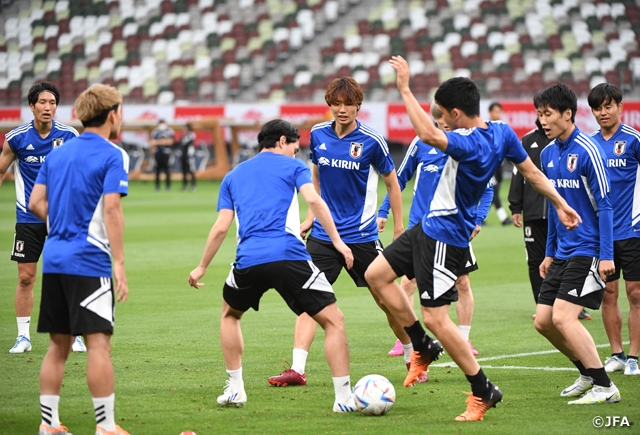 Japan has not won a match against Brazil in the past, having drawn two and lost 10 in the 12 times the two sides have faced each other. Japan lost 1-3 the last time the two sides met in a friendly match in France in November 2017.
"Most importantly, we must not concede at the start of the game. As in the World Cup, we must keep the score at 0-0 for as long as possible. We need to play with a lot of patience while anticipating for our opportunity to score a goal. Perseverance will be the key," said YOSHIDA Maya (UC Sampdoria).
The veteran defender also commented, "We need to know how well we can compete. It's a crucial match for us to identify what we can do and what we can't do, as we prepare for the World Cup."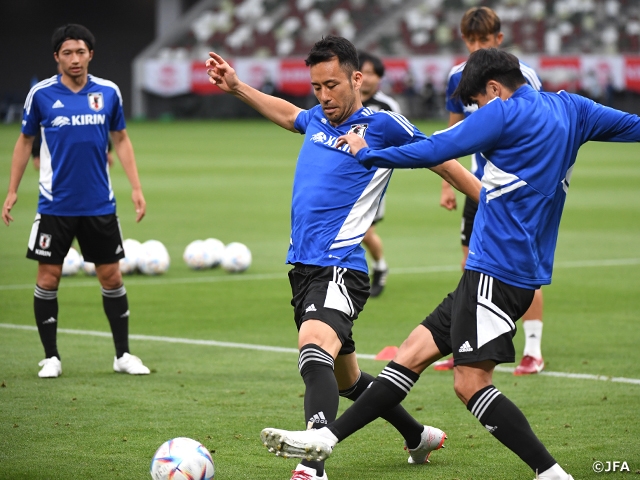 The KIRIN CHALLENGE CUP match between the SAMURAI BLUE and the Brazil National Team is scheduled to kick-off at 19:20 on Monday 6 June at the Japan National Stadium in Tokyo.
Coaches and Players' Comments
MORIYASU Hajime, Head Coach of SAMURAI BLUE (Japan National Team)
We look forward to playing Brazil, who can be considered the world champions. The players and staff are fully aware of the strength of our opponents, and although we have never won against them, we will show everything we have at home, challenge with courage, and fight for victory.
We have been working with our sights set on winning in the world stage. I want the players to challenge themselves to convert good defence into good attacks, to evade the high pressure of the opponents to initiate quick counterattacks, and to possess the ball. I want to see how fast we can make our decisions while also working in tandem as a team. I want the players to work as a team, but also to challenge themselves individually to see if they can outperform their opponents when they are matched up one-on-one. To obtain successful results at the World Cup, we have to try to push ourselves beyond our limits. I want the players to challenge themselves in all aspects of tomorrow's match.
Brazil is a team that can do many things. Not only are they talented, but they are also capable of being scrappy and patient, delivering when they have to, and working hard as a team to make the most of what they have. I think we have a lot to learn from them. I want the players to experience it first-hand and compete with a sense that they are capable of doing it themselves.
The Japan National Stadium is considered by many to be the "Mecca for football," filled with a rich history of Japanese football. It is the first match since the stadium was renovated, and we want to do our best to obtain a result that will give people a sense of growth in Japanese football, and we hope that we can make history with a win over Brazil at this stadium.
DF #5 NAGATOMO Yuto (FC Tokyo)
I think I am on the verge, both in terms of making the starting line-up and the race for the World Cup squad. Being able to play left-back, right-back and left wing-back will be a crucial factor for me to make the World Cup squad, so if I play on the right, I will do my best to produce good results on the right side. I have overcome many adversities in the past and I know I can display my strengths under any circumstances. Vinicius is a player who could win the Ballon d'Or, and I'm really looking forward to facing him. At the same time, there's a sense of urgency that if I don't stop him, it's going to get tougher for the team. Defence that prevents the opponents from turning forward, finding the space to attack, timing my movements in order to defend collectively with my teammates. I have the experience of competing against the world's best, and I want to use that experience to my advantage.
DF #22 YOSHIDA Maya (UC Sampdoria/Italy)
Having played Paraguay, we are in better shape for this match. I have gotten my rhythm back and my body is in better shape, so I think I'll be able to display a better performance. I think Brazil will also be in a better condition for this match after playing Korea Republic, because they have now had enough time to recover from the jet lag and the long travel. With that being said, we must raise the quality and speed of our plays, while also paying close attention to the smallest of details. It will be a very tough match, as we will have to play very carefully to the end, both as a team and as individuals. We need to know how well we can compete. It's a crucial match for us to identify what we can do and what we can't do, as we prepare for the World Cup. In a match against a strong opponent, it is important to find the right balance between courage and humility. If we just attack recklessly, they will simply fend us off, and of course it's no good if we just retreat to park the bus, so it's important to find the right balance between the two approaches.
MF/FW #6 ENDO Wataru (VfB Stuttgart/Germany)
In the match against Paraguay, I played with (club teammate) Ito, whom I am aware of his play style, so I tried to make a conscious effort to match his usual playing style. But I knew he could do well in the national team, so I wasn't worried. Facing Brazil, I don't want to be scared pushing forward. As we play against stronger opponents in the World Cup, it's better to have the option to apply pressure from the frontline, and that's what we want to show against Brazil. If I can act as a hub to receive the ball in between our defence and offence, I think we can possess the ball to a certain extent even against a team like Brazil, so that is an area I am particularly keen to try and work on. If there is a chance to win the ball, I want to be aggressive in my decision-making, especially after losing possession of the ball, or when we are on the flanks, I want to make a conscious effort to win the ball by limiting the pass-courses from the centre.
MF/FW #18 ASANO Takuma (VfL Bochum/Germany)
I am preparing with the intention of playing in the match against Brazil. The discomfort in my leg has improved. There is a lot of attention on the Brazil match, but for me every match is the same. They are a very strong opponent, but I am determined to give my best effort to deliver results when I am given the opportunity. I want to live up to everyone's expectations, so I will do my best and prepare well for each match in front of me. In our last match against Brazil (in 2017), I remember spending a lot of time in defence, and I felt threatened even when the opposing defender had the ball. I really felt that they were superior in both offence and defence, but we still have a chance as long as we can capitalise on our opportunities. I believe that we can compete against any opponent. Japan has never beaten Brazil before, but this is a chance for us to change that. I feel that we have a chance against any opponent if we are always ready to give 100% as a challenger. I felt that we could be competitive in terms of speed, so I think we can create chances if we make use of our speed and exploit the openings when the opponents become the aggressors.
TITE, Head Coach of Brazil National Team
We understand that tomorrow is a very important match. At the 2018 FIFA World Cup Russia™ we beat Mexico in the round of 16, and when I checked the score of the other matches, Japan was up 2-0 at that point. If Japan had beaten Belgium, they would have played Brazil, so this is a matchup worthy of seeing at the World Cup. We have analysed the video footage of Japan, and we have also watched their match against Paraguay, who are a very difficult opponent. We are very pleased with the emergence of a new generation and feel that we are in great shape heading into the FIFA World Cup Qatar 2022™.
Cesar SAMPAIO, Assistant Coach of Brazil National Team
I would like to congratulate Coach Moriyasu on his achievement in qualifying for the World Cup. Japan is a well-balanced team with strong defenders like Yoshida, Nagatomo, and Endo. In particular, Endo is very well-positioned. Their attackers are also very creative, especially Minamino, who has great technique, and Ito, who is very fast and strong in one-on-one situations. Tomorrow will be a great match between two very technical teams with a similar approach to win the match. It will be a spectacular match that will make all the spectators happy.

Date: Mon. 6 June 2022, 19:20
Fixture: SAMURAI BLUE vs Brazil National Team
Venue: Japan National Stadium (Tokyo)

Match Information