NEWS
Brazil National Team arrive in Japan - KIRIN CHALLENGE CUP 2022【6/6@Tokyo】
04 June 2022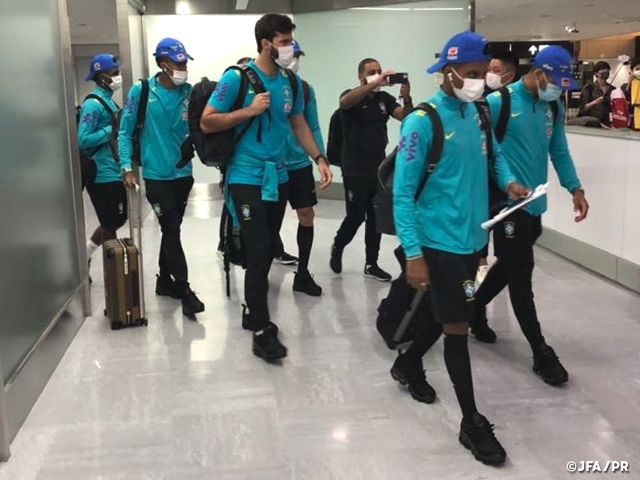 On Friday 3 June, the Brazil National Team arrived in Japan ahead of their match against the SAMURAI BLUE (Japan National Team) in the KIRIN CHALLENGE CUP 2022, scheduled to be played at the Japan National Stadium (Tokyo) on Monday 6 June.
Following their match in Republic of Korea, the Brazil National Team arrived at Narita International Airport in the evening of 3 May and were transferred to their hotel. The team began training the following day and is now preparing for the match.
The KIRIN CHALLENGE CUP 2022 match between the SAMURAI BLUE and the Brazil National Team is scheduled to kick-off at 19:20 on Monday 6 June.
Coach's Comment
TITE, Head Coach of Brazil National Team
I have good memories of Japan, where I won the FIFA Club World Cup™, and I feel honoured to be back in Japan in this way.
Brazil National Team Squad
Head Coach
TITE (Brazil)
Squad
GK
WEVERTON (Palmeiras)
ALISSON (Liverpool/England)
DF
Daniel ALVES (Barcelona/Spain)
Thiago SILVA (Chelsea/England)
Alex SANDRO (Juventus/Italy)
Alex TELLES (Manchester United/England)
MARQUINHOS (Paris Saint-Germain/France)
Leo ORTIZ (Red Bull Bragantino)
Guilherme ARANA (Atletico Mineiro)
Gabriel MAGALHAES (Arsenal/England)
Eder MILITAO (Real Madrid/Spain)
MF
CASEMIRO (Real Madrid/Spain)
FRED (Manchester United/England)
FABINHO (Liverpool/England)
Bruno GUIMARAES (Newcastle United/England)
Lucas PAQUETA (Olympique Lyonnais/France)
Danilo SANTOS (Palmeiras)
FW
Gabriel JESUS (Manchester City/England)
Gabriel MARTINELLI (Arsenal/England)
Matheus CUNHA (Atletico Madrid/Spain)
Neymar JR (Paris Saint-Germain/France)
Philippe COUTINHO (Aston Villa/England)
RAPHINHA (Leeds United/England)
RICHARLISON (Everton/England)
RODRYGO (Real Madrid/Spain)
Vinicius JUNIOR (Real Madrid/Spain)

Date: Mon. 6 June 2022, 19:20
Fixture: SAMURAI BLUE vs Brazil National Team
Venue: Japan National Stadium (Tokyo)

Match Information