NEWS
Expressing one's appreciation - Always have respect Vol.88
26 October 2020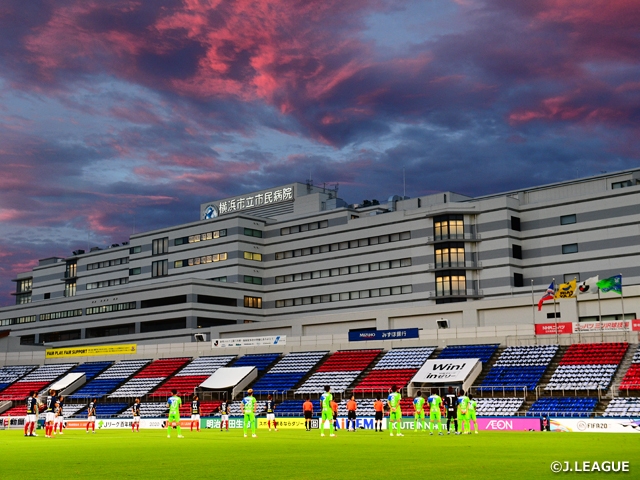 We have been seeing a new routine added to the J.League matches. Ahead of each match, the players and referees would enter the pitch and line-up to send a round of applause to showcase their gratitude towards the healthcare professionals who are fighting against COVID-19 on the frontline. Initially, this was a standardised ceremony for the first match-day following the season restart, but some clubs have chosen to continue this act in the subsequent matches.
There was an interesting scene observed at the J1's third match-day game between Yokohama F. Marinos and Shonan Bellmare. The players and referees gave a round of applause towards the new building of Yokohama Municipal Citizen's Hospital, completed in May, just behind the East Stand of the NHK Spring Mitsuzawa Stadium. There were hand written banners displayed on the sixth and seventh floor windows, that read, "Welcome back J.League. Let's get united at Mitsuzawa."
Under the "state of emergency" caused by COVID-19, people's lives have been greatly disrupted, but the pandemic has also given people the opportunity to "appreciate" those who are laying the foundation of our daily lives, such as workers of public transportation, garbage collection, and parcel delivery service. There are also people risking their lives on the front line, such as fire fighters and healthcare professionals. These people cannot opt to stay at home to protect themselves, but rather required to work even harder during this tough time. If there is a silver lining to this pandemic, it is the fact that people are more appreciative towards the people serving the public, and as a society, it is extremely important that we never take for granted of the selfless efforts provided by these people.
After J.League has resumed its season, the first thing that came to my mind was how beautiful the pitches were. Some might say that the pitches are supposed to be in good condition because they were unused for four months. However, someone had to give water to the turf, flatten the pitch, mow the lawn, and check the condition of the pitch every day. Despite the uncertainty of the stadium's future schedule, many people were involved to provide this perfect condition for the players.
With that perspective, there are many people around us that needs to be recognised and appreciated.
At each match, a sponsor day is set to hold promotions for a specific sponsor at J.League stadiums. For fans and supporters, a sponsor is a dependable ally that supports their beloved club. Through these events, people are given the opportunity to show their appreciation towards the sponsors.
How about we expand on that idea to create a day where we shed a spotlight to those serving the public. Holding a day to recognise and appreciate people such as the groundsmen, volunteers involved in each match, workers of public transportation, healthcare professionals, workers of health centres, schools, electricity, water, telecommunications companies, and many others involved in building the social infrastructure…
It does not have to be a massive ceremony, but just a round of applause from the players, fans, and supporters to acknowledge and appreciate their daily works. If we can share such moment on a regular basis, our society would be a much better place to live.
You do not need to be a professional athlete to hold these sorts of "appreciation ceremony." Even in children's matches, or grassroots league matches, it only takes a minute to show your appreciation towards those who support us and make our society safer to live.
We thank those who are supportive when we find ourselves in time of trouble, however, we tend to forget that sense of gratitude once we are through the tough time. In order to remember the gratitude we felt when J.League resumed after a four month delay, I hope we can continue with this new tradition in some sort of way. We can enrich our football culture in Japan if we can hold matches with a sense of gratitude from the J.League to the grassroots.
Written by OSUMI Yoshiyuki (Football Journalist)
*This article was originally posted on the Japan Football Association Newsletter, "JFAnews," August 2020 edition.
Japan Football Association Newsletter "JFAnews"
The Japan Football Association Newsletter "JFAnews" contains all the information on the Japan National Team, and all the events hosted by the JFA. Tournament results and team information throughout the nation are also available. The official monthly magazine is a must read for coaches, referees, and all members of the football family.
For information on the newest edition (Japanese website)