NEWS
Now is the time to show respect - Always have respect Vol.86
22 July 2020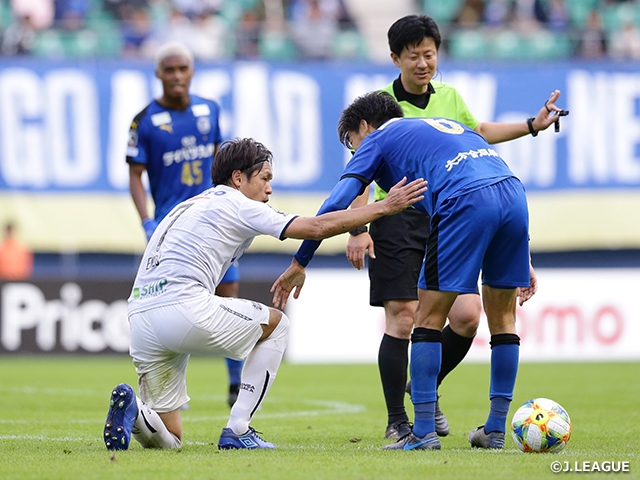 The nationwide state of emergency caused by the outbreak of COVID-19 has been lifted in phases starting mid-May, and the Japanese society is making a rapid transition towards the "new normal." With the possibility of the second and third wave upon us, people are required to make changes to their "pre-corona" daily lives, as we wear masks, maintain physical distance with others, and avoid the "three Cs" (closed spaces, crowded places, close-contact settings).
During this time, sports activities are also gradually making its return. After having their players "train at home" and "train on their own," J.League clubs are taking measures to conduct their team trainings, where players are divided into smaller groups with staggered training hours. It may take a while until we have matches played in front of a full crowd, but football is finally coming back to our daily lives.
Perhaps the most difficult part of this corona pandemic could be the fact that the only way to truly prevent the spread of the virus is to "avoid contact with others." After being separated from our peers for a while, we are realising how much we depend on the relationship we have with others. In order to maintain or confirm that relationship with others, we smile, shake hands, exchange hugs, make jokes, and offer helping hands. However, we are forced to refrain from making some of these gestures due to this corona pandemic.
In football, we have always attached importance to direct interaction between people, from teammates working together and sharing the joy of achieving a mutual goal, to the rituals of exchanging handshakes with opponents before and after matches. We offer our hands to help an opposing player get back on their feet, and even give a hug to comfort an opposing player devastated by a loss.
Through these actions, players have showcased their "respect" towards their opponents and allowed young viewers to naturally understand that "players of the opposing side are your colleagues who plays football with you."
In matches without handshakes and helping hands, how are we supposed to showcase our respect towards our opponents? This is a theme we all must think about as we adjust to the "new normal."
It must also be mentioned that, as we got used to "staying away from others" in the past few months, there is a growing sense of "distrust towards others." The reason we stay away from others is because "we don't know who is infected." Masks are worn not only to protect ourselves, but to showcase our intention that "we are doing our part not to cause trouble to the surrounding people." It does not bother us when our family members are not wearing masks at home, but we tend to avoid people not wearing masks in public, and in some cases have a hostile feeling towards them.
Once football returns to our lives, we must find ways to deal with these negative feelings, either the distrust towards others, or the anxiety to prove that we are harmless to others. This could become a bigger issue than we think.
In cases like this, the first word we must think of is "respect." Instead of considering others as "a person that could possibly transmit the virus to you=enemy," we should rather consider them as "a person fighting the pandemic with you=friend."
As we approach the "new normal," where we must live with the risks of COVID-19, football must adapt new "styles" and "rituals" in training sessions and matches, but it seems like everyone is still trying to figure out what is appropriate.
Although it seems like we are groping in the dark, I strongly believe that the word "respect" and having a sense of "fellow feeling" can have great significance in this current situation.
Written by OSUMI Yoshiyuki (Football Journalist)
*This article was originally posted on the Japan Football Association Newsletter, "JFAnews," June 2020 edition.
Japan Football Association Newsletter "JFAnews"
The Japan Football Association Newsletter "JFAnews" contains all the information on the Japan National Team, and all the events hosted by the JFA. Tournament results and team information throughout the nation are also available. The official monthly magazine is a must read for coaches, referees, and all members of the football family.
For information on the newest edition (Japanese website)