NEWS
Definition of a true friend - Always have respect Vol.85
26 May 2020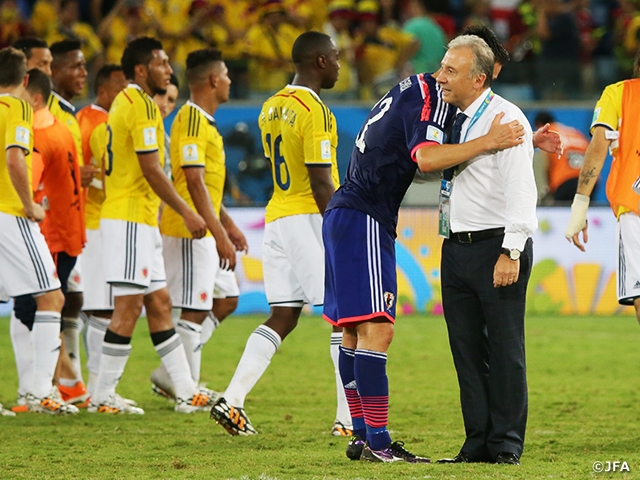 One of the most heart-warming news during this coronavirus pandemic is the message from Mr. Alberto ZACCHERONI, former coach of Japan National Team. The message arrived to Japan Football Association (JFA) in early April and it was shared to the football family throughout the nation.
In his message which began "Dear my beloved people of Japan," the Italian coach praised the Japanese people, as he wrote, "Japan is my home away from home, and I know that there are many people in Japan who are willing to sacrifice themselves to help others and overcome this adversity." He capped off the message by stating, "Let's fight together to achieve the mutual goal of regaining our wonderful world back."
Mr. Zaccheroni was appointed as the coach of Japan National Team after the FIFA World Cup South Africa 2010™, and led the team through the FIFA World Cup Brazil 2014™. Despite the great success at the AFC Asian Cup Qatar 2011™, his team went winless (one draw and two losses) at the World Cup and he was subjected to severe criticism.
During this worldwide pandemic, and while his own country was in disastrous situation, Mr. Zaccheroni wrote a heartful message towards the Japanese people and the country he spent four years as a national team coach. I was extremely moved by his deep compassion, and his message reminded me of an episode of the "father of modern football in Japan," Mr. Dettmar CRAMER.
This episode was shared in a weekly column written by Mr. KAWABUCHI Saburo, who was the JFA President at the time. The article was posted on JFA's official website in July 2008, just before Mr. Kawabuchi left his post. (Original article in Japanese)
At the Tokyo Summer Olympics 1964, Japan overcame a 0-2 deficit to win 3-2 against one of the tournament favourites, Argentina. Following the match, Japan's locker room was packed with people congratulating the team. After a while, Mr. Cramer ordered people to leave the room to speak to his players.
"Today, many people will come to congratulate you, including many new faces. Go ahead and share this joy with everybody. However, at this moment, the players of Argentina are the ones who need comfort and encouragement."
After the speech, Mr. Cramer made his way towards the Argentinian locker room.
It was not until the end of the quarterfinal match that everybody understood what his words and action really meant. At the quarterfinal, Japan failed to convert their early chances and suffered a 0-4 defeat to Czechoslovakia. With no one besides the players showing up to the locker room, Mr. Cramer opened his mouth.
"You gave your best efforts. I am fully aware of that. Let's forget about football for now. There may not be many people visiting our locker room today, but just remember, the ones that are around you today are your true friends."
There will be many people who surround you while things are going well. However, those who are beside you during tough times are your true friends. Mr. Kawabuchi mentioned that those words given by Mr. Cramer following the match against Czechoslovakia had encouraged him in his later life.
The world is currently facing a crisis we have never experienced before. With no vaccines or drugs available to treat the virus, the only way we can prevent the spread of it is to avoid contact with other people. While economic activities, cultural activities and sporting activities are all being shut down, perhaps the toughest challenge for humankind might be the sense of being disconnected from others.
Fortunately, modern technology allows us to remotely communicate with others through phone calls and e-mails. Through various methods, we can tell our friends that they are not alone during these toughest times, just like how Mr. Cramer told his player face to face. Even though we are physically apart from each other, our hearts can still stay connected.
Mr. Zaccheroni's heartful message proved that he is a true friend to the Japanese football family, and it has given me the urge to send a message to someone.
Written by OSUMI Yoshiyuki (Football Journalist)
*This article was originally posted on the Japan Football Association Newsletter, "JFAnews," May 2020 edition.
Japan Football Association Newsletter "JFAnews"
The Japan Football Association Newsletter "JFAnews" contains all the information on the Japan National Team, and all the events hosted by the JFA. Tournament results and team information throughout the nation are also available. The official monthly magazine is a must read for coaches, referees, and all members of the football family.
For information on the newest edition (Japanese website)