NEWS
The culture of ground levelling - Always have respect Vol.84
24 June 2020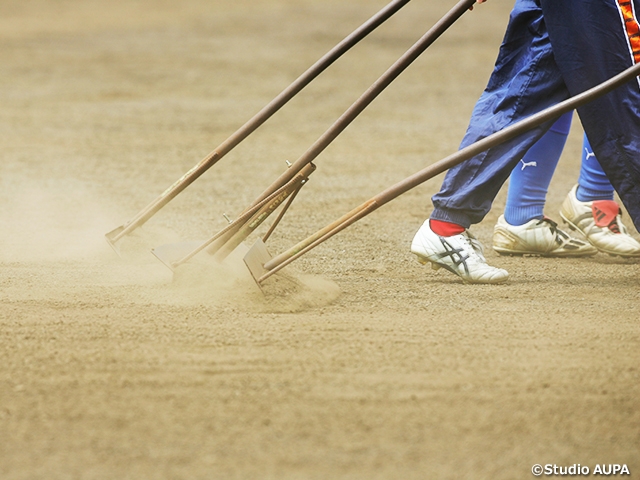 Just moments after competing against each other, players of the two opposing teams are getting together, as if they are on the same team, to condition the ground surface using an equipment called "Tombo." This is a scene unique to Japan, where many football pitches are comprised of soil, and I am always captivated by this beautiful scene.
The official name of this equipment is "ground levelling rake," but we have always called it "Tombo" (means dragonfly in Japanese). It is a T-shaped equipment made out of wood or metal. The horizontal part (about 80cm wide) is placed on the ground and the vertical part (about 1.5m long) is used to drag the rake to level the rough surface following matches.
The standard dimensions of a football field are 68m wide and 105m long, so even if there are 20 people conditioning the ground, each person must make more than two laps dragging this heavy equipment (where they must walk while dragging the rake in order to level the ground properly). Therefore, matches are often finished 10 minutes prior to the usage limit of the field. Once the final whistle is blown, players would run straight to the tool house to take the "Tombo" and start raking the ground.
In terms of "ground leveling," I am always impressed by the jobs done by baseball players. Whether it is a children's or an adults' field, they are always thoroughly maintained. When seeing the pitcher's mound being prepared in a perfect circle, I can sense their affection and gratitude towards the field.
This tradition of maintaining baseball fields has become a "culture" (in my opinion), and I do not know when this tradition started or how it was passed down, but I suspect that it has set the standard for the ground levelling of football fields.
An equipment like "Tombo" may not even exist in countries like England, where grass grows wherever an empty plot of land exists. Ground levelling might be a tradition unique to Japan, where football was mainly played on soil fields for a long period of time.
However, in recent years, many football fields utilised for children and grassroots players are being converted to artificial turf, which requires no levelling. Many J.League players might refer to ground levelling as "something I used to do when I was a little child."
There is no doubt that the spread of artificial turf fields has contributed to the development of Japanese football. With less irregular bounces, the players are able to control the ball more easily and have a wider view, which enables them to become more creative on the pitch. With artificial turf, matches and trainings can be held under rainy weathers and it leaves less mess on the players' clothing as well. Compared to soil fields, there are many merits to using artificial turf fields.
However, the spread of artificial turf fields may have taken away the precious time and experience of "ground levelling" from the players.
Dragging around the heavy "Tombo" following an exhausting training session or a match is a gruelling process. Some players might be doing this reluctantly. However, I believe that many players actually feel satisfied and proud watching the field getting levelled as they drag the "Tombo" around.
When arriving at a well levelled soil field, I always feel a sense of gratitude towards the people who utilised the field ahead of us. The process of ground levelling is an act of taking care of someone who is not in front of you, and it certainly embodies the spirit of "respect."
Some part of Japanese football "culture" was being nurtured through the act of ground levelling. If that act is being lost, I feel that there is a need to fill that vacant with something else.
Written by OSUMI Yoshiyuki (Football Journalist)
*This article was originally posted on the Japan Football Association Newsletter, "JFAnews," April 2020 edition.
Japan Football Association Newsletter "JFAnews"
The Japan Football Association Newsletter "JFAnews" contains all the information on the Japan National Team, and all the events hosted by the JFA. Tournament results and team information throughout the nation are also available. The official monthly magazine is a must read for coaches, referees, and all members of the football family.
For information on the newest edition (Japanese website)