NEWS
The role of football in a diverse society - Always have respect Vol.83
28 April 2020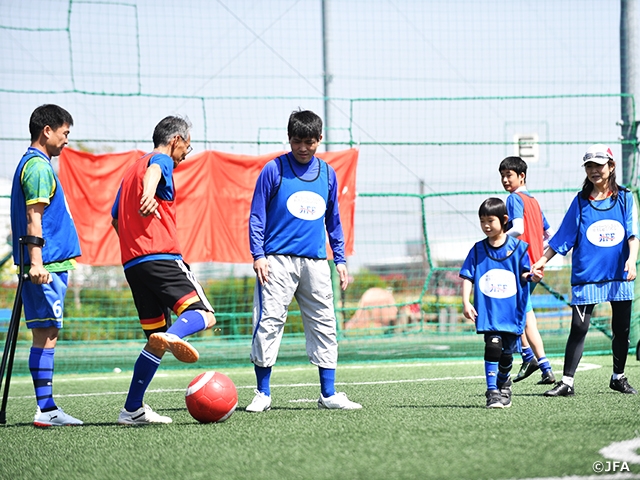 I was not a talented player, but I played football seriously until my mid-30s. I belonged to a club in Tokyo, who competed in "Tokyo Shakaijin(adult) Soccer League" as well as the IFFL (International Friendship Football League), where we played against teams formed by foreign people who resides in Tokyo.
This was Tokyo back in the early 80s, where we did not see as many foreign people as we see today. However, there were still plenty of foreign people working in Tokyo, and in order to comply with the growing demands of these people to play football periodically, the league was founded by a French-Vietnamese person who worked as an architect in Tokyo. Although my team contained only Japanese players, we decided to respond to the call-up to join this league.
It was a magnificent experience to play against players from England, Africa, Spain, ect. The competition would sometimes get intense, but once the final whistle was blown, everybody exchanged handshakes with a smile, which reminded me of the term "No-side." Despite the difference in nationality and culture, people who had never met before were still able to share the same enjoyment through the sport of football.
"Football is a universal language." It was one of favourite phrases of Mr. Joao HAVELANGE, FIFA's long-time president. In midst of the 21st century, football has become a sport not only for men, but for women, boys, girls, and people with disabilities, making it a truly "universal" game throughout the world.
UEFA has incorporated these changes to connect more people through football. In 2017, they have adapted the new phrase "Equal Game" in their Respect Program to fulfil their social responsibility as the administrative body of football in Europe, replacing "No to Racism" phrase which had been used since 2008.
Europe has seen increasing numbers of immigrants and refugees in the 21st century. While the massive influx of cultural exchange has created a diverse society, it also created social friction that fuelled conflicts and racism.
"Everyone should be able to enjoy football. No matter who you are, where you're from or how you play. That's Equal Game."
A website titled#EQUAL GAME was created by UEFA, where numbers of star players shared their own stories about football, along with many other players, including players with disabilities, boys and girls, and senior players.
The website contains a wide variety of messages, but it all shares a mutual sense that "We are all connected through football." Regardless of who you are, whether you are a player who played in the World Cup final or an amputee war veteran who needs two canes to strike a shot, we are all connected through football.
Compared to the time when I used to play against teams formed by foreign players, seeing people from other countries are so much more common in Japan these days, even outside Tokyo.
JFA has started registering women's teams in 1979, and they have added inclusive football teams to their registration list in 2016. However, there are still restrictions for teams with foreign players. Under the current JFA regulation, "a team with more than six foreign players" is considered to be an "affiliate member" and they are restricted from joining certain competitions.
"Respect" is about accepting the "difference" and enjoying the moment with those who share the same values. The current state of globalisation seen in Europe will soon arrive in Japan. In the close future, we hope that we can realise a society where everyone living in Japan can have equal rights to enjoy football.
Written by OSUMI Yoshiyuki (Football Journalist)
*This article was originally posted on the Japan Football Association Newsletter, "JFAnews," March 2020 edition.
Japan Football Association Newsletter "JFAnews"
The Japan Football Association Newsletter "JFAnews" contains all the information on the Japan National Team, and all the events hosted by the JFA. Tournament results and team information throughout the nation are also available. The official monthly magazine is a must read for coaches, referees, and all members of the football family.
For information on the newest edition (Japanese website)