NEWS
Referee Yamamoto's approach - Always have respect Vol.89
20 November 2020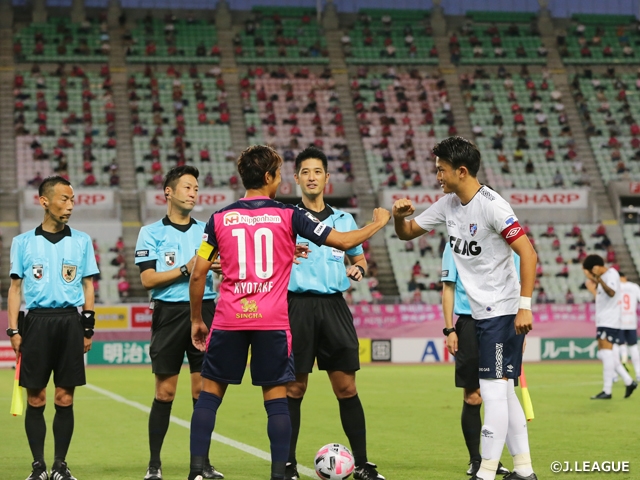 "How about you try mentioning their names?"
This is from a conversation I had with a referee a while ago. She was telling me about her troubles as a referee, "There are some really vocal coaches, and it can get really stressful at times."
"Hey referee! That was a foul! That should be a yellow card!"
Nowadays, we do not see that kind of coaches as often, but there are still quite a few of them, and referees telling them to "Please shut your mouth up." will only pour fuel on the fire in some cases.
Instead of warning them from a close distance, I thought maybe telling them "Let's calm down a bit, Mr./Ms.〇〇" with a cheerful face expression and voice tone might be much more effective in such cases.
It is interesting to see how our relationship with others can change just by calling each other's names. When a person is called by their name, they recognise that they are being acknowledged as an individual with their own personality and makes them treat the opponent with the same respect. Thus, creating a sense of responsibility to their words and action.
On 9 August 2020, a scene from the ninth match-day of the J.League between Cerezo Osaka and FC Tokyo has attracted a lot of attention.
Just before the end of the first half, FC Tokyo's striker NAGAI Kensuke went down on the ground awkwardly after fighting for the ball against a Cerezo Osaka corner kick from the right side. After seeing the foul, Mr. YAMAMOTO Yudai, the referee in charge, blew his whistle to stop the play and quickly approached Nagai, who was still on the ground, facing down at the centre of the penalty area.
There were 4,840 spectators at the stadium on this day. Considering that the match had a restricted admission up to 5,000 people, it was a "sold out" crowd at Yanmar Stadium Nagai, but the stands were pretty empty relative to the capacity of the huge stadium. Thus, the voice of Mr. Yamamoto was clearly picked up on the TV broadcast.
"Mr. Nagai, are you alright?"
The first word was surprising. He mentioned the player's name, and even referred to him as "Mr." However, what came after was an even bigger surprise.
"Is it your shoulder? Mr. Nagai, take your time (to get up). It is the same place you injured before, isn't it? Are you okay?"
Nagai had dislocated his right shoulder during a match played in November of previous year, and had a surgery done after the season. He was not able to return in time for the beginning of the season in February, but after the season was closed for four months, he returned to the team in July to lead it's offence.
Not only did he mention the player's name, but he knew about the player's past injury and showed his concern for the player. Despite being in pain, Nagai must have felt thankful for the words of Mr. Yamamoto.
This is not a common relationship between referees and players in football. Usually, players would yell out "referee!" in an abusive tone to get the referee's attention, while referees would call out the player's jersey number when giving them a caution. The word "referee" is just a role name, while a jersey number is just a "symbol." A respectful human relationship cannot be built when people are calling each other in role names and symbols.
Of course, it is impossible for the referee to remember the names of all players and their injury history. However, perhaps they can remember the names of the team captains when they conduct the coin toss before the match. Referees can also introduce their names to the players before matches, by just mentioning, "My name is 〇〇, and I will be in charge of this match."
Mr. Yamamoto is 37 years old and he is from Kyoto. He became a Class-1 Referee at age of 24, started refereeing at the J.League at 25, appointed as a FIFA referee at 26, and become a Professional Referee at 31. Referees are expected to make correct judgements at all times, and even though human errors are unavoidable, referees are held accountable for every mistake they make. Despite being in such irrational role, Mr. Yamamoto's kind and respectful gesture towards the players drew lots of attention.
Because of the admission restriction, we were able to see and hear the referee's respectful attitude towards the players. A conversation with a referee might change dramatically if players and coaches mention the referee's name, "Mr.〇〇," instead of just yelling out "referee!" By referring to each other's names, a football match can be a place filled with respect.
Written by OSUMI Yoshiyuki (Football Journalist)
*This article was originally posted on the Japan Football Association Newsletter, "JFAnews," September 2020 edition.
Japan Football Association Newsletter "JFAnews"
The Japan Football Association Newsletter "JFAnews" contains all the information on the Japan National Team, and all the events hosted by the JFA. Tournament results and team information throughout the nation are also available. The official monthly magazine is a must read for coaches, referees, and all members of the football family.
For information on the newest edition (Japanese website)