NEWS
Coach Teguramori: We were refined in every match
12 August 2016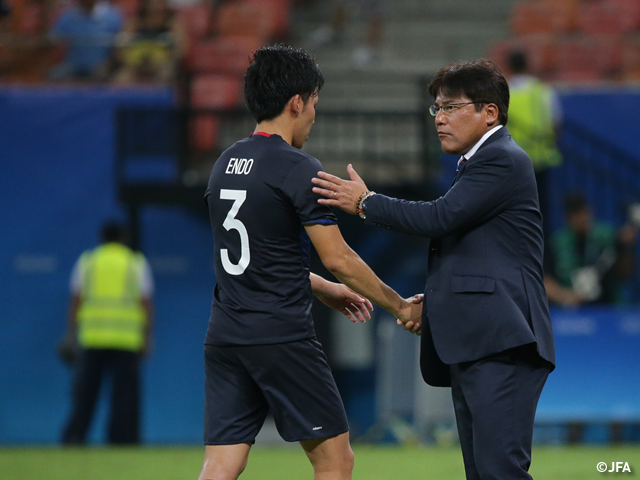 The Japan's Olympic squad coach TEGURAMORI Makoto reflected on his and his players' world-stage experience in front of media at Salvador Airport on the eastern coast of Brazil on Thursday 11 August, a day after the final group stage match against Sweden where Japan were officially eliminated from the tournament.
Japan lost to Nigeria 4-5 in their first match and drew with Colombia 2-2 in their second match before grabbing a 1-0 win over Sweden in their third one. Although the Teguramori side finished in third place and ended up missing a last-eight spot, their performance and results apparently improved as they played each match.
Japan's boss Teguramori, who spent his time at hotel after the Sweden match with his staff and players without sleeping much until dawn, says, "I felt I got refined with every match and I clearly witnessed the players were also changing."
He points out a positive effect on the team after their last friendly against Brazil prior to the finals. "The players made use of the feedback that they got out of the Brazil match for this tournament. It led to our attacking power," says Teguramori.
He also reveals his confidence that their experience added a new facet to the Japanese style of playing on the world stage. "In Asian tournaments, we didn't like to get in a situation where we were forced to possess the ball and allowed the opponents to beat us with a long ball, so we won through primarily with a counterattacking style. But in this world tournament, we tried to win the ball aggressively from the front line and utilised quick and short counterattacks. This enabled us to control a match with high possession. If we become capable of using different playing schemes, then we can be a country that possesses a variety of playing styles," he adds.
He also notes the importance of experiencing international matches on a regular basis in order to get results in world championships.
Meanwhile, MINAMINO Takumi (Salzburg/Austria) says that his disappointment was quite different from his last world-stage experience of the FIFA U-17 World Cup.
"At that time, I didn't get so much playing time and couldn't do anything. This time, I got confidence that we could make it, so I wanted to try out at the higher stages," he says.
"We said we've got to aim at the senior national team." He talked with his teammates every night. "We have been teammates until today, but once getting back to our own team, we are all rivals. We will work hard while playing against each other and grow together."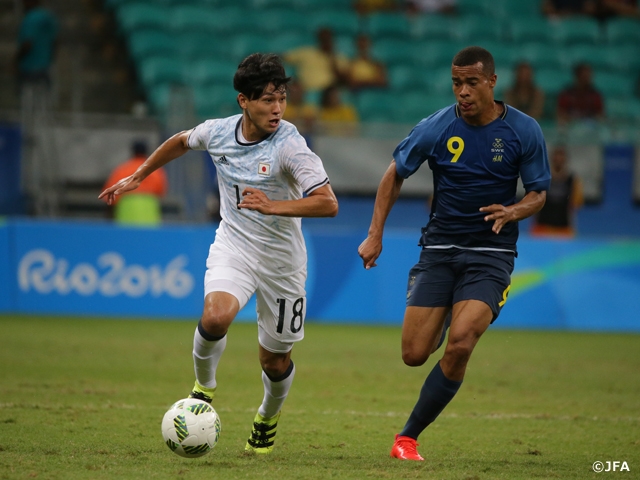 The team took a flight from Salvador to Sao Paulo on the afternoon of 11th, taking two different international routes on their way back home.
Coach and Players' Comments
TEGURAMORI Makoto, Coach
Waking up in the morning, I realised that there was no more practice, and it reminded me our tourney had just ended. We were able to experience what the world level is like. I thought competitions like international tournaments and world championships were unreachable and something I couldn't imagine how to take on such duties. But after I gave it a try, I was able to go with an attitude of "being ready for anything." I enjoyed my time experiencing high quality of football and playing against countries that have a different style of football. My players improved game-controlling and game-observation skills. And they developed a habit to read opponents' minds and intentions so that they could control a game. I feel I was able to work with a very good group.
It's important to not only take part in world championships at the youth stage but also keep playing in international matches (on a regular basis) in order to get ready to play in such championships. They were somewhat intimidated by the African players in the first match. By having more opportunities to play against them, they can learn "that is the African style, this South American and this is Asian one." It develops players' flexibility that enables them to be competitive with the world counterparts. I want the players to be always aware of the top flights and keep their work up with mindset that they take a role of improving Japanese football.
MF #18 MINAMINO Takumi (Salzburg)
Our tournament finished with disappointment and a bit of sadness. As an individual and as a team, we improved and grew as we played matches. That's why we wanted to play as many matches as possible. Now I want to practise. Getting back to my team, I will try hard.
MF #10 NAKAJIMA Shoya (F.C. Tokyo)
We were gradually getting used to the tournament environment and opponents so that we could start dominating matches. So it's disappointing and an unsatisfactory way to end. Coach Teguramori kept calling me up even though I didn't have playing time with my club. I really appreciate it. How I grew here is huge for my football life. I will work hard to get close to what I'm aiming for.
DF #6 SHIOTANI Tsukasa (Sanfrecce Hiroshima)
I liked this team, and I have been desperate to help the team somehow but couldn't help them out. I am really sorry about that. I put too much pressure on myself in the first match. While I was feeling the team was getting better in every match, we ended up being eliminated. That's really disappointing.
FW #11 SUZUKI Musashi (Albirex Niigata)
I'm really disappointed we lost even though we had a lot of things we could've done. It's not like we couldn't do anything that we tried to do, and we got through some part throughout the tournament. Nobody knew what would happen until a match ended, and since we were a good team, it made us think that we could make something happen.
MF #7 HARAKAWA Riki (Kawasaki Frontale)
The first match was everything. I learned how important the first match is during the short-term battles. I thought I understood it in the final qualifying round, so it disappoints me even more. Each one of the players must feel like there is only little difference between us and the world top teams. However, I felt the difference in the Brazil match.
What we are going to do all depend on ourselves. It all comes down to continuous efforts to sort out what we are short of and keep improving.
DF #15 KAMEKAWA Masashi (Avispa Fukuoka)
Everyone on the team had a strong determination to give a medal to our coach, and I'm sad this is the end of this team. My past two years and a half turned out to be a big treasure. But my football life does not end here. The senior national team are an opportunity for me to take advantage of this experience. I will try to go for it.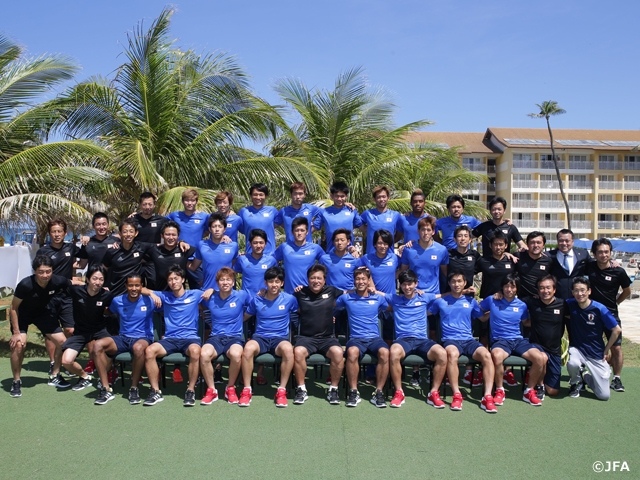 Schedule
Olympic Football Tournament Rio 2016
Thu. 4 August
4-5
Group B 1st Match
vs Nigeria (@Amazonia Arena)
[Japan Time: Fri. 5 August 10:00]

Fri. 5 August
TBC
Training
Sat. 6 August
TBC
Training
Sun. 7 August
2-2
Group B 2nd Match
vs Colombia (@Amazonia Arena)
[Japan Time: Mon. 8 August 10:00]

Tue. 9 August
PM
Official Training
Wed. 10 August
1-0
Group B 3rd Match
vs Sweden (@Fonte Nova Arena)
[Japan Time: Thu. 11 August 7:00]

*Local Time
*The schedule is subject to change due to the team condition, the weather, etc.