NEWS
Japan's Olympic squad make final preparations for first match against Nigeria
04 August 2016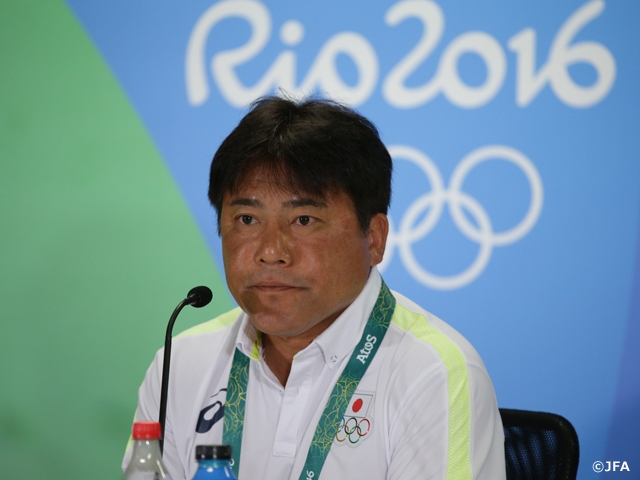 The Japan's Olympic squad had the last training session on Wednesday 3 August in Manaus, Brazil prior to their first Rio de Janeiro Olympic match against Nigeria. In the daytime, coach TEGURAMORI Makoto spoke at the official press conference at Arena da Amazonia in Manaus before his squad's practice. "I believe they will get something done," he expressed his confidence on the ongoing preparations and his expectations to the players.
In the aim of protecting the stadium turf, an official training session was cancelled for all the participating teams. Instead, each team visited the stadium to check the turf feeling for about 20 minutes.
Then in the night, the squad went out to practise at a different venue in the same city. They worked on 90-minutes training including a tactics review workout as well as drills for agility, set-pieces, cross balls and shooting.
Teguramori is confident about his players' conditioning, saying "they've got speed and sharpness back. Now they don't say it's hot here when walking in the daytime."
Japan's opponents Nigeria called up Chelsea midfielder Mikel and Portugal-based midfielder Mohammed for their over-age slots. They were scheduled to arrive in Brazil on Friday 29 July after having a camp in the United States but have not landed as of the evening of Wednesday 3 August. According to the tournament organising committee, there has been an issue on an arrangement of their flight from Atlanta.
Asked about Nigeria not arriving yet, Teguramori said, "I said to the players, 'they haven't come yet but are the past tournament champions. Don't think of the opponents' accident. Be confident about and assured of what you've done so far.'" He alerted the players not to let their guard down.
Then, he cited the win over Nigeria in the 1968 Olympics, where Japan won the bronze medal, and the loss to the same African team in the 1996 Olympics. "We are taking on Nigeria with a determination that the Nigeria match determines everything for the medal," he added with a strong aspiration for their first Olympic match.
On the same day, the women's football competition opened little earlier than other competitions. The opening day had six matches as the home side Brazil won against China 3-0, while defending champions and FIFA World Cup champions the United States beat New Zealand 2-0 and Germany thrashed Zimbabwe 6-0.
The opening contest of Japanese men's team against Nigeria will kick off on Thursday 4 August at 21:00 (on Wednesday 5 at 10:00 Japan time).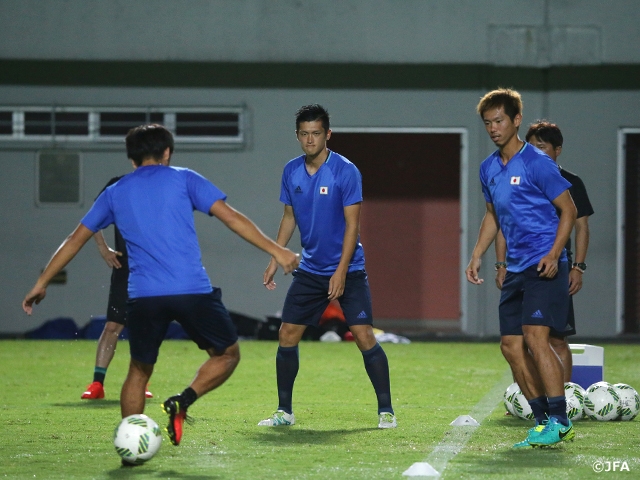 Coach and Players' Comments
TEGURAMORI Makoto, Coach
Tomorrow, we've got to understand the opponents' strength before getting into the game. On offence, the opponents have got pace, so it probably will be at a high pace in the early stage of the match. But if it's going to be a battle of patience and stamina with such pace, Japan are superior. We will try to come out aggressively but carefully, getting to the game. And I hope we can find a small gap and get down the opponents at the end.
Japan don't want to get into a situation where we have to trail (after giving up a goal), so we've got to score first. I hope we can control the match, not giving up a goal first but scoring a goal first. We've worked hard specifically for this tournament before coming here. We want to show what we've worked on no matter what situation the opponents are in. This is why I want Nigeria to show up and let us play the match. I told the players, "It's up to us whether we actually grab the chance when that chance comes around."
MF #18 MINAMINO Takumi (Salzburg)
Tomorrow's match is important, and my feeling is in the mood for the actual match. I'm pumped up. We will try to get ready by tomorrow. The pitch is good, and there is no problem regarding the environment. The opponents haven't got to Brazil, but we want to be focused on our preparations. What's important is the results for the team, not individual play. But as we chase that team goal, I individually want to get results with goals and assists as an attacker.
FW #13 KOHROGI Shinzoh (Urawa Reds)
The opponents' individual abilities are great, but I felt we may be able to get a chance in set pieces as a team. I will try to keep it compact among three attackers when attacking so that I won't be all alone and we will be able to attack well. Every team tries to get three points by beating Japan, but when they are letting their guard down is the chance for Japan. We will stay focused and will try to do what we can in the match.
DF #15 KAMEKAWA Masashi (Avispa Fukuoka)
We came to Brazil early to work out, and then played against Brazil. We can go for the tournament in good form. We are confident that we've made good preparations. But the opponents also had a camp for a month. And they've got tall players up front, so we need to be careful about set-pieces on both offence and defence. The first match is important, and we will try to go head-to-head against them without fear as a challenger.
DF #5 UEDA Naomichi (Kashima Antlers)
Tomorrow's first match will be very important, so we will try to play together as a team. Nigeria have got the African style of unique rhythm and physical abilities. And their speed is much better than Japan. But if we make sure to play composedly when playing against them, I'm confident to win. We want to let ourselves get the momentum with a win.
RESTREPO Carlos Alberto, Coach (Colombia)
The temperature and humidity are important elements, but we've played matches in Miami and Cartagena for that. The team have adopted to the environment well. We tried to make the best team but struggled to call up some of the players as we wanted. But this is our first Olympics in 24 years, and we are trying to make a history here. This is a big step for the development of Colombia football.
ERICSON Hakan, Coach (Sweden)
A key to win through this group depends on the opponents. But basically, you've got to get used to the climate. This group is tough with good teams. Japan and Nigeria also seem to be prepared well, and Colombia may take advantage of this weather as they are used to it. In that regard, it's going to be a big challenge for us.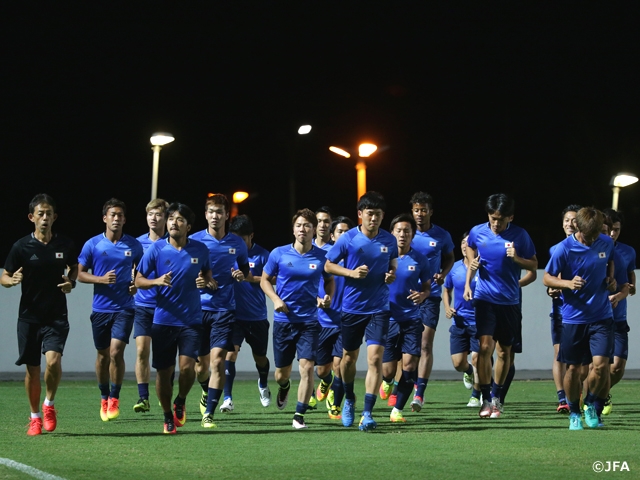 Schedule
Olympic Football Tournament Rio 2016
Sun. 31 July
TBC
Training
Mon. 1 August
TBC
Training
Tue. 2 August
TBC
Training
Wed. 3 August
TBC
Official Training
Thu. 4 August
21:00
Group B 1st Match
vs Nigeria (@Amazonia Arena)
[Japan Time: Fri. 5 August 10:00]

Fri. 5 August
TBC
Training
Sat. 6 August
TBC
Training
Sun. 7 August
21:00
Group B 2nd Match
vs Colombia (@Amazonia Arena)
[Japan Time: Mon. 8 August 10:00]

Tue. 9 August
PM
Official Training
Wed. 10 August
19:00
Group B 3rd Match
vs Sweden (@Fonte Nova Arena)
[Japan Time: Thu. 11 August 7:00]

*The following schedule determines to win and advance to the next round
Sat. 13 August
16:00
22:00
Quarter-Final (If Japan top the Group)
vs Group A 2nd (@Fonte Nova Arena)
Quarter-Final (If Japan 2nd the Group)
vs Group A 1st (@Corinthians Arena)
Sun. 14 August
TBC
Training
Mon. 15 August
TBC
Training
Tue. 16 August
TBC
Training
Wed. 17 August
13:00
16:00
Semi-Final (@Maracana/Rio de Janeiro)
Semi-Final (@Corinthians Arena/Sao Paulo)
Thu. 18 August
TBC
Training
Fri. 19 August
TBC
Training
Sat. 20 August
13:00
17:30
3/4-Place Playoff (@Mineirao/Belo Horizonte)
Final (@Maracana/Rio de Janeiro)
*Local Time
*The schedule is subject to change due to the team condition, the weather, etc.