NEWS
Japan's Olympic squad carry out detailed tactical review
03 August 2016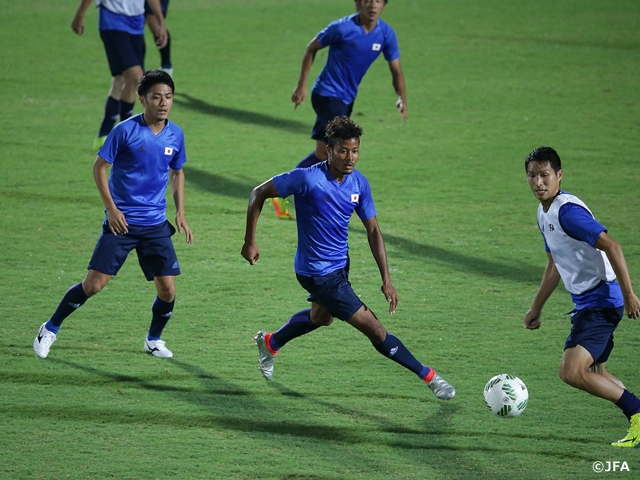 With two days to go before the first game of the Rio de Janeiro Olympics against Nigeria, Japan's Olympic squad held a practice session, also attended by reserve players, in Manaus on Tuesday 2 August. The teams spent a lot of time going through tactics.
It felt cooler than the day before with less humidity. The players started with physical training, including running and exercises with the ball. Then they moved onto 9-on-9 passing drills, focusing on speed and quick transitions, followed by a practice on offensive build-ups with short passes in different formations.
The team played a nine-a-side practice game in two thirds of the pitch, working on the timing of sending and receiving passes in different offensive and defensive combinations. Then, coach TEGURAMORI Makoto gave detailed instructions about how and when to move closer and tight mark the opponents while defending against corner kicks. At the send of the session, the attackers, including ASANO Takuma (Arsenal FC/England) and KOHROGI Shinzoh (Urawa Reds) practiced hard on shots.
The reserve players, who had been practicing separately after their arrival yesterday, joined the session for one hour and a half.
It was announced that forward KUBO Yuya (Berner Sport Club Young Boys/Switzerland), who was supposed to arrive late, could not participate in the tournament due to club commitments. As a result, reserve player SUZUKI Musashi (Albirex Niigata) was registered for the Olympics and forward ONAIWU Ado (JEF United Chiba) was called as an additional reserve.
The national team director SHIMODA Masahiro explained: "he was uncertain whether he can join the team before 3 August, when the qualifying round of the UEFA Champions League ends. It's such a shame, but we have to avoid any risk playing with just 17 players."
TEGURAMORI Makoto noted: "Kubo feels the most frustrated. However, we have to move on. We must play, thinking of the players who can't make it." Suzuki added: "I know that Kubo feels frustrated. Although it feels awkward, I need to focus on what I can do for the team."
Japan will meet Nigeria in the first game of Group B on Thursday 4 August, followed by the second match against Colombia on Sunday 7 August. Both of the games will be held in Manaus. Then the team will move to Salvador to play against Sweden on Wednesday 10 August.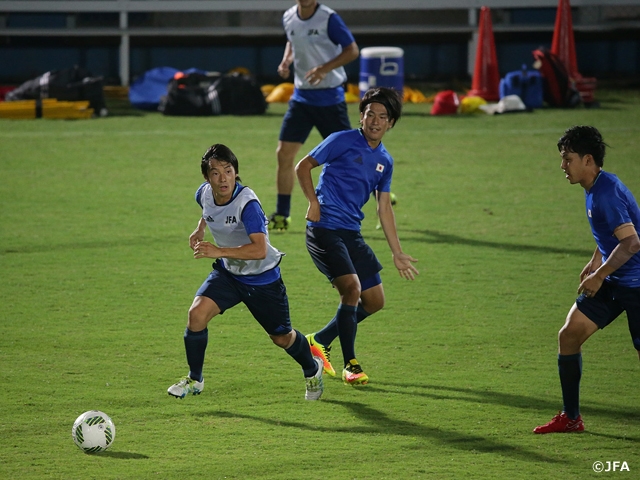 Coach and Players' Comments
TEGURAMORI Makoto, Coach
I think this team is incident prone. It also means that we can cope with sudden changes. So we'd like to overcome adversities and make this championship dramatic. I told the players: "accidents tend to happen when you're trying hard to achieve something. It can happen on the pitch or in your life. If you manage risks, you can overcome and succeed. We have reserve players. We cannot keep thinking about the players who cannot play in the team. Now that we have 22 players together, we can move forward." We must play for the players who cannot make the championship. I believe that the team are even more motivated. I told Suzuki to 'stay flexible in this championship, not just thinking about playing as forward.' I had him play on the wing today. I expect him to understand more about our team tactics.
FW #16 ASANO Takuma (Arsenal FC/England)
I don't know when I can be on the pitch. If I come off the bench in the middle of the game, I'd like to think about how I can contribute to the team against tired opponents with swiftness and quickness in finding space. If I perform (as I normally do) displaying my strength, we should be able to score. Attaining good results is a must while given a specific role by the team. I need to have a flexible mind when I'm been sent on to the pitch. Depending on different game-time situations, I may have to gear up focusing on offence or defend solidly.
MF #8 OHSHIMA Ryota (Kawasaki Frontale)
Although I haven't got myself in perfect condition, I think I'm getting there. I'm dealing with the heat. Having said that, Olympic games will start late, so as our practice sessions. I haven't got used to it yet. I feel a bit awkward, because we usually hold practice sessions in the morning. I should be ready by the match.
I know Nigeria have physical strength and height advantage. I don't know much about their defence yet, but I'll will be looking for the appropriate distance to play amongst them.
FW #11 SUZUKI Musashi (Albirex Niigata)
Under coach Yoshida at Albirex Niigata, I've played in different offensive systems. I think I am prepared to play alongside one or two attackers. Although I haven't communicated with Kohrogi about tactics, over-age players have sufficient experience to blend in with the team.
As the reserve player, it feels awkward to be in the Olympic team. But, it's a great opportunity for me. So I'd like to take advantage of it. Nothing changes from when I was the reserve member that I'll do whatever I can for the squad. I'd like to bring a medal back home.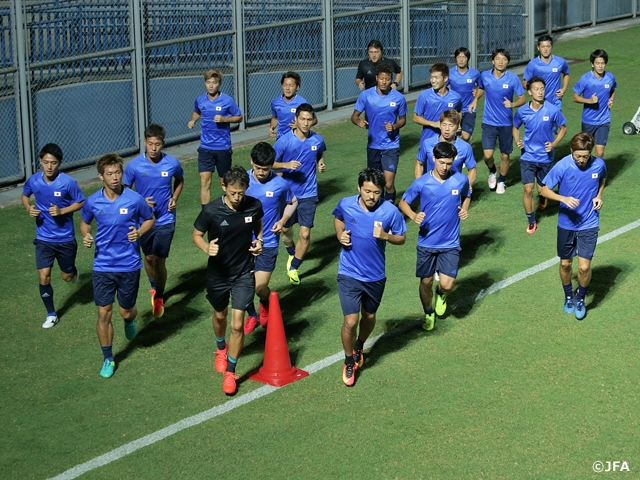 Schedule
Olympic Football Tournament Rio 2016
Sun. 31 July
TBC
Training
Mon. 1 August
TBC
Training
Tue. 2 August
TBC
Training
Wed. 3 August
TBC
Official Training
Thu. 4 August
21:00
Group B 1st Match
vs Nigeria (@Amazonia Arena)
[Japan Time: Fri. 5 August 10:00]

Fri. 5 August
TBC
Training
Sat. 6 August
TBC
Training
Sun. 7 August
21:00
Group B 2nd Match
vs Colombia (@Amazonia Arena)
[Japan Time: Mon. 8 August 10:00]

Tue. 9 August
PM
Official Training
Wed. 10 August
19:00
Group B 3rd Match
vs Sweden (@Fonte Nova Arena)
[Japan Time: Thu. 11 August 7:00]

*The following schedule determines to win and advance to the next round
Sat. 13 August
16:00
22:00
Quarter-Final (If Japan top the Group)
vs Group A 2nd (@Fonte Nova Arena)
Quarter-Final (If Japan 2nd the Group)
vs Group A 1st (@Corinthians Arena)
Sun. 14 August
TBC
Training
Mon. 15 August
TBC
Training
Tue. 16 August
TBC
Training
Wed. 17 August
13:00
16:00
Semi-Final (@Maracana/Rio de Janeiro)
Semi-Final (@Corinthians Arena/Sao Paulo)
Thu. 18 August
TBC
Training
Fri. 19 August
TBC
Training
Sat. 20 August
13:00
17:30
3/4-Place Playoff (@Mineirao/Belo Horizonte)
Final (@Maracana/Rio de Janeiro)
*Local Time
*The schedule is subject to change due to the team condition, the weather, etc.