NEWS
U-22 Japan National Team develop understanding of tactics
27 December 2015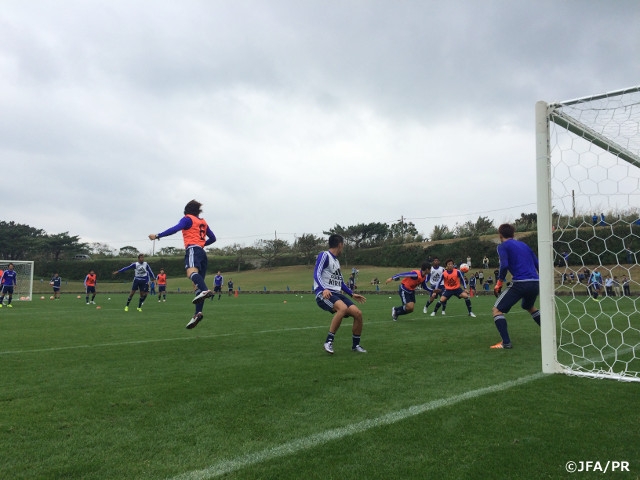 U-22 Japan National Team entered the fourth day of their training camp.
At the beginning of the morning practice, coach TEGURAMORI told his players this "we practiced understanding the importance of long balls for the final qualifying in our practice on the 24th. We'll mainly work on heading practice to prepare for the aerial battles as our next step today". After the team went through their routine menus like cardio running and interval running, they moved to work on ball controlling and three-man heading drill. They practiced a practical menu in front of the goal to wrap it up.
"While our Asian rivals assume that Japan would pass the ball, make sure we can beat them," Teguramori told his players during the afternoon session. The players worked on their strengths as possessions and buildups. "If we can do this with our physical condition now, we should be able to do better when we remove our fatigue. Let's work being conscious that we do everything for winning," Teguramori continued as the session began.
The team worked on passing and controlling, a 6-on-6 possession game with two servers, and a 5-on-4 and 4-on-5 to begin with, and then finished the afternoon practice with practical offensive defensive plays before the goal as well.
In the meantime, the team have added defenders IWATANI Takuya (Vissel Kobe), NARA Tatsuki (F.C. Tokyo) and midfielder NAKAJIMA Shoya (F.C. Tokyo), all of whose teams have been eliminated in the quarterfinals of the Emperor's Cup.
The 26-man young SAMURAI, with the newly-added three players, will get into a two-a-day practice on the 27th.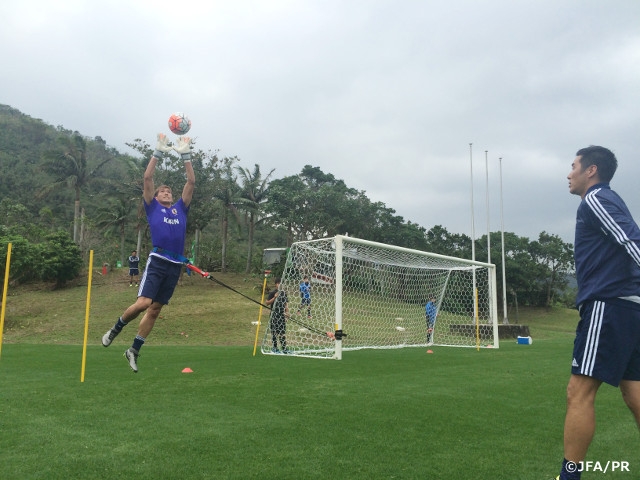 Coach and Players' Comments
TEGURAMORI Makoto, Coach
We worked on plays from crosses to get the right timing with the players who launch crosses and players who receive them inside. They had some good balls, but still need to work on it.
Yet considering their conditions for now, it was acceptable. In terms of how we are going to create our opportunities on the pitch, whether we do it with direct plays or get the opponents off balance by building up, things like that are important. But we ended our morning and afternoon practices with the offensive defensive battles before the goal so they would have the message that they ultimately have to attack the goal. No matter how you are creating your opportunities, it doesn't matter if you don't end up scoring goals – we wanted to send the message to the players.
Also, defensively, it's important for each individual player to have defensive ability in addition to their defensive ability as a group. I think that we were able to install the mindset that each individual doesn't get rattled against collective plays of the opponents today.
GK KUSHIBIKI Masatoshi (Shimizu S-Pulse)
It was good that we ended up finishing the two games we played in our trip to Qatar and the UAE, but we still have a lot of works to do and both as a team and an individual, we want to elaborate our plays. For example, many of the Asian countries are going to have their offence by feeding long balls behind our defensive line, but whether we should let our defenders take care of them or we should go get them on our own. We would like to deepen our linkage more. And we would certainly like to win, sticking to outcomes rather than contents.
MF YAJIMA Shinya (Fagiano Okayama)
We still have a lot of issues to work on toward the final qualifying, but we wrapped up the games in Qatar and the UAE giving up no goals, so scoring goals is the biggest issue as an offensive player.
Yet I don't think what we are doing are wrong. Also, I believe that good offensive plays are generated from good defensive plays, and our defensive plays are getting better. Once we get in games, it will be important for us to get on the same page, so it will be critical for us to have better communication and eliminate issues during games. Every member has the sense of urgency, and it's giving us appropriate tension.
But we don't have too tense of mood inside our team, in fact, we are able to practice in enjoyable atmosphere. You are playing in a knockout tournament, so however better you play, once you drop your first game, the mood makes a complete turnaround and vice versa. In any tournament, your first game is said to be significant, but it's necessary for us to share the mind-set and we would like to put on a fight with a sense of unity with the entire team.
FW ONAIWU Ado (JEF United Chiba)
It's been a satisfactory training camp for us every day. Because you usually don't get to play football like this at this time of a year, I feel it's very fortunate. I would like to show my strengths, such as my physical strength, the ability of keeping the ball up front and the ability of competing for the ball.
I feel that we are getting closer to the main stage and all of us have high motivation toward that. We're ready to play with our physiques to put up battles, so we would like to play as one and do our best to earn a berth. And because I'm a forward, I would like to help my team by scoring a goal.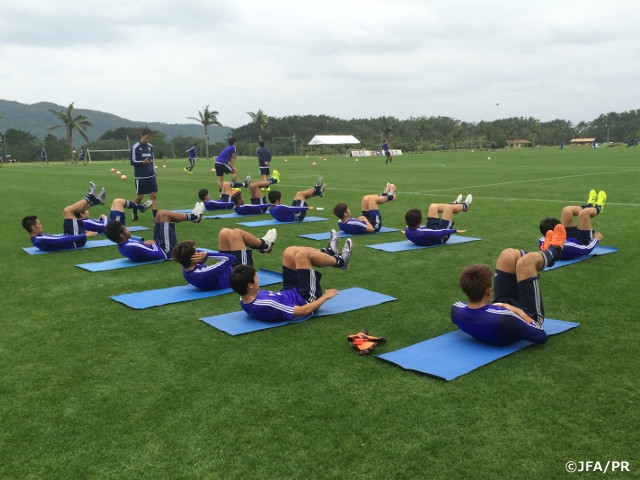 Schedule
| | | |
| --- | --- | --- |
| Wed. 23 December | AM/PM | Training |
| Thu. 24 December | AM/PM | Training |
| Fri. 25 December | AM | Training |
| Sat. 26 December | AM/PM | Training |
| Sun. 27 December | AM/PM | Training |
| Mon. 28 December | AM | Training |
| Tue. 29 December | AM/PM | Training |
| Wed. 30 December | AM | Training |