NEWS
U-18 Japan Futsal National Team short-listed squad training camp Final day
26 December 2015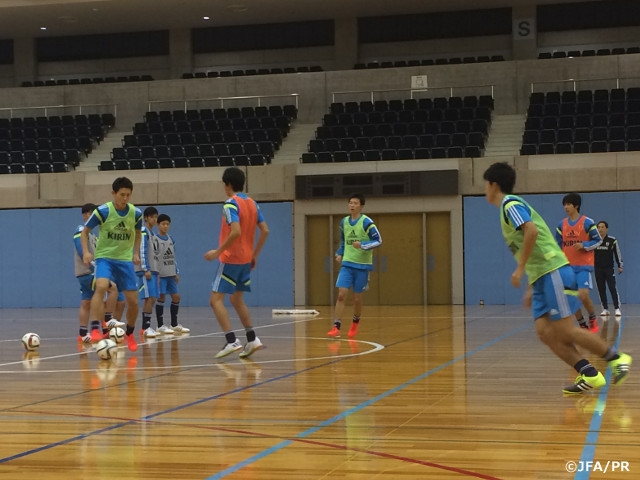 Thu. 24 December
The second day of the camp saw the squad train in the morning and the afternoon. In the morning, they worked out mainly on physical training under physical coach MURAOKA. Then, they went on for two more hours to learn the fundamentals of futsal under coach KOMORI.
In the afternoon, under the theme of attacking, the young players trained the way to receive the ball, the best timing of moves and how to create space. It looked they were struggling in creating space together and finding the best timing to get attacking going. But as the time went by, their moves gradually improved.
At the dinner time after training, the restaurant of their accommodation facility J-GREEN Sakai Dream Camp presented a Christmas cake to them!
Fri. 25 December
The final day of the camp had an intra-squad scrimmage. It was an opportunity for the shortlisted players to showcase what they learned during the three-day training. The match used two 25-minute periods with running time. Komori said before the match, "I want you guys to be relaxed and play as you usually do. Of course, you may want to try out what you learned in the training so far, but you don't need to fully stick to that." The match had a lot of plays that just looked like futsal and intense battles.
Although there were still some sloppy mistakes because of lack of combination between players and shared understanding, their playing pace accelerated by communicating with each other so that they scored goals at times.
The camp was limited to three days, but it turned out to be very fruitful in the end.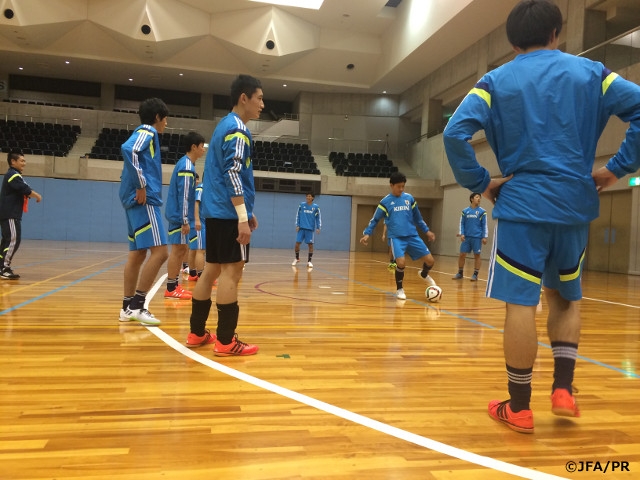 Players' Comments
MATSUNO Fumiya (Hokkaido Kushiro Hokuyo High School)
I am from Football and this is my first time to seriously play futsal. During the training I learned the fundamentals of futsal and I was able to gradually get used to them. At first, I wasn't good at the timing to step off and where to pass and I couldn't contribute to the team. But right at those moments, I could correct them in my own way by observing, feeling and copying what others did. On the last day, we will have a scrimmage, so I want to play good futsal by taking advantage of all the learnings of the last two days. Then I will find more things to correct and taking them to future practice to improve the variety of my plays.
YAMAGIRI Shogo (Mario Futsal School)
I have been playing futsal since I was three, and this is my first national team camp. With my own team, I have done basic drills of futsal, but in this camp, it's been very fun for me to do drills that require deeper understanding and also to do set-pieces that I had never tried. Watching the plays of others has been very inspiring, too. Taking advantage of the training today, I want to come out for the scrimmage on the last day.
UDAGAWA Yuto (Calcetto Pozzi Bonseze/Italy)
I am very happy to be part of the national team camp. This is my first call-up, but I think this team have good chemistry. I play for an Italian team and I am in a little different environment from that in Japan. When it comes to a national team where players gather from various teams, I think it is important for players to show their characteristics and also play together. I want to show my characteristics in this camp, too.
INANO Shin (Bardral Urayasu Segundo)
The last day had the intra-squad scrimmage. It was very tough to take so many things into our brain as a team in such a short period, but as the match progressed, we had more and more good plays. My personally I am satisfied that I could energise the squad with my trademark vocal leadership. I will try to reorganise in my own way what I learned in this camp and keep working hard with my team in order to be called up again.
UEMATSU Koto (P.S.T.C. LONDRINA)
In the last day's scrimmage, we occasionally showed the plays that we had worked on in this camp. I think the match was very effective and meaningful. We will have a blank stretch until the AFC U-20 Futsal to be held in 2016, but I will try to keep doing my best and putting up good results with my team.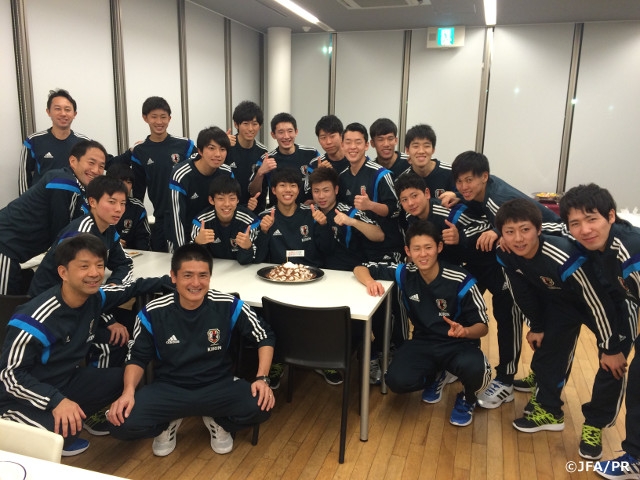 Schedule
| | | |
| --- | --- | --- |
| Wed. 23 December | PM | Training |
| Thu. 24 December | AM/PM | Training |
| Fri. 25 December | AM | Training |
*The schedule is subject to change due to the team condition, etc.