NEWS
U-22 Japan National Team kicked off training sessions on Ishigaki Island
24 December 2015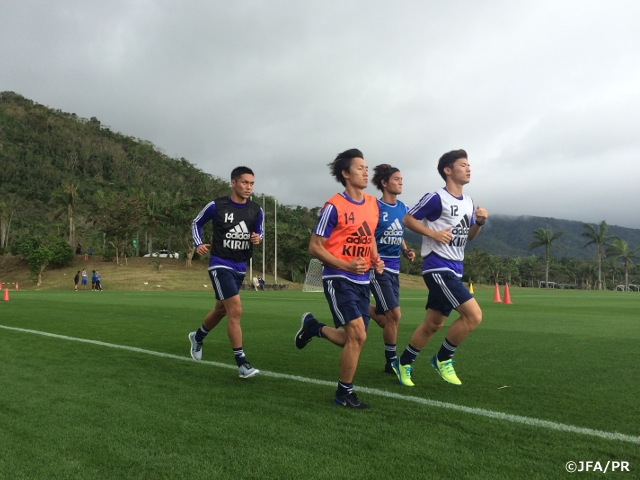 23 December, U-22 Japan National Team had the second day of their training camp on Ishigaki Island and they started with practical training sessions.
In the morning, the players divided into 5 groups and had lactate curve test. 4 staff members from the Japan Institute of Sports Sciences were invited to measure the heart rate and lactate levels in the players' blood while they ran 4-5 sets of running 600m. This test shows the players' physical endurance and also indicates what fitness training will be necessary for the AFC U-23 Championship Qatar 2016, which is also the Rio de Janeiro Olympics Asian Qualifiers Final.
Before the afternoon sessions, a welcoming ceremony for the team took place by the Ishigaki town government. Along with Ishigaki-produced food such as beef and distinctive vegetables, the Deputy Mayor of Ishigaki, Mr. KANNA Masahiro, encouraged the team. "We believe that you will train here on Ishigaki to win the Asian competition. You will qualify for the Olympic Games and get the medal there."
The team's Coach TEGURAMORI Makoto expressed gratitude as a representative of the team. "Thank you very much for offering us the best training environment and energy source. They will be a great help for the players to improve their abilities and accuracies in every sense for the qualifier."
On 24 December, the team will have a full day of training in Soccer Park Akanma. forward KANAMORI Takeshi (Avispa Fukuoka) decided to leave the team due to right-femoral pain. Carrying his passion, the rest of 23 young "samurai" will work harder to build-up their fitness and skill more to survive the coming competition which lasts about 1 month.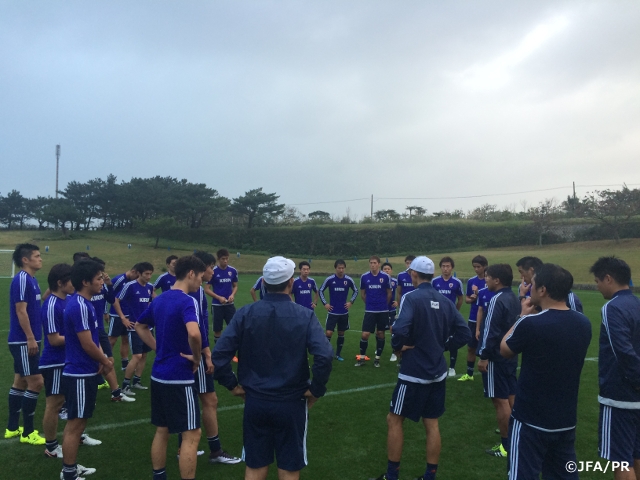 Coach and Players' Comments
TEGURAMORI Makoto, Coach
The aim of this camp is to improve the players' conditions enough to go through the qualifier that will last nearly 1 month. We did the lactose curve test to indicate what to do to strengthen their fitness, and this is a half of what we do this time, and another half is to improve their accuracy especially in tactics and skills. They are still in the process of building-up as players, so we shouldn't be satisfied with how there are now. We are sticking to improving them to kick off the qualifier in a very good condition.
FW KANAMORI Takeshi (Avispa Fukuoka)
I kept playing even with a bit of pain which I had got during the past league time. However, now I have to leave the team. I wanted to stay in the camp to be selected as a squad player, but I made this decision considering my future as a football player. It is such a bitter decision since I won't be able to go to Qatar for the qualifier, but I want them to do their best and I believe that this team will go through to the Olympic Games. Even though I am leaving now, I still feel that I am a part of the team. I keep working hard in J1 to be able to play in the Olympic Games next year.
MF ENDO Wataru (Shonan Bellmare)
As a captain, I want to concentrate on every training session, lifting-up the team's mood. Throughout the training camp, most of them are planned to be all day training with morning and afternoon sessions. I think this is for building up our condition for the upcoming qualifier. We have had good sessions today, so we want to keep working well to improve our condition. Since we lost in the 2012 AFC U-19 Championship, I have kept thinking about what are missing for me. I am feeling calm, and now I just want to concentrate on good preparation to have good games and to make good results.
FW ARANO Takuma (Consadole Sapporo)
I am not one of the selected 21 players for the qualifier, which was announced on 18 December, and this fact makes me disappointed. However, I understand this because I could not play well in the previous camp in Qatar and UAE. So now I really have to do my best to be selected for the rest of the squad players. There aren't any players who have played in the Olympic Games from my club team Consadole Sapporo, and that makes me feel that I am carrying the expectation of the people in Hokkaido.
In this camp, I want to show all of my advantages such as contributing to the team by defending from front lines, launching attacks by controlling the ball well, and making a good team mood. Even though I have not been chosen as the squad member yet, we are the team; it shouldn't matter if I will be chosen or not, the important thing is that the team will kick off the qualifier in Qatar in a good condition. For that I want to contribute to the team's building a positive mood in this camp.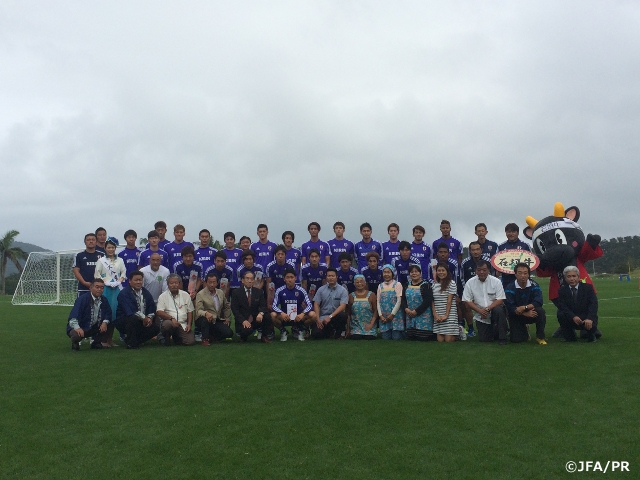 Schedule
| | | |
| --- | --- | --- |
| Wed. 23 December | AM/PM | Training |
| Thu. 24 December | AM/PM | Training |
| Fri. 25 December | AM | Training |
| Sat. 26 December | AM/PM | Training |
| Sun. 27 December | AM/PM | Training |
| Mon. 28 December | AM | Training |
| Tue. 29 December | AM/PM | Training |
| Wed. 30 December | AM | Training |