NEWS
U-22 Japan National Team trained in heavy rain
28 December 2015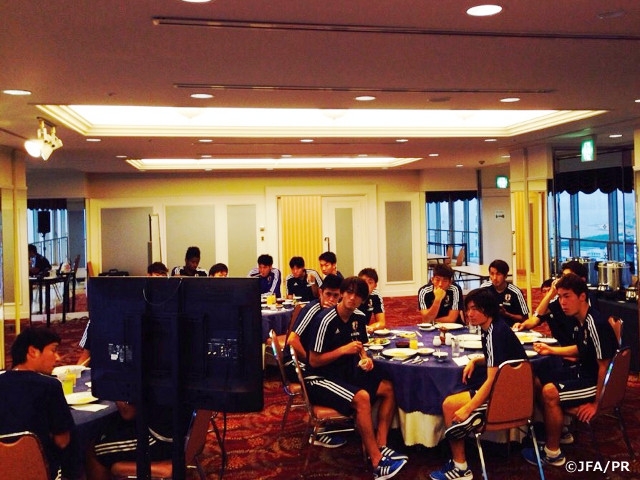 27 December, U-22 Japan National Team had their 6th day of training on Ishigaki Island under heavy rain.
From breakfast time, the team's Assistant Coach AKIBA Tadahiro lead a meeting to check the players' moves in the previous training sessions and they listened to him very carefully. For the AFC U-23 Championship Qatar 2016, which is also the Rio de Janeiro Olympics Asian Qualifiers Final, they get ready physically, spiritually, and mentally.
It was raining heavily from the morning, but the players had preparation exercise at the beginning and a power training session that included a jumping exercise, to strengthen fitness- this is the aim of the camp. Meanwhile, 2 other players defender IWANAMI Takuya, and midfielder NAKAJIMA Shoya have just joined the team and they had recovery training sessions.
In the afternoon, they had another hard training session to develop fitness and football skills such as: physical & techniques in pairs, and a speedy 3-on-3 session in a square zone for improving ball possession. In this practical training, they had functional training through a 7-on-7 mini game.
Defense players had a header-clearing session especially for crosses, and offense players had shooting exercises from 3 different situations: one-two pass, deep pass, and from crosses. For the past days, they have more focus on finishing.
In this Ishigaki camp, overcoming today's session was thought to be the peak of their tiredness. After finishing a series of sessions today, the players looked tired but pleased at the same time. For the 29th, training sessions will be half of today's ones.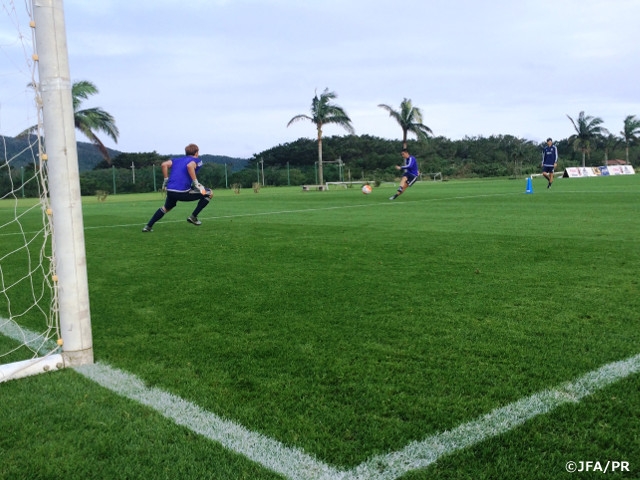 Coach and Players' Comments
TEGURAMORI Makoto, Coach
I am feeling a kind of achievement since all the players are united well in this camp. There are a couple of reasons for this: all of us understand the purpose, the 21 players who are promised to play for the squad team at the qualifier have responsibility as the squad players of U-22 and show that in their play, and the other players who haven't chosen yet believe to be selected and work very hard.
They are united by the only purpose "everything is for the qualifier." I am getting to know what type of players I need to select for the rest of the squad for the qualifier. It was one of our intentions that the team would get more interest and the players also work hard to improve themselves with high motivation.
We have had series of sessions combined with fitness and skill in this camp. Finally, they will have an internal match on the afternoon of the 29th and we can see the result of this camp there. We have passed the halfway point of the camp and it has gone positively as I expected. There is a good balance between competition amongst players and sense of improving themselves. The team's mood has been good and the players encourage each other naturally. I think they play calmly and that will help to make the team mood cheerful.
There is no point of being very nervous from now for the qualifier. The players are still under 22 years of age and they have to improve in every way in both offense and defense, so we have to do various training sessions. From January, we will focus more on our opponent teams – now the important things are to improve fitness and skill, and to understand the tactics well, and they have done well.
MF NAKAJIMA Shoya (F.C. Tokyo)
All of us enjoy football and I feel the team mood has been very good. As a player, I want to improve in every way, particularly the skill in front of the goal. For the qualifier, we need to unite well as a team so I will keep good communication with my teammates exchanging ideas well.
FW SUZUKI Musashi (Mito Hollyhock)
I want to contribute to cheering up the team's mood to head to the qualifier positively. I feel guilty as a forward player since we couldn't get any goals in the previous training camp in Qatar and UAE. However, we did have good plays such as making good combination – there are not only negative things. I want to make good results in the qualifier. Speed, height, and fitness are my advantages, so I want to make most of them.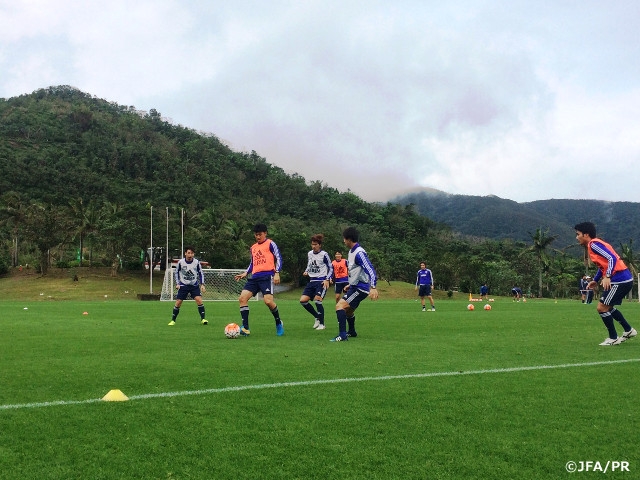 Schedule
| | | |
| --- | --- | --- |
| Wed. 23 December | AM/PM | Training |
| Thu. 24 December | AM/PM | Training |
| Fri. 25 December | AM | Training |
| Sat. 26 December | AM/PM | Training |
| Sun. 27 December | AM/PM | Training |
| Mon. 28 December | AM | Training |
| Tue. 29 December | AM/PM | Training |
| Wed. 30 December | AM | Training |