NEWS
3rd day of Ishigaki Island camp under the belt for U-22 Japan National Team
25 December 2015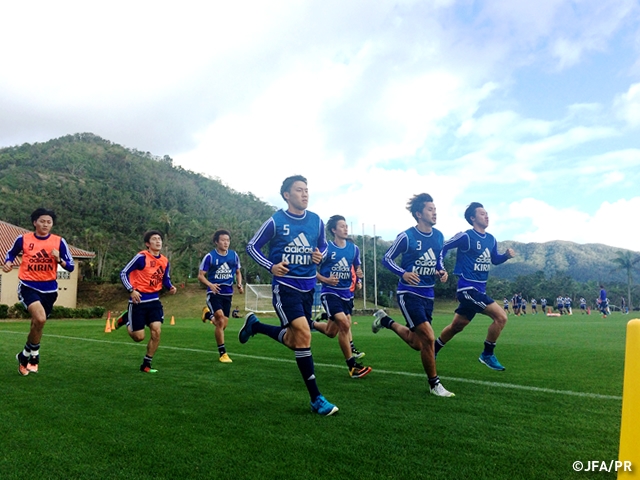 Totally opposite from the dull cloudy weather on the previous day, the camp's third day on 24 December was welcomed by the beautiful blue sky just as one can easily picture when he hears of the Ishigaki Island.
First the squad engaged in physically-demanding aerobic exercises such as two reps of six-minute run and eight to twelve reps of 30-second dash. Then, separated into the groups by positions, they worked on passing and controlling drills and possession drills before wrapping up the morning session with another drill competed by three groups. Then the tropical island brought sudden brief shower in the afternoon.
The afternoon session started with passing and controlling drills with groups of six to seven players then with groups by positions. After that, they went on to sharing both offensive and defensive formations for long balls and later reviewed them in more practical settings with 1+9-on-9 drills. As the practice has been done in the two-a-day manner for two straight days including great emphasis on fitness training, the players gradually started showing signs of fatigue. But they still appeared fairy motivated for the important tournament coming up next month in Qatar.
At the dinner table, the team celebrated the 22nd birthday for forward KUBO Yuya. The message that he said "my biggest birthday present will be winning the spot in the Olympics with all of you guys here. So let's go get it!" was followed by enthusiastic applause from his teammates. Only a morning session is scheduled on 25 December.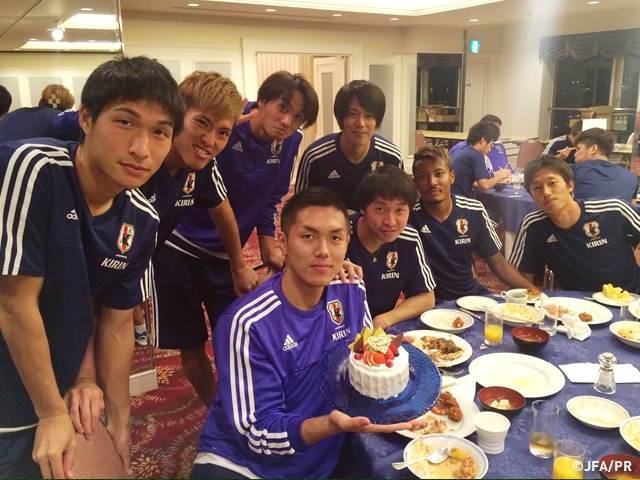 Players' Comments
DF TAKAHASHI Yuji (Kamatamare Sanuki)
I am aware of showcasing myself to get one of the last two spots on the final qualifiers squad, but the highest priority lies in this team winning through the qualifiers to reach the Olympics. So I try to be vocal and energise my teammates to positively influence the team. As a centre back, I want to show my leadership within a match and my ability to keep opposing forwards from doing what they want to do.
But I am looking at not only the final qualifiers but also at my entire future football career, and try to improve myself each and every day on this Ishigaki Island.
DF KAMEKAWA Masashi (Avispa Fukuoka)
In this season, I was able to play well for my club, so I came to this camp in good shape both mentally and physically. When we maintain good defence, we will never lose a match. In the final qualifiers, first we try to start off a match executing good defence. And then once we get the ball, I want to show my strength which are transitions between plays and the ability to accelerating forward. Unless I show that, there is no point for me being on the pitch.
There is still time left for preparation before the qualifiers, so it's important how much we can improve each other toward the end of it. I think if we win the first match, we can get on a good rhythm. So in this camp we want to prepare ourselves for the first match.
FW KUBO Yuya (Berner Sport Club Young Boys/Switzerland)
This is my first national team activity in 9 months. I heard beforehand that the team were very quiet, but actually it has been more vocal and easier to blend in than I expected. It's just the beginning of the camp, so once we get more practice time, our combinations will greatly improve. Everyone including myself is playing with the strong will to play in the Olympics. I hope that will lead to a good result. I want to keep showing on this national team squad how aggressively I go toward goal, how I shoot the ball and also how I can create chances.
The first match against DPR Korea will be very important, so we need to get ready thoroughly both physically and mentally to make sure to win it. Some people have said this generation "doesn't know how to win at the world stage," and also others have doubts in us making the Olympics. Personally I don't care about it that much. It all comes down to us playing our style of football and winning. And it's just us coming together as a team to win through the qualifiers.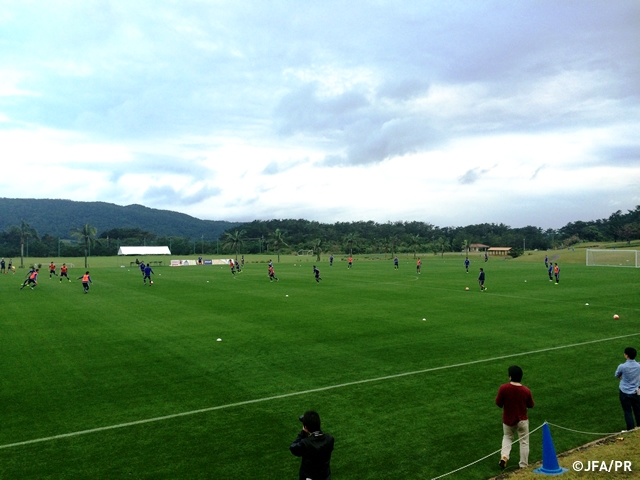 Schedule
| | | |
| --- | --- | --- |
| Wed. 23 December | AM/PM | Training |
| Thu. 24 December | AM/PM | Training |
| Fri. 25 December | AM | Training |
| Sat. 26 December | AM/PM | Training |
| Sun. 27 December | AM/PM | Training |
| Mon. 28 December | AM | Training |
| Tue. 29 December | AM/PM | Training |
| Wed. 30 December | AM | Training |