NEWS
U-22 Japan National Team aim to improve physicality through power training
26 December 2015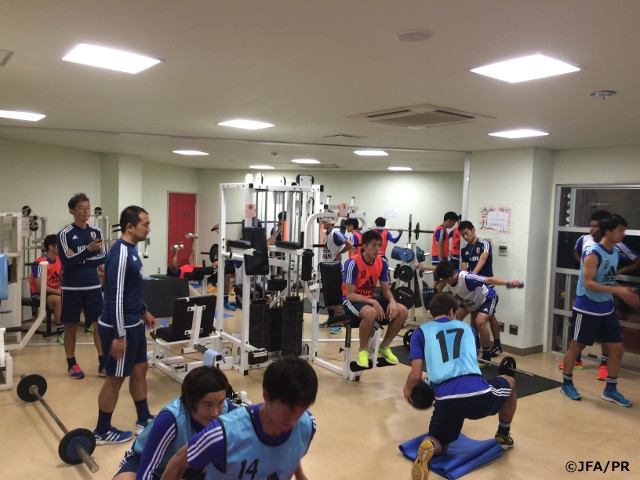 U-22 Japan National Team attended the fourth day of their training camp.
The players held the whole morning practice session in torrential rain. First, they practiced football techniques, including low-strength running, ball control in pairs, and passing and controlling among six or seven players, followed by nine-a-side possession training with one free player. All the players stayed strongly competitive in the bad weather.
Then the team moved inside for some basic power training. They did six different exercises in pairs to stimulate all the muscles in their bodies. They focused on building up stronger bodies to compete against physically imposing opponents.
The team will hold the morning and afternoon practice session on 26 December.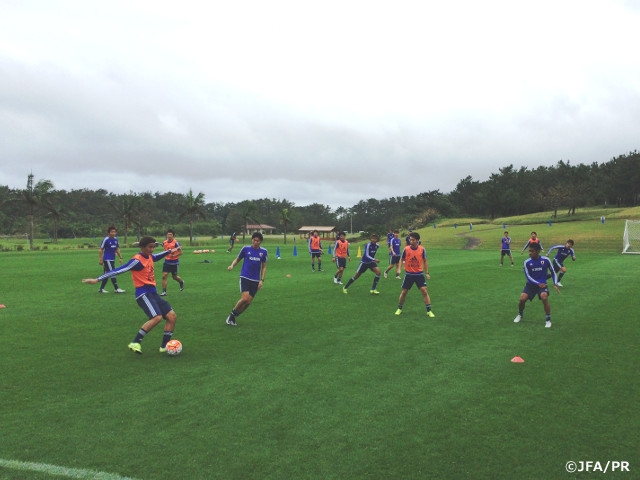 Coach and Players' Comments
TEGURAMORI Makoto, Coach
Today's power training was arranged by HAYAKAWA Naoki, the Conditioning Coach, in order to stimulate the players' muscles prior to the final qualifiers. If Japan lose a game, physicality can be a reason. However, I think the Japanese characteristics of pace and speed endurance are world class.
We expect the opponent to play using their physical advantages because of our body size and muscle strength. So I told the players to wear muscle armor. I know we cannot improve our muscles immediately, but if we continue today's training, we can get ourselves ready for the final qualifiers, not to mention for the next season back at our respective club teams.
GK NAKAMURA Kosuke (Avispa Fukuoka)
I learned how much ability I could show during matches this season. My role as a goalkeeper is to save goals, which doesn't change, no matter who is coaching you. Defending against an opponent's goal-scoring opportunities will lead us toward a victory. So I'd like to do so. I'd like to stay determined throughout the 90 minutes to earn three points in the final qualifying round.
DF UEDA Naomichi (Kashima Antlers)
Although I have kept a clean sheet in recent matches, we didn't earn victories as a team, which is one of our problems. There is still plenty room to improve the details of my performance. I'd also like to improve coordination with my teammates during this camp. Although all the matches in the final qualifiers are important, the first match is vital to build up positive momentum. I'll defend against the opponents' forwards to keep a clean sheet.
MF HARAKAWA Riki (Kyoto Sanga F.C)
I've been getting myself into good physical condition prior to the final qualifiers. As a player, we need to deal with the ball a lot – the more, the better. So I'd like to improve my stamina to assist goals as much as possible. As all the matches in the final qualifying round will be held at the same site, which will be tough, we need to have many options to play flexibly as a team throughout 90 minutes.
I think every team member will have an opportunity to be on the pitch, and we have to perform well as a team in the championship. So it's vital that every single one of us gets ready properly. As the opening game is essential in a short tournament, we'd like to build up positive momentum with a victory. I expect the opponents will fully use their physical advantage. I'll try not to miss any small opportunity, and intercept loose balls in midfield.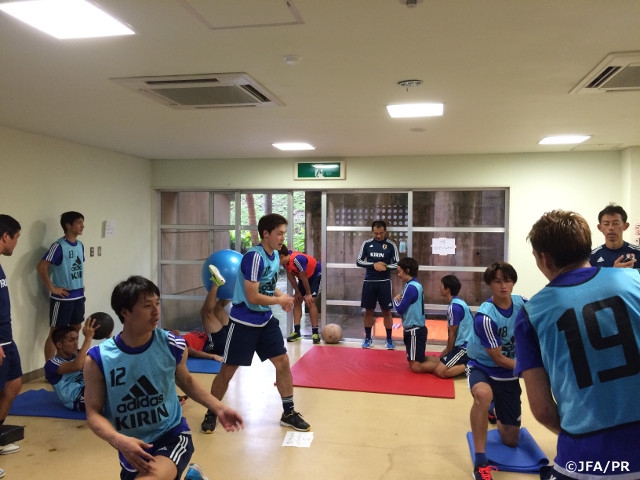 Schedule
| | | |
| --- | --- | --- |
| Wed. 23 December | AM/PM | Training |
| Thu. 24 December | AM/PM | Training |
| Fri. 25 December | AM | Training |
| Sat. 26 December | AM/PM | Training |
| Sun. 27 December | AM/PM | Training |
| Mon. 28 December | AM | Training |
| Tue. 29 December | AM/PM | Training |
| Wed. 30 December | AM | Training |