NEWS
SAMURAI BLUE had a closed-door training session for the match against Iraq
10 June 2015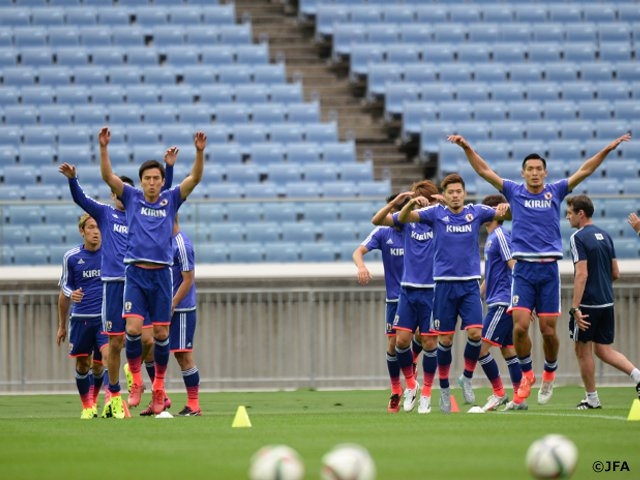 SAMURAI BLUE, the Japan National Team, had its training for the Kirin Challenge Cup 2015 match against Iraq which will be played on 9 June. The training was opened to media for the first 15 minutes and then the players had another 90-minute closed-door session.
Prior to the training, there was a photo session of the team. FW NAGAI Kensuke (Nagoya Grampus), who was called up additionally, joined in the team and had some activities like running and fitness exercise.
In the training, the team had a careful strategy check session using some practical mini-games for the coming match against Iraq on 11th, which is the team's 3rd match with Vahid HALILHODZIC, the Head Coach of SAMURAI BLUE. The team has won the previous 2 matches in March.
5 days after the match against Iraq, the team will start the second round of AFC matches for 2018 FIFA World Cup qualification and they will play against Singapore.
MF YAMAGUCHI Hotaru (Cerezo Osaka) appreciates the training by saying "We've been getting better and better". FW HONDA Keisuke (AC Milan/Italy) expressed his passion "Our first vision is getting though and qualifying for the World Cup. We have to win the next 2 matches".
HONDA also commented about Nadeshiko Japan, the Japan Women's National Team's victory against Switzerland in the FIFA Women's World Cup Canada 2015, "Good to see that they won the match. I know that they have pressure considering they won the World Cup last time, but I hope they can win it again".
The SAMURAI BLUE's match against Iraq will kick-off at 7pm at Nissan Stadium on 11 June.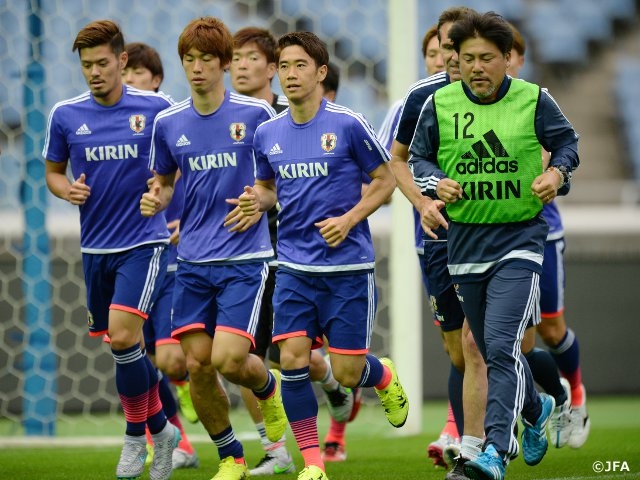 Players' Comments
KAGAWA Shinji (Borussia Dortmund/Germany)
We definitely want to win the coming 2 matches. The match against Iraq will be a challenging one since I know, from the experience in the AFC Asian Cup earlier this year, that Iraq has skillful and physically fit players. In the training, we have worked on controlling the ball well and attacking strategies right after stealing the ball. I think it is important to have a clear idea about when to wait and when to just go, making a good defense block. Having said that, we did well in the match against Uzbekistan last March, correcting ourselves even in the match hence we want to try that this time again. I want to realise what Mr. HALILHODZIC wants us to do in the match and I think it is important to gain good experience to get good results in the World Cup. I want to keep having a good sense of intensity.
SAKAI Gotoku (VfB Stuttgart/Germany)
My condition has been good. Iraq seems to be changed from how they were at the AFC Asian Cup last January under the new Head Coach. We keep analysing them but there should be things that we could never know until we play. Keeping our consistency in the challenging moments like in 1 vs. 1 situations is absolutely necessary for us, and I know that this is one of my advantages, but we Japanese still have to keep working hard for us to play against the best in the world. For example, in the matches we played against Brazil and Singapore, I think we should have been stronger to make one step out, and put our bodies on the line to save the 4 goals we lost. This time we really have to be strong in any challenging, intensive moments in front of the ball.
HONDA Keisuke (AC Milan/Italy)
We have had longer time to prepare for the match compared to the previous time, I think we have such a good atmosphere to prepare well as a team. Playing against Iraq in this opportunity is a good thing. Iraq is not an easy opponent hence we can simulate how the other Asian countries will be in the future matches. I expect that we can move on to the next match against Singapore in a good position. This is not a World Cup match, so we want to get as many goals as possible along with the victory. I think we players having good empathy with our Head Coach is the quickest way to the victory. Being a player with a strong mentality as a winner is not easy as you imagine. I will keep myself patient, working hard taking each day one by one with sense of high tension.
NAGAI Kensuke (Nagoya Grampus)
I want to show my advantages to contribute to activate our offense by making most of space behind our opponents. Since my position is forward and I can keep my energy, I will be able to play powerfully at the necessary moments. I want to play well for the team keeping good combination with my other teammates and I also want to contribute to the team to prepare well for the victory.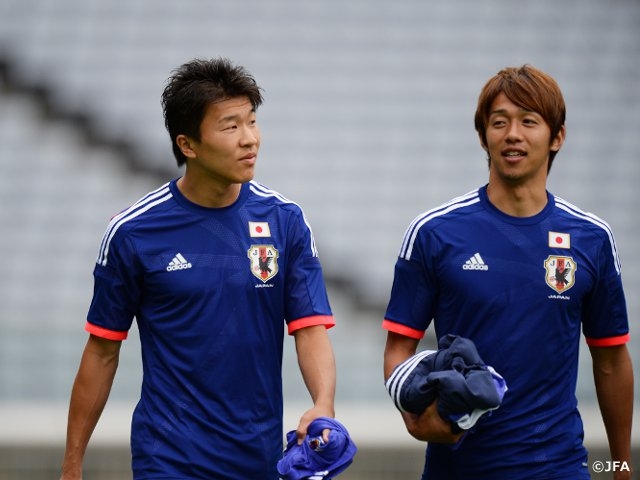 JFA TV (Japanese version only)
Interview - HONDA Keisuke(AC Milan)

Interview - NAGAI Kensuke(Nagoya Grampus)
Schedule
Mon. 1 June
PM
Training
Tue. 2 June
AM/PM
Training
Wed. 3 June
17:00
Training
Thu. 4 June
17:00
Training
Fri. 5 June
17:00
Training
Sat. 6 June
17:00
Training
Sun. 7 June
17:00
Training
Mon. 8 June
PM
Training
Tue. 9 June
PM
Training
Wed. 10 June
TBD
Official Training
Thu. 11 June
19:00
(subject to change)
KIRIN CHALLENGE CUP 2015
vs. Iraq National Team (Nissan Stadium)
Fri. 12 June
PM
Training
Sat. 13 June
PM
Training
Sun. 14 June
PM
Training
Mon. 15 June
TBD
Official Training
Tue. 16 June
19:30
(subject to change)
2018 FIFA World Cup and 2019 AFC Asian Cup Joint Qualifiers Round 2
vs. Singapore National Team (Saitama Stadium 2002)
Note: The schedule is subject to change.
KIRIN CHALLENGE CUP 2015
SAMURAI BLUE (Japan National Team) vs. Iraq National Team
Thu. 11 June Kickoff 19:00 (subject to change) 
Kanagawa / Nissan Stadium
More information
2018 FIFA World Cup and 2019 AFC Asian Cup Joint Qualifiers Round 2
SAMURAI BLUE (Japan National Team) vs Singapore National Team
Tue. 16 June Kickoff 19:30 (subject to change) 
Saitama / Saitama Stadium 2002
More information