NEWS
SAMURAI BLUE, J.League members join for matches against Iraq and Singapore
09 June 2015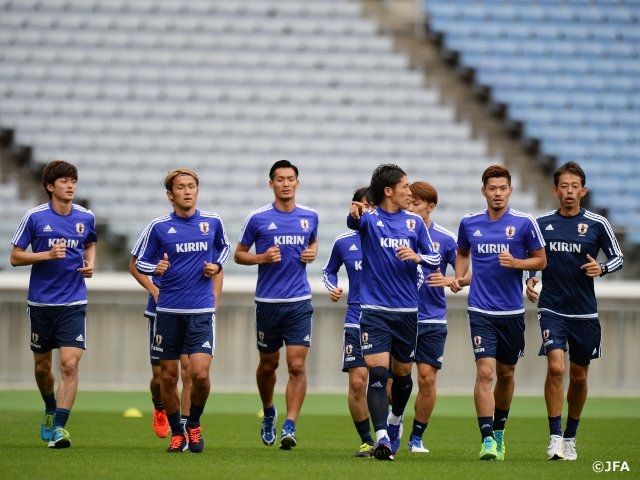 SAMURAI BLUE, the Japan National Team, had training in Yokohama with all squad members on 8 June for the KIRIN CHALLENGE CUP 2015 match against Iraq which will be held at Nissan Stadium, Yokohama on 11th. The players who have just finished the J. League on 7th joined in the training, which the players from foreign clubs had already started.
In the meeting held on the pitch, the head coach Vahid Halilhodzic gave a briefing to the players and then they started a session with 2 groups of 4 GKs and other field players. The players from foreign teams such as midfielder KAGAWA Shinji (Borussia Dortmund) and forward HONDA Keisuke (AC Milan) had some group practices like "passing and moving" and moving the ball round in a narrow area with defender MORISHIGE Masato (F.C. Tokyo) who didn't play in a J. League match on the previous day. Then they had a 6 vs. 6 practical session with special attention to offense & defense switch and shooting, taking occasional directions from Halilhodzic.

On the other hand, the J. League players who played on both 6 and 7th such as forward USAMI Takashi (Gamba Osaka) and forward MUTO Yoshinori (F.C. Tokyo), and midfielder YAMAGUCHI Hotaru (Cerezo Osaka) had a light training session mainly with running.
Four goalkeepers KAWASHIMA Eiji (Royal Standard de Liege), HIGASHIGUCHI Masaaki (Gamba Osaka), NISHIKAWA Shusaku (Urawa Reds), and GONDA Shuichi (F.C. Tokyo) had some sessions for blocking shots from left and right side and for clearing barriers to save the goal. Ricardo Lopez Felipe, goalkeeper Coach explained about positioning and reading kickers' moves raising some examples of German National Team's GK Manuel Neuer and Spain's Iker Casillas.
The team will play against Iraq on 11th for KIRIN CHALLENGE CUP 2015 and it is expected to be a good starter for the first match of the second round of AFC matches for 2018 FIFA World Cup qualification which is against Singapore on 16th at Saitama Stadium.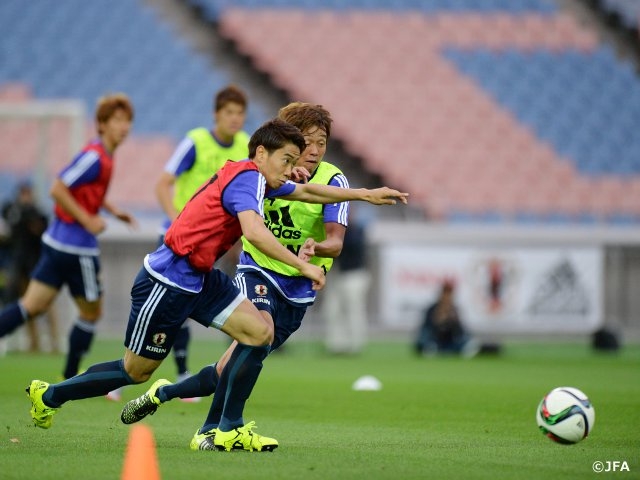 Players' Comments
DF NAGATOMO Yuto (FC Internazionale Milano/Italy)
It is good that we can check our strategy as a team now. I want to get ready very well for the next match by sharing the strategy with other members of the team. The Head Coach changes strategies and approaches according to situations, so we have to understand what he wants us to do very well through our training and in the meetings before any matches. We will make most of our given time and do what we can do as much as possible.
FW MUTO Yoshinori (F.C. Tokyo)
I have had a series of matches for J. League but since my team has got consecutive wins, I don't feel tired and I even feel that I could join in the squad team in a good condition with good sense of intention for this qualifying round for the World Cup. Scoring and making good assistants to goals are the most visible appeal and will help lead Japan to get a victory. One of my advantages is my flexibility in various positions so I want to show my good performance in any position at any time when Mr. HALILHODZIC selects me. Regarding the FIFA Women's World Cup, I know that Nadeshiko Japan is a very good team, so I believe that they will be the champions again.
MF TANIGUCHI Shogo (Kawasaki Frontale)
I understood that Mr. HALILHODZIC wants to win the coming 2 matches by playing very well. Since I am a central mid-fielder, I want to work well in terms of height and defense. Connecting the ball is also my advantage, so I just want to show what I can do as much as possible in the two matches. In the previous training camp in May, I was told that I have to have more attention to switching between defense and offense, and moving the ball to the front more quickly. This has been one aspect of my game that I have concentrated on since then even in my J. League team and I will keep paying attention to them even more this time in the camp.
FW OKAZAKI Shinji (1.FSV Mainz 05/Germany)
Playing as a squad player should not be easy. I think we won't be able to accomplish our aim within some years if we just keep doing ordinary things. It should not be just doing what we will be told by the Head Coach since I think it would just repeat same things again. What I think we need to do is adding something else to ourselves; it is important to keep challenging ourselves at all time.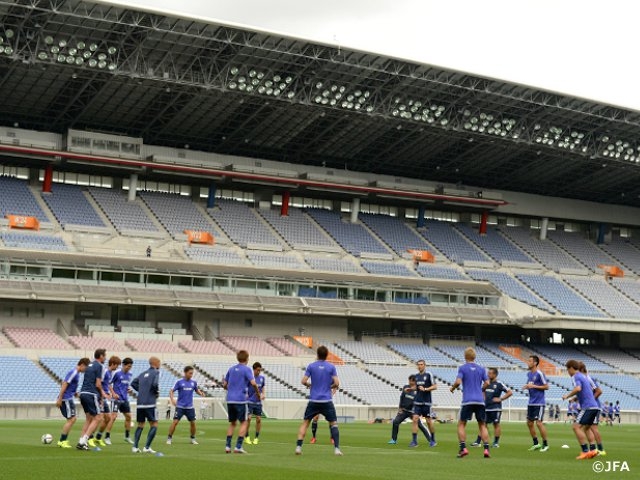 JFA-TV (Japanese version only)
Interview - NAGATOMO Yuto (FC Internazionale Milano/Italy)

Interview - MUTO Yoshinori (F.C. Tokyo)

Interview - OKAZAKI Shinji (1.FSV Mainz 05/Germany)
Schedule
Mon. 1 June
PM
Training
Tue. 2 June
AM/PM
Training
Wed. 3 June
17:00
Training
Thu. 4 June
17:00
Training
Fri. 5 June
17:00
Training
Sat. 6 June
17:00
Training
Sun. 7 June
17:00
Training
Mon. 8 June
PM
Training
Tue. 9 June
PM
Training
Wed. 10 June
TBD
Official Training
Thu. 11 June
19:00
(subject to change)
KIRIN CHALLENGE CUP 2015
vs. Iraq National Team (Nissan Stadium)
Fri. 12 June
PM
Training
Sat. 13 June
PM
Training
Sun. 14 June
PM
Training
Mon. 15 June
TBD
Official Training
Tue. 16 June
19:30
(subject to change)
2018 FIFA World Cup and 2019 AFC Asian Cup Joint Qualifiers Round 2
vs. Singapore National Team (Saitama Stadium 2002)
Note: The schedule is subject to change.
KIRIN CHALLENGE CUP 2015
SAMURAI BLUE (Japan National Team) vs. Iraq National Team
Thu. 11 June Kickoff 19:00 (subject to change) 
Kanagawa / Nissan Stadium
More information
2018 FIFA World Cup and 2019 AFC Asian Cup Joint Qualifiers Round 2
SAMURAI BLUE (Japan National Team) vs Singapore National Team
Tue. 16 June Kickoff 19:30 (subject to change) 
Saitama / Saitama Stadium 2002
More information