NEWS
SAMURAI BLUE conclude Chiba training camp
08 June 2015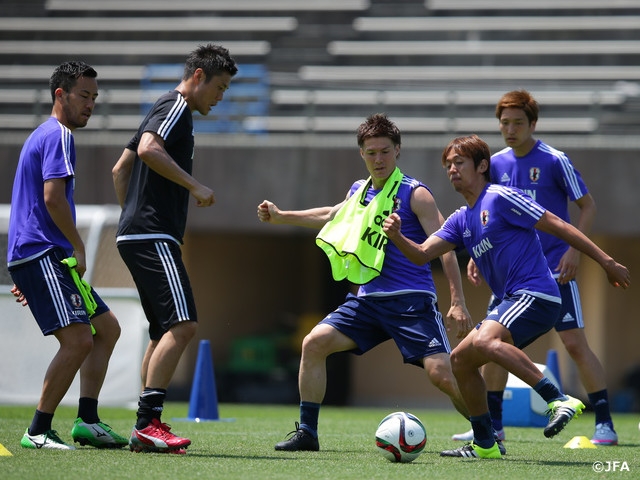 SAMURAI BLUE have tuned up for the 2015 KIRIN CHALLENGE CUP, the second Asian qualifying for the 2018 FIFA World Cup, which also serves as a qualifier for the 2019 AFC Asian Cup in the UAE since 1 June. A training camp in which those who play at foreign clubs in Chiba entered its final day.
SAMURAI BLUE had a two-a-day training this day again. In the morning session, they trained with the entire 12 members and then in the afternoon HONDA Keisuke (AC Milan) and KAGAWA Shnji (Borussia Dortmund), who arrived on the team on the 5th, worked out.
After the morning practice, they held an instant autograph session for the first 50 children who were there to observe it.
With a lot of warm cheers from the fans, their training camp in Chiba has concluded. The team will move to Yokohama, the site for their KIRIN CHALLENGE CUP match against Iraq. The whole 25 players will be assembled there and they will work on their final preparation.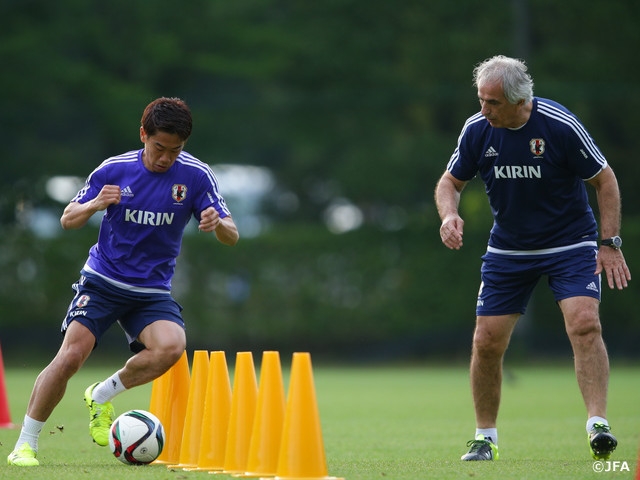 Players' Comment
KAGAWA Shinji (Borussia Dortmund/Germany)
Because it was a technical training for us, it required concentration, so it wasn't like I was tired or anything. In technical trainings, you have to be aware of practical situations, so I think I had a good training in the respect. We have so many players who have high technical standards in Japan, so we've got to keep working on those training so we can capitalize on it in games. The World Cup qualifying will start soon, and our head coach said he would have high demands on us. Living up to those demands, we would like to come up with better outcomes.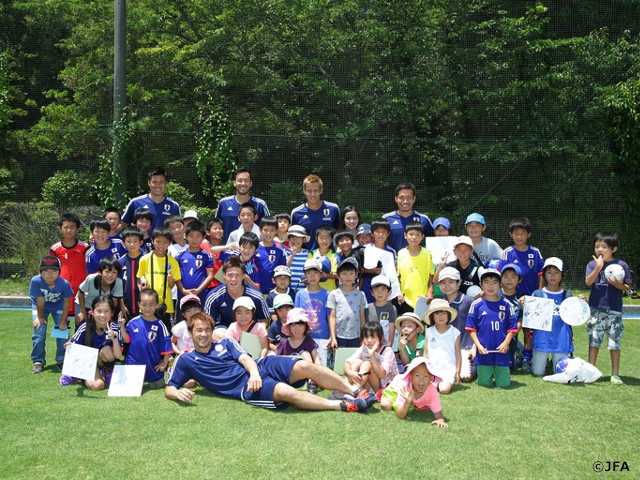 JFA-TV (Japanese version only)
Interview - KAGAWA Shinji (Borussia Dortmund/Germany)
Schedule
Mon. 1 June
PM
Training
Tue. 2 June
AM/PM
Training
Wed. 3 June
17:00
Training
Thu. 4 June
17:00
Training
Fri. 5 June
17:00
Training
Sat. 6 June
17:00
Training
Sun. 7 June
17:00
Training
Mon. 8 June
PM
Training
Tue. 9 June
PM
Training
Wed. 10 June
TBD
Official Training
Thu. 11 June
19:00
(subject to change)
KIRIN CHALLENGE CUP 2015
vs. Iraq National Team (Nissan Stadium)
Fri. 12 June
PM
Training
Sat. 13 June
PM
Training
Sun. 14 June
PM
Training
Mon. 15 June
TBD
Official Training
Tue. 16 June
19:30
(subject to change)
2018 FIFA World Cup and 2019 AFC Asian Cup Joint Qualifiers Round 2
vs. Singapore National Team (Saitama Stadium 2002)
Note: The schedule is subject to change.
KIRIN CHALLENGE CUP 2015
SAMURAI BLUE (Japan National Team) vs. Iraq National Team
Thu. 11 June Kickoff 19:00 (subject to change) 
Kanagawa / Nissan Stadium
More information
2018 FIFA World Cup and 2019 AFC Asian Cup Joint Qualifiers Round 2
SAMURAI BLUE (Japan National Team) vs Singapore National Team
Tue. 16 June Kickoff 19:30 (subject to change) 
Saitama / Saitama Stadium 2002
More information