NEWS
Full roster of foreign-based players arrive at SAMURAI BLUE camp
06 June 2015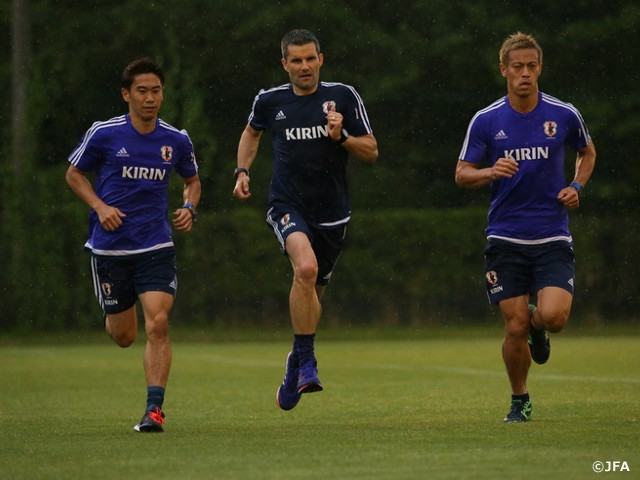 As the ongoing SAMURAI BLUE training camp went into the day 5, two-a-day training, one each in the morning and afternoon, was held again.
In the morning session, the eight players who arrived earlier moved on from conditioning workout to the drills using balls. Such eight players were KAWASHIMA Eiji, (Royal Standard de Liege), YOSHIDA Maya (Southampton FC), SAKAI Hiroki (Hannover 96), SAKAI Gotoku (VfB Stuttgart), HASEBE Makoto (Eintracht Frankfurt), KIYOTAKE Hiroshi (Hannover 96), OSAKO Yuya (1. FC KOLN) and HARAGUCHI Genki (Hertha BSC Berlin)
After they went through practice briskly directed by head coach Halilhodzic, the players seemed very statisfied. NAGATOMO Yuto (FC Internazionale Milano) and OKAZAKI Shinji (1.FSV Mainz 05) continued the conditioning workout which they also took on yesterday, just as the other eight players did at the beginning of the camp
In the afternoon, HONDA Keisuke (AC Milan) and KAGAWA Shinji (Borussia Dortmund) arrived, which completed the group of 12 players on the SAMURAI BLUE roster who now play for overseas clubs. While the rain started falling, Honda and Kagawa started with conditioning workout and the rest of the ten players worked on more tactical drills than the ones they did in the morning.
The camp will continue for two more days with these 12 players until other players arrive from J.League clubs on Monday. After that they altogether will keep fine-tuning the team for for the KIRIN CHALLENGE CUP 2015 against Iraq on 11 June and the FIFA World Cup Russia 2018 Asian Qualifiers Round 2, combined with the AFC Asian Cup 2019 UAE Qualifiers, against Singapore on 16 June.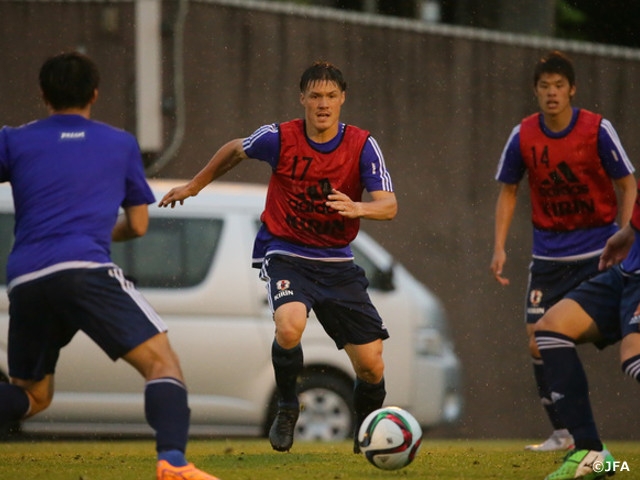 Players' Comments
HONDA Keisuke (AC Milan/Italy)
(With the head coach) I talked about our future direction. It's already several days since the start of the camp, so I asked him questions on what has been done and what kind of program we will work on. (About today's training) I think it was good. It's a good preparation for tomorrow.
We have many players who have good mind-set to get better. Some of the reason behind such a motivation is the fact that we haven't had satisfying results in the past tournaments. I think what the head coach expects from us now is also based on that fact.
SAKAI Gotoku (VfB Stuttgart/Germany)
After the start of the camp, our training focused mainly on running hard. Our fatigue had apparently mounted. I think that's why the practice moved on to more of the drills with balls together with detailed instruction by the coach.
Just like the last time, what he says is the same. So it's like a review for the players who were here in March. I think he is emphasising the points that way. This is still the second call-up, so he has a lot more to expect from us. Just like the last time, we are aiming at "fast football" and in today's training what was expected was speed in transition between offence and defence and also speed in approaching the ball. So I want to keep that in mind and keep working.
JFA-TV (Japanese version only)
Interview - HONDA Keisuke (AC Milan/Italy)

Interview - SAKAI Gotoku (VfB Stuttgart/Germany)
Schedule
Mon. 1 June
PM
Training
Tue. 2 June
AM/PM
Training
Wed. 3 June
17:00
Training
Thu. 4 June
17:00
Training
Fri. 5 June
17:00
Training
Sat. 6 June
17:00
Training
Sun. 7 June
17:00
Training
Mon. 8 June
PM
Training
Tue. 9 June
PM
Training
Wed. 10 June
TBD
Official Training
Thu. 11 June
19:00
(subject to change)
KIRIN CHALLENGE CUP 2015
vs. Iraq National Team (Nissan Stadium)
Fri. 12 June
PM
Training
Sat. 13 June
PM
Training
Sun. 14 June
PM
Training
Mon. 15 June
TBD
Official Training
Tue. 16 June
19:30
(subject to change)
2018 FIFA World Cup and 2019 AFC Asian Cup Joint Qualifiers Round 2
vs. Singapore National Team (Saitama Stadium 2002)
Note: The schedule is subject to change.
KIRIN CHALLENGE CUP 2015
SAMURAI BLUE (Japan National Team) vs. Iraq National Team
Thu. 11 June Kickoff 19:00 (subject to change) 
Kanagawa / Nissan Stadium
More Information
2018 FIFA World Cup and 2019 AFC Asian Cup Joint Qualifiers Round 2
SAMURAI BLUE (Japan National Team) vs Singapore National Team
Tue. 16 June Kickoff 19:30 (subject to change) 
Saitama / Saitama Stadium 2002
More information