NEWS
USA CAMP 2019 conducted by 6th class of JFA Academy Sakai
07 March 2019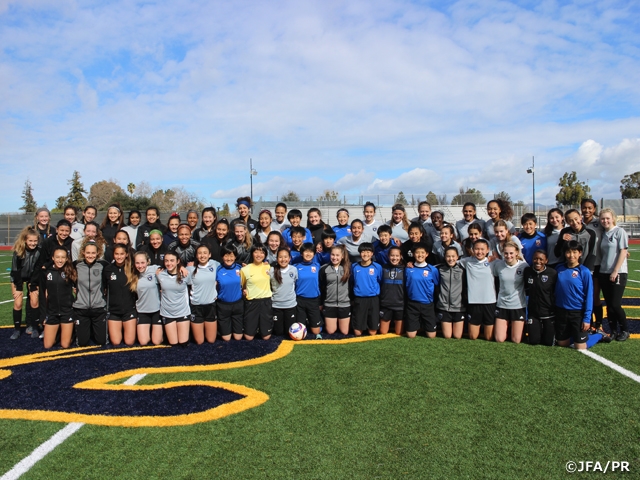 From Wednesday 13 to Wednesday 20 February, 12 players from the sixth class of JFA Academy Sakai conducted their USA CAMP held at San Jose, California.
During their stay at the USA, the team conducted three friendly matches, while the players engaged in a four day home stay experience. The players also visited San Francisco, Santa Clara University, Stanford University, and watched a college basketball match as their activity off the pitch. Through the activities and interaction with local people, players were given the opportunity to experience and learn a culture different from their own.
Ahead of this camp, players prepared themselves by studying the American culture, education, and history. Despite struggling with the language barrier, players actively communicated with the local people to deepen their understanding of the culture, lifestyle, and football played in the USA.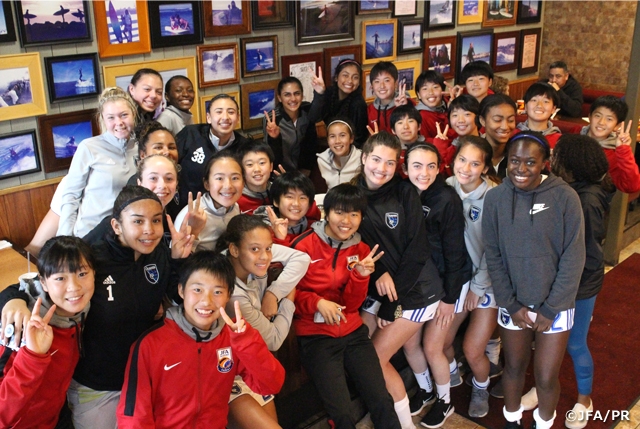 Players' Comments
TANAKA Haruna (6th Class/FC BASARA Koka Ladies)
I have learned so much from this USA CAMP. I was first surprised by the difference in physical strengths and speed. I was overwhelmed by the opponent's speed and could not keep up with their pace at all. In order to make the adjustment, I started to anticipate where the ball was coming from and made attempts to intercept the ball. I am glad that I was able to score in the second and third match. Off the pitch, I had a hard time trying to communicate with my host family. I was clueless when they were asking me questions, so I had to use my phone's translation app. If I stay like this, I will not be able to achieve my dream of playing overseas, so once I return to Japan, I will work even hard to study English. I will utilise the experience I gained from this USA CAMP to become a better player, and I will also improve my communication skills to be able to thrive at the world stage.
MASAKI Misato (6th Class/Atletico FeminA)
I am not good at English, so I was extremely nervous ahead of this USA CAMP. However, my host family were very kind to me and even though I struggled to understand what they were saying, they kept trying to communicate with me by talking slowly. I used every word I knew and even used body gestures to communicate with them. Speaking English was very difficult for me, but I learned that there are many ways to communicate with others. I got close with the host family's children, so I was very sad when I had to leave. In terms of football, we were not able to keep up with the opponents' speed and power, but we still managed to score goals by connecting quick passes. I felt that I must improve how I prepare myself before receiving the ball and the accuracy of my passes and ball control. A simple mistake can lead to a counterattack, so I must heighten my techniques. Once I return to the academy, I will implement what I have learned in the USA to become a better player.
YAKAMOTO Hao (6th Class/Angeviolet BINGO)
Throughout the USA CAMP, I was able to challenge many things. Before this camp, I was very hesitant to use my weaker foot, so I intentionally challenged to use my left foot during this camp. Also, I had a habit of making decisions after receiving the ball, so I tried to visualise my next move before receiving the ball. This approach helped me evade the quick pressure applied by the American players. I wanted to make the most out of this unique experience, so I actively asked questions to my host family and the opposing players at the banquet. I hope to utilise all of the experience I gained during this camp to become a better player and to enhance my daily routine at the academy.