NEWS
Member of Nadeshiko Japan TAKARADA Saori (1st Class) visits JFA Academy Sakai
09 September 2019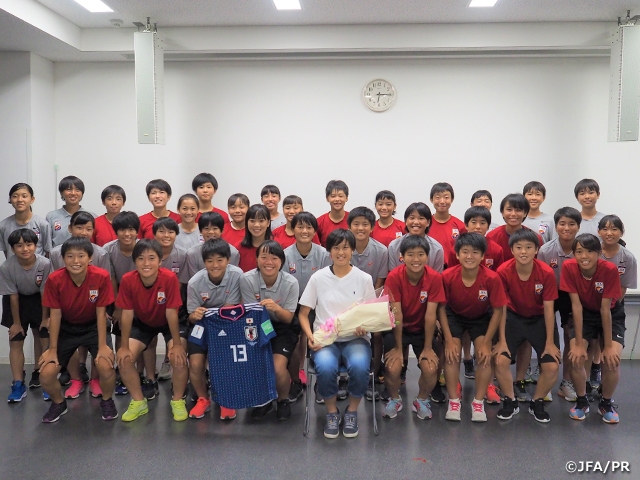 On Monday 2 September, TAKARADA Saori (Cerezo Osaka Sakai Ladies), who participated in the FIFA Women's World Cup France 2019 as a member of the Nadeshiko Japan (Japan Women's National Team) paid a visit to JFA Academy Sakai. The former academy player who graduated in 2012 (1st class) spent time interacting with the academy players at the clubhouse of J-GREEN Sakai.
Takarada started off by sharing her experience at the FIFA Women's World Cup France, as she described her emotions when she got the late call-up to join the team, and what she felt throughout tournament. The academy players listened in carefully to her stories and they were given the opportunity to ask questions later on. Takarada listed to each question and gave them thoughtful answers, as she was asked questions like, "how do you manage your daily meals," "do you have any routines you follow before matches," "what is your favourite play and how do you practice it?"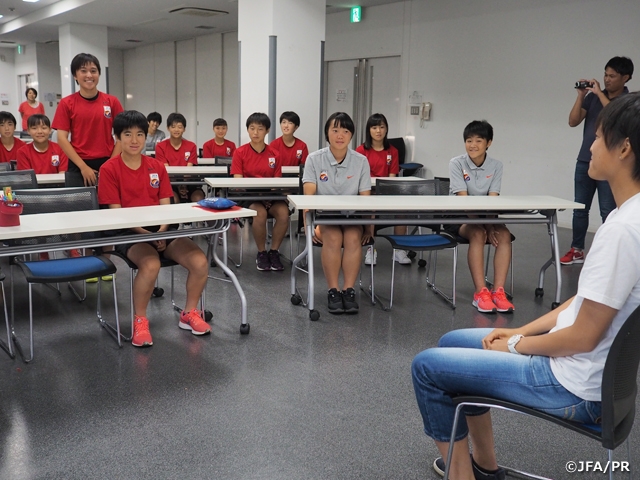 An actual jersey worn at the World Cup was presented from Takarada to the academy, as the academy players were ecstatic to see a real jersey of the Nadeshiko Japan.
Academy Players' Comments
NAGAO Nonoka (Entrance in 2017, 6th Class/FC-Fervor Mimosa)
I think it is amazing that Ms. Takarada has actually played at the World Cup. She told us many stories, but the episode about the pass speed of the top tier teams of the world really left a strong impression. In my second year at the academy, I was given the opportunity to join an American team during our USA Camp, and I got to experience in first-hand, how fast the American players passed the ball. Hearing that Ms. Takarada also felt the difference makes me want to train even harder to close this gap between the world and us. Another moment that left a strong impression was when she told us about her emotions when she was not selected to the original squad. She said that she was disappointed, but at the same time, she knew that it wasn't the end of the world. I believe that it is because she remained positive, she was able to give her best efforts when she joined the team as a late call-up. I would also like to prepare myself at all times, so that I can perform well when I am given the opportunity.
FURUTA Sae (Entrance in 2018, 7th Class/AS Harima Albion Youth)
I thought that Ms. Takarada knows about herself really well. In order to showcase her best performance on the field, she takes great care of her body and trains hard on her own to improve her weaknesses. It really made me realise the importance to know about yourself and how to take action to improve yourself. Starting from today, I will think of ways to implement my strengths, while improving my weaknesses, and take action to become a better football player.
MURATA Riho (Entrance in 2019, 8th Class/FC Basara Koka Ladies)
It is my dream to play in the World Cup, so I was honoured to meet someone who has actually played in the World Cup. After hearing stories from Ms. Takarada, one of the stories that left a strong impression was when she mentioned about the importance to have a strong intention to heighten the quality of each play during the daily trainings. Even if I think I am giving enough efforts to improve my skills, it is not enough in terms of the world standards. In order to play in the World Cup, I must train even harder and strive for higher levels. Ms. Takarada was so cool and I feel so lucky to be able to hear her stories in person. I even got to shake hands with her. I will work hard so that I can one day be like Ms. Takarada.