NEWS
JFA Academy Sakai 5th-class students experience international cultural exchange at JFA International Coaching Course 2016
21 July 2016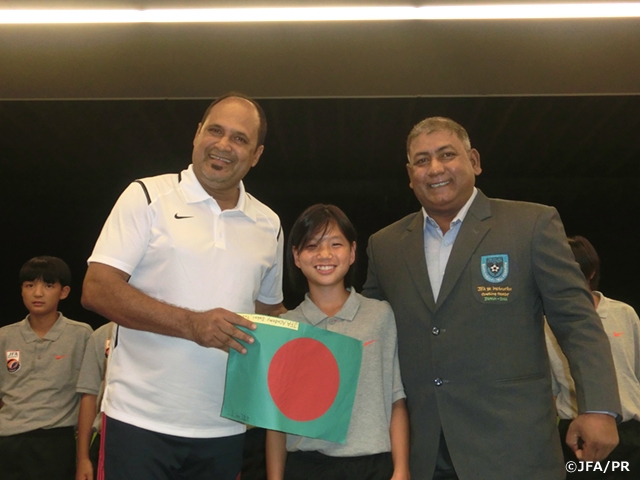 The JFA International Coaching Course 2016 was held from Tuesday 12 to Sunday 17 July at J-GREEN Sakai. The JFA Academy Sakai class of 2016 students joined the welcome dinner to experience an international cultural exchange with the participants.
The students learned about the geographies, languages, and cultures of Asian countries in preparation for this event. They also made national flags of each country, and greeted in local languages in front of the guests.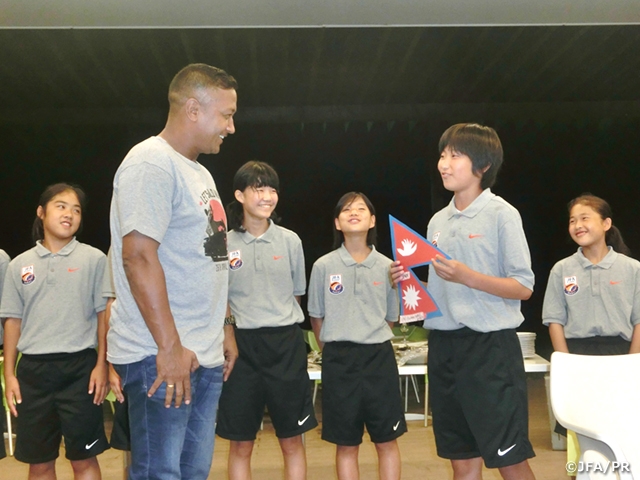 As there were many scripts and pronunciations, which were new to the pupils, they felt nervous about delivering them correctly. However, they seemed confident to greet the guests at the event.
The JFA Academy is currently accepting applications for the 2017 admission. Please read about the skills test and send your application before the deadline.
Academy Students' Comments
OKUDA Airi (FC. FERVOR. MIMOSA 1st grade: Class of 2016)
I learned many things about foreign countries through this cultural exchange event. There are two things I'd like to mention here. Firstly, I'm glad I learned about the languages and religions of participating countries, especially Australia and Iran – countries I was responsible for. Secondly, it's vital to express things in a heartfelt way if you want to share your feelings with people from foreign countries, let alone using their languages with proper pronunciations. I'll try out what I learned through this programme, whenever I have an opportunity to see people from other countries.
KAWASHIMA Mayo (FC Vitoria 1st grade: Class of 2016)
During this programme, I learned that you could communicate through your heart, even if your English is not that great. I studied about Malaysia and Iraq in preparation. I researched about local languages, capital cities, as well as religions, and made national flags. We gave the flags as a gift and greeted in local languages. Although it was difficult, I managed to communicate with them. If I have another opportunity, I'll prepare thoroughly, and deliver what I want to say with my heart. I'll use what I learned here.
OBA Yuzuki (Amagasaki Ladies U-15 1st grade: Class of 2016)
I learned about the languages, religions, and geographies of many countries through this programme. I was very nervous, as I had never communicated with people from other countries. However, I delivered my part well, using what I prepared beforehand. It was such a big experience for me. I was told that I could communicate from the heart, even if I can't do well in English. So I'd like to have a go again, using gestures and smiles, when I'm in foreign countries next time.