NEWS
【Interview with SAMURAI BLUE's MINAMINO Takumi】Improving to perform on the dream stage - KIRIN CUP SOCCER 2022
07 June 2022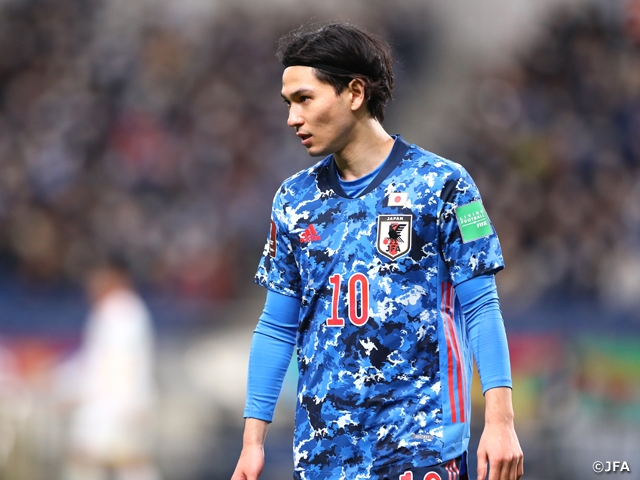 Here we interviewed MINAMINO Takumi, who has been leading the offense for the SAMURAI BLUE (Japan National Team) with 17 goals (as of 1 June 2022), tied for the most goals scored under the current regime of Head Coach MORIYASU Hajime, about his experience at the world's top club and his thoughts on the FIFA World Cup™.
○This article is based on a written interview conducted on 12 May.
──You have represented Japan in numerous Asian qualifiers at various age-categories, but this is your first time playing in the FIFA World Cup™ qualifiers as a member of the SAMURAI BLUE. Tell us about your take on the level of competition and the difficulties of competing in the Asian qualifiers?
MINAMINO The level of competition in Asia as a whole is improving, and many of the teams are approaching the match thoroughly prepared to beat Japan. The Japan National Team consist of many players who play in Europe, posing difficulties in terms of transportation and conditioning, combined with a limited number of training sessions as a team, so we knew it was going to be an uphill battle. From my experience in the underage categories, I understood the difficulties of the away games in particular but playing in a match with a World Cup berth at stake was something else.
──In the final round of the Asian qualifiers, the team struggled in the early goings, but turned things around against Australia on Matchday-four. Since that match your position has changed from being an attacking midfielder to a left winger. Has this changed your role in the team or your own awareness?
MINAMINO My position changed, but how we played as a team was what mattered, so I just focused on fulfilling the role I was given. As an attacker, scoring goals is the top priority, but it is also important to link up with the left backs, NAGATOMO Yuto and NAKAYAMA Yuta, to make the most of their strengths. As we played more matches and had more opportunities to communicate with each other, I feel that the accuracy of our plays improved.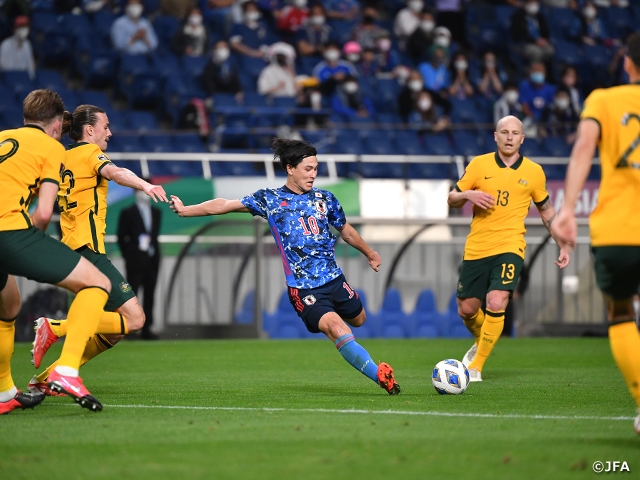 ──You are now playing as one of the core players of the team. Is there a difference in your awareness and/or approach to the game now compared to when you made your national team debut in 2015?
MINAMINO Although my debut came in 2015, I did not participate in the 2018 FIFA World Cup Russia™, either in the qualifiers or in the main tournament. Having experienced the Asian qualifiers for the first time, and having fought alongside my teammates, my passion towards the national team has definitely grown stronger.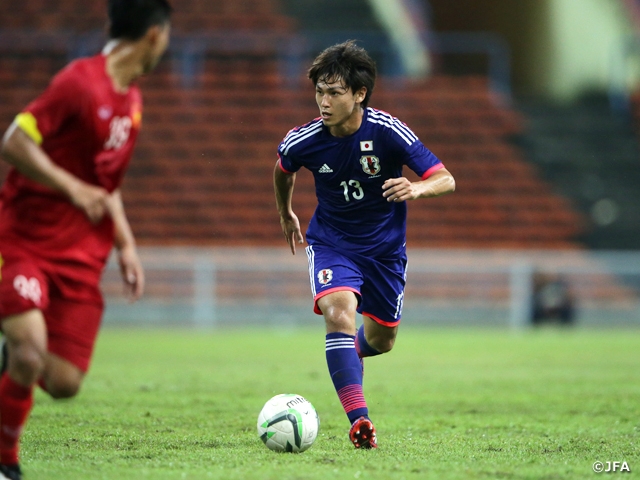 ──What does it mean for you to play for the national team?
MINAMINO It was my childhood dream to compete wearing the Japanese flag, so I am proud to be a member of the national team now. As a child, the players of the national team had always inspired me through their plays, so I will continue to give my best efforts to inspire and give dreams to the children.
──You transferred from Cerezo Osaka to FC Red Bull Salzburg in Austria in January 2015, before joining Liverpool FC in England. In what areas in particular do you feel you have grown by competing against world-class players on a daily basis?
MINAMINO All of my teammates are top-level players who have all been selected for their national teams, so just training with them every day has helped me develop in many ways as a player. In addition, not only their plays on the pitch, but I am also influenced and stimulated by the way they think, behave, and approach the game in a daily basis.
──What kind of influence do you think playing for a big club has or is having on yourself and on the Japanese football world?
MINAMINO I am the first Japanese player to play for Liverpool. By playing for this club, I hope that the children in Japan will see these big clubs in Europe as a goal rather than a dream and inspire them to work hard and enjoy playing football.
──The FIFA World Cup Qatar 2022™ will kick-off in six months' time.
MINAMINO The World Cup is a special tournament for all footballers and, for myself, it is the dream stage that I have always dreamed of, ever since I started playing football. There is not much time left before the FIFA World Cup Qatar 2022™, but I will continue to work hard and strive to get better so that I can be selected for the World Cup and play on the dream stage. We will do our best to share the excitement with the people of Japan, so please continue to support us.
※The full interview is featured in the official tournament programme available for purchase at the match venues.

Date/Venue:
Fri. 10 June/Noevir Stadium Kobe (Hyogo)
Tue. 14 June/Panasonic Stadium Suita (Osaka)