NEWS
Ogawa scores a hat-trick in his debut match to lift SAMURAI BLUE past Hong Kong - EAFF E-1 Football Championship 2019
15 December 2019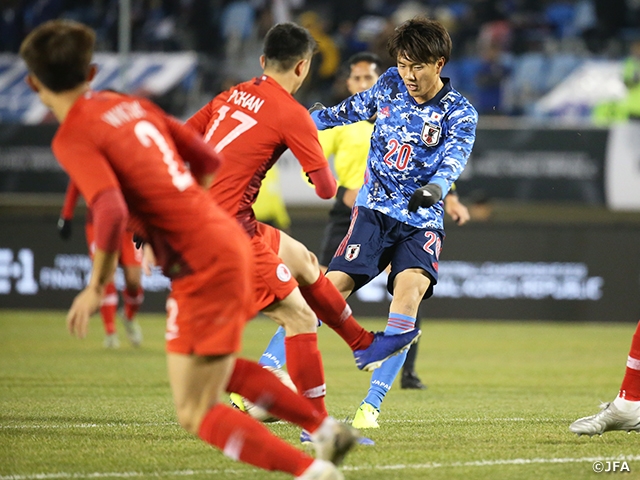 On Saturday 14 December, the SAMURAI BLUE (Japan National Team) played their second match of the EAFF E-1 Football Championship 2019 against the Hong Kong National Team, where OGAWA Koki (Mito HollyHock) score a hat-trick in his debut match to give Japan a 5-0 victory.
Following their 2-1 victory over China PR in their first match, coach MORIYASU Hajime changed the entire starting line-up, as he handed seven players with their first cap with the national team. The starting line-up featured OSAKO Keisuke (Sanfrecce Hiroshima) in goal, with a three-back defence line consisting TANAKA Shunta (Osaka University of Health and Sport Sciences), KOGA Taiyo (Kashiwa Reysol), and WATANABE Tsuyoshi (FC Tokyo). While OHSHIMA Ryota (Kawasaki Frontale) and TANAKA Ao (Kawasaki Frontale) played as the defensive midfielders, SUGA Daiki (Hokkaido Consadole Sapporo) and SOMA Yuki (Kashima Antlers) were positioned in the flanks. NAKAGAWA Teruhito (Yokohama F・Marinos) and TAGAWA Kyosuke (FC Tokyo) were the two attackers positioned beneath the lone striker Ogawa.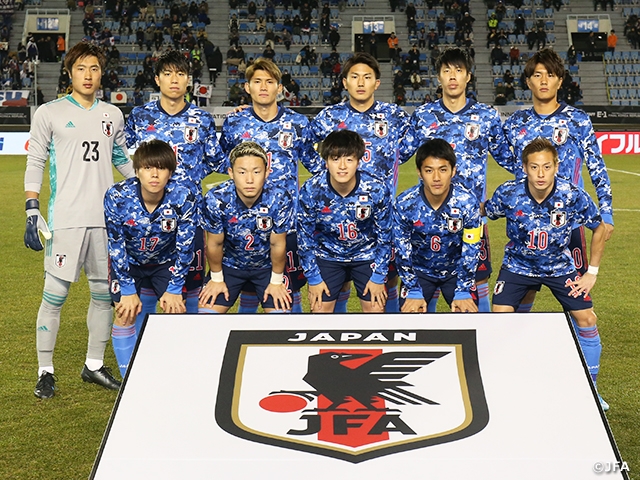 From the early minutes of the match, Japan showed their dominance over the opponent, as they took full control of the ball possession. The opening goal came in the eighth minute, when Nakagawa penetrated the penalty area from the right side, with the ball taking a deflection off an opposing defender, Suga struck a powerful volley that pierced the net. Six minutes later, Tagawa responded to a corner kick delivered by Ohshima to fire a header that extend the Japanese lead.
With Hong Kong shifting their system from a five-back to a four-back formation following their match against Korea Republic, Japan applied aggressive pressure to exploit the open space behind the defence line and created multiple opportunities against the man-marked defence showcased by Hong Kong. In the 26th minute, Ogawa scored his first goal with the senior team, as he struck a right footed shot just outside the penalty area. Ogawa doubled his tally during additional time of the first half, as he converted the cut back from Suga to give Japan a 4-0 lead at halftime.
The second half started with Hong Kong creating a close opportunity to threaten the Japanese goal, as the shot taken by CHENG Chin Lung struck the cross bar in the 56th minute. However, Japan continued to show their dominance, as Ogawa capitalised on a corner kick to score his third goal of the match in the 58th minute. With this goal, Ogawa became the third ever player to record a hat-trick in his debut with the Japan National Team.
Japan continued to create chances during the remaining minutes, but the team fell short from adding more goals, as the match ended with a final score of 5-0. After the match, it was announced that HASHIMOTO Kento (FC Tokyo) will leave the team due to an injury.
The SAMURAI BLUE will now face the Korea Republic National Team on Wednesday 18 December.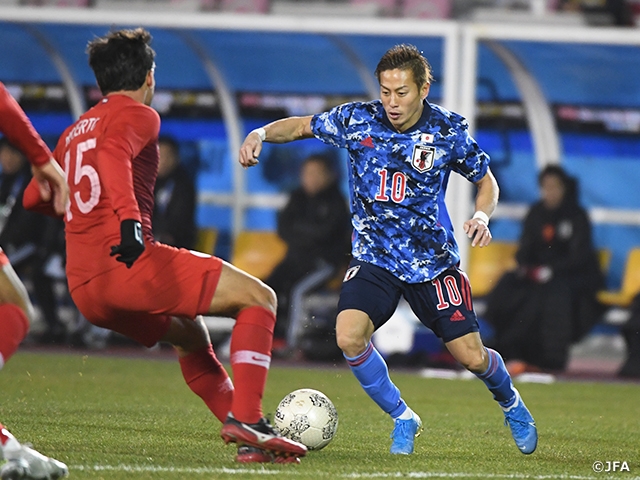 Coaches and Players' Comments
MORIYASU Hajime, Coach of SAMURAI BLUE (Japan National Team)
Our players gave their best efforts to prepare for this match against Hong Kong, and as a result, we were able to earn this victory. Although it was evident that we were the dominating side in this match, our players kept playing with a challenger's spirit and each player showcased their strong point to help the team win this match. Ogawa and Tagawa were both able to score goals today and I am sure it will give them a boost to their confidence level. Suga showed great aggression and his opening goal gave the team great momentum. Every player did well to show support to their teammates and I hope to see this kind of performance in our future matches. However, we need to heighten the quality of our plays, especially when facing Korea Republic with the tournament title at stake, so we will continue to work hard to prepare ourselves for the upcoming match.
MF #2 SUGA Daiki (Hokkaido Consadole Sapporo)
I am always anticipating for the loose ball, and I was ready to strike that shot. I just had to make good contact with the ball. I feel like that early goal meant a lot for the team. With this being my first match with the senior team, I focused on showcasing my strong points and play with a challenger's spirit, which led me to that goal, so I am very happy with this outcome. The entire team challenged themselves and managed to show great support for each other. I think that we were able to showcase a pretty good performance overall.
FW #11 TAGAWA Kyosuke (FC Tokyo)
With the team entering this tournament with very limited time to prepare, each player was eager to help out the team, and that approach has allowed us to win two consecutive matches. When I am in front of the goal, I am always ready to take a shot, and I am glad I was able to make good contact with the ball. Our opponent came out playing a very tight man-to-man coverage, so it was difficult to create space, but we managed to pick up our momentum from the early goals and we also managed to outrun our opponents as the match progressed.
FW #20 OGAWA Koki (Mito HollyHock)
This match taught me that the goals will come if I kept playing patiently. I haven't been able to score much goals lately, so I am feeling very relieved. However, I feel like I could have scored more goals in today's match, so I will make the necessary adjustments and prepare myself in the best way possible ahead of our next match against Korea Republic.
Mixu PAATELAINEN, Coach of Hong Kong National Team
This is a very disappointing result. Japan didn't do anything special, but they were sharp and aggressive, and they showcased great speed and quality in each of their plays. Some of our players weren't able to respond to their plays and we conceded goals from our own mistakes in defence. This tournament has given our players a great learning experience, so we hope to make the most of this tournament to become a stronger team.
Schedule
EAFF E-1 Football Championship 2019
Tue. 10 December
2-1
vs China PR National Team
(Busan Gudeok Stadium)
Wed. 11 December
TBC
Training
Thu. 12 December
TBC
Training
Fri. 13 December
TBC
Training
Sat. 14 December
5-0
vs Hong Kong National Team
(Busan Gudeok Stadium)
Sun. 15 December
TBC
Training
Mon. 16 December
TBC
Training
Tue. 17 December
TBC
Training
Wed. 18 December
19:30
vs Korea Republic National Team
(Busan Asiad Main Stadium)
*The schedule is subject to change due to the team condition, the weather, etc.
EAFF E-1 Football Championship 2019 Final Korea Republic
Tournament Dates: Tue. 10 - Wed. 18 December 2019
Tournament Venue: Busan Gudeok Stadium/Busan Asiad Main Stadium (Korea Republic)
Participating Countries: China PR, Japan, Hong Kong, Korea Republic