NEWS
SAMURAI BLUE train behind closed doors to prepare for match against Hong Kong - EAFF E-1 Football Championship 2019
14 December 2019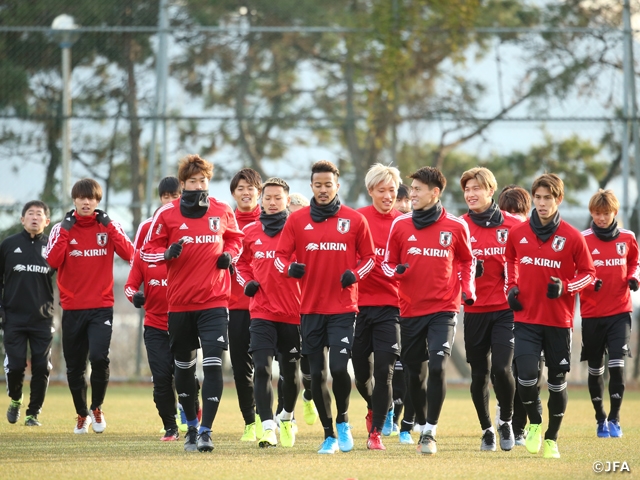 One day before their second match of the EAFF E-1 Football Championship 2019 against the Hong Kong National Team, the SAMURAI BLUE (Japan National Team) held a training session behind closed doors on Friday 13 December.
During the first 15 minutes where the session was opened to the media, the players were seen going through their warmup routines to prepare for the session. As the session went under closed doors, the team went through their tactics for their upcoming match against Hong Kong.
Following the session that lasted for nearly one and a half hour, coach MORIYASU Hajime shared his hopes for their match against Hong Kong, "Although we had limited time to prepare ourselves, I hope our players give their best efforts to improve and earn positive results through this match."
The last time Japan has faced Hong Kong was at the E-1 Football Championship 2010, where Japan earned a 3-0 victory, and Japan holds an overall record of 10 wins, 5 draws, and 6 losses against Hong Kong. Following their 2-1 victory over China PR, Japan is currently in second place, while Hong Kong is in fourth place after losing to Korea Republic 0-2. Although Japan has one extra day to prepare for the second match against the Hong Kong side who currently ranks 139th in the FIFA ranking (Japan is ranked 28th), coach Moriyasu kept his guards up, "Their transitions are very quick, and they are capable of initiating sharp counterattacks. They will anticipate to find ways to score from set-pieces, so we must stay alerted at all times."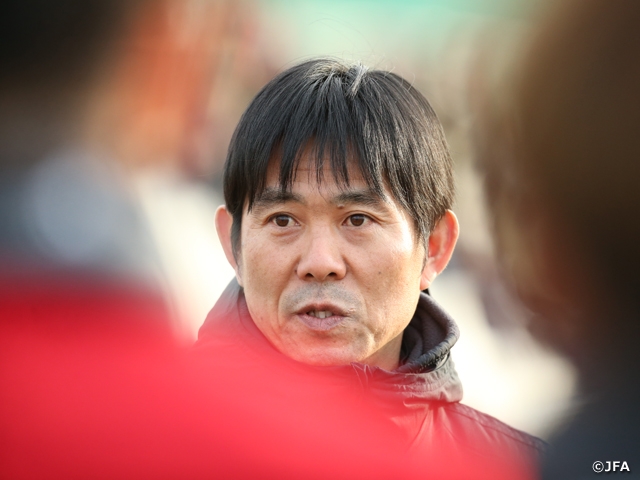 Hong Kong has played five to six players in defence in their previous match against Korea Republic, so it will require great creativity from the Japanese players to break through the solid defence. While SOMA Yuki (Kashima Antlers) mentioned, "I am visualising myself creating opportunities by making delayed runs," NAKAGAWA Teruhito (Yokohama F・Marinos) also shared his take on the match, "It will be difficult to completely break down their defence, so I will focus on finishing our attacks with a shot. Hopefully we can play some give and goes when our opponent comes out pressuring us." Striker OGAWA Koki (Mito HollyHock) followed by sharing his aspiration, "I am expecting very little space to work with, but I hope to make runs that can lead me to goal scoring opportunities."
The SAMURAI BLUE will face the Hong Kong National Team at Busan Gudeok Stadium on Saturday 14 December with a kick-off time of 19:30.
Coach and Players' Comments
MORIYASU Hajime, Coach of SAMURAI BLUE (Japan National Team)
Hong Kong is a team that can maintain a high level of concentration and play with great persistency. Their defence is solid, and their counterattacks are very sharp. When facing a team like that, I feel that our attacks from the flanks would be effective. We trained so that we can share the same vision as a team. In order to pick up our momentum towards the third match, we hope to win this match by showcasing a strong performance. We were able to make positive challenges in our first match, so we hope to do the same in our second match and strive to improve the team through the match.
DF #15 WATANABE Tsuyoshi (FC Tokyo)
In order to pick up our pace, we would like to score an early goal, so I will anticipate to score a goal from our set pieces. It will be ideal if we can create spaces from the defence line and the team will be able to gain positive momentum if we play good defence, so I will focus on getting my job done.
MF #3 TANAKA Shunta (Osaka University of Health and Sport Sciences)
Whether we play a three-back or a four-back system, my job as a centre back does not change, so I will try to play my usual game. In order to add variety to our offence, we hope to deliver some good passes upfront to initiate our attacks. As long as we can support each other, we should be able to eliminate the threats created by our opponents.
MF #6 OHSHIMA Ryota (Kawasaki Frontale)
In order to execute our game plan, I hope to showcase a quality performance. By watching their match against Korea Republic, it was evident that Hong Kong is capable of playing solid defence and initiating sharp counterattacks, so we hope to manage the risks while playing with creativity to break down their defence.
MF #10 NAKAGAWA Teruhito (Yokohama F・Marinos)
Although I am given a different role from my club team, I hope to make effective runs to add layers to our offence. I will focus on making my runs into the attacking third when the ball is played wide. I hope to make good play decisions by watching how my teammates play.
MF #16 SOMA Yuki (Kashima Antlers)
Although we were able to showcase a positive performance in our first match, I feel that we can still improve ourselves by making quicker transitions. If we can force more turnovers in the attacking third, we can create more opportunities and reduce our risks of getting countered, so that's an aspect we must focus on.
FW #20 OGAWA Koki (Mito HollyHock)
I will try not to get overly worked up about the match and try to enter the match with composure. I was able to communicate with my teammates to showcase some good plays during today's training session, so I am looking forward for tomorrow's match.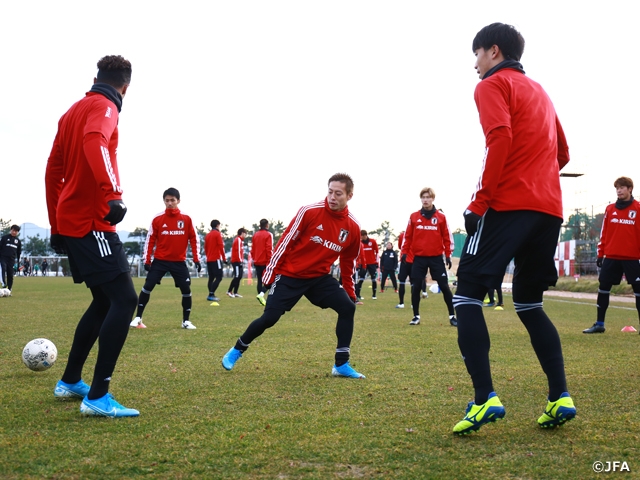 Schedule
EAFF E-1 Football Championship 2019
Tue. 10 December
2-1
vs China PR National Team
(Busan Gudeok Stadium)
Wed. 11 December
TBC
Training
Thu. 12 December
TBC
Training
Fri. 13 December
TBC
Training
Sat. 14 December
19:30
vs Hong Kong National Team
(Busan Gudeok Stadium)
Sun. 15 December
TBC
Training
Mon. 16 December
TBC
Training
Tue. 17 December
TBC
Training
Wed. 18 December
19:30
vs Korea Republic National Team
(Busan Asiad Main Stadium)
*The schedule is subject to change due to the team condition, the weather, etc.
EAFF E-1 Football Championship 2019 Final Korea Republic
Tournament Dates: Tue. 10 - Wed. 18 December 2019
Tournament Venue: Busan Gudeok Stadium/Busan Asiad Main Stadium (Korea Republic)
Participating Countries: China PR, Japan, Hong Kong, Korea Republic